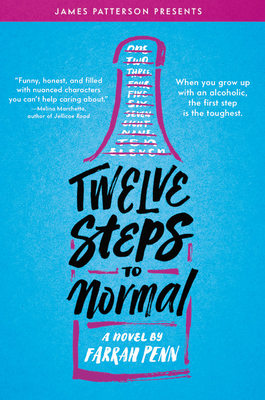 Twelve Steps to Normal
Hardcover

* Individual store prices may vary.
Other Editions of This Title:
Digital Audiobook (3/12/2018)
CD-Audio (3/13/2018)
Description
James Patterson presents this emotionally resonant novel that shows that while some broken things can't be put back exactly the way they were, they can be repaired and made even stronger.

Kira's Twelve Steps To A Normal Life

1. Accept Grams is gone 2. Learn to forgive Dad 3. Steal back ex-boyfriend from best friend...

And somewhere between 1 and 12, realize that when your parent's an alcoholic, there's no such thing as "normal."

When Kira's father enters rehab, she's forced to leave everything behind -- her home, her best friends, her boyfriend...everything she loves. Now her father's sober (again) and Kira is returning home, determined to get her life back to normal...exactly as it was before she was sent away.

But is that what Kira really wants?

Life, love, and loss come crashing together in this visceral, heartfelt story by BuzzFeed writer Farrah Penn about a girl who struggles to piece together the shards of her once-normal life before his alcoholism tore it apart.
Praise For Twelve Steps to Normal…
Praise for Twelve Steps to Normal:
A Publishers' Lunch 2018 Buzz Book

* "Penn creates a realistic character in Kira, one who finely balances the rational thoughts of a child of addiction with the emotional struggles of a high school student. Kira's journey should speak to many teenage readers, even those who do not have firsthand experience with addiction or addicts. ... A smart recommendation for readers looking to escape into a substantive world of personal discovery."—Kirkus, starred review

"Twelve Steps to Normal is a searing, gut-punch of a story--one that is, unfortunately, all too common. It takes us through all the painful steps of a relationship with someone suffering from addiction, but it does so in a voice that's funny and personal enough to make us want to keep turning the page, even when we are afraid of what we might find there."—Josh Sundquist, bestselling author of We Should Hang Out Sometime and Love and First Sight

"Funny, honest, and smart, Twelve Steps to Normal is filled with nuanced characters who you can't help caring about."—Melina Marchetta, author of the Michael L. Printz Award-winning Jellicoe Road

"Penn nicely captures the all-consuming emotions of a teen wrestling life into some sort of order. ... Penn's note to the reader explains that she too had a father who suffered from alcoholism, and it's this loving, compassionate hindsight that will speak honestly to readers in the same situation."—Booklist

"Twelve Steps to Normal is a powerful, heartfelt debut about the lengths we'll go for those we love, and the hurdles we encounter along the way. In pages brimming with honesty, Penn shines an empathetic light on addiction, ultimately demonstrating that forgiveness--not only its redemptive qualities, but its messy ones, too--is well worth the struggle."—David Arnold, New York Times bestselling author of Mosquitoland

"Farrah Penn's debut, Twelve Steps to Normal, is a heartfelt story about the aftermath of addiction. Equal parts swoony and poignant, I couldn't help but cheer for her main character Kira as she tries to put her life back together in the wake of loss."—Julie Buxbaum, New York Times bestselling author of Tell Me Three Things

"Step one: Pick up this compulsively readable book and fall in love with its richly drawn characters and deeply empathetic reminder that none of us are broken beyond repair. Step two: Repeat."—Jeff Zentner, author of the ALA William C. Morris Award winner The Serpent King

"Poignant and powerful, Penn's story is searing in its insight into the human heart and the effects of addiction. Bravo!"—Adriana Mather, author of #1 New York Times bestseller How to Hang a Witch

"Farrah Penn's characters feel like old friends and new loves, all intertwined in a story that feels achingly familiar yet entirely original. Bursting with humor and heart, Twelve Steps to Normal is a dazzling debut you won't want to miss."—Jessica Taylor, author of Junior Library Guild selection A Map for Wrecked Girls

"A heartfelt, nuanced story about learning to forgive and taking the best of the past, hoping for the best of the future. Kira's struggle to understand and move on from her father's flaws to her own is moving and real."—Huntley Fitzpatrick, author of the YALSA Best Fiction for Young Adults title My Life Next Door
Jimmy Patterson, 9780316471602, 384pp.
Publication Date: March 13, 2018
About the Author
Farrah Penn was born and raised in a suburb in Texas that's far from the big city, but close enough to Whataburger. She now resides in Los Angeles, CA, with her gremlin dog and succulents. When she's not writing books, she can be found writing things for BuzzFeed and sending texts that contain too many emojis. Twelve Steps to Normal is her first novel.