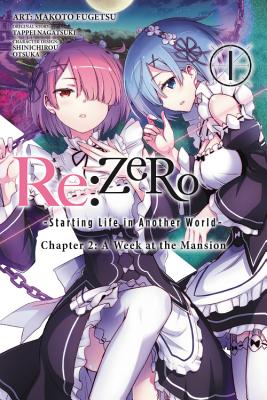 RE (Paperback)
Zero -Starting Life in Another World-, Chapter 2: A Week at the Mansion, Vol. 1 (Manga)
Yen Press, 9780316471886, 208pp.
Publication Date: May 23, 2017
* Individual store prices may vary.
Description
Using his ability to repeat past events, a power named "Return by Death," Subaru has saved the half-elf girl Emilia from a grim fate. However, his celebration is violently cut short. Subaru now wakes up in a large mansion, unsure of whether time has moved forward. Greeting him are the maid sisters Ram and Rem, whose verbal jabs sting with every word. It's a chance for a new life, but is Subaru in more danger than he realizes?

About the Author
Shinichirou Otsuka is the artist of the light novel series RE: Zero. Makoto Fugetsu is the artist of the manga series RE: Zero Chapter 2. Tappei Nagatsuki is the author of the light novel series RE: Zero.