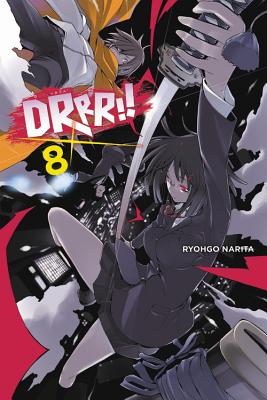 Durarara!!, Vol. 8 (Light Novel) (Durarara!! (Novel) #8) (Paperback)
Yen on, 9780316474290, 208pp.
Publication Date: November 14, 2017
Description
(Volume 7)
"I'm not doing anything. All the Dollars did that together..."
The holiday isn't over yet. The day after Izaya was stabbed, the scars of the recent incident are still fresh on the city. A pair of classmates wander the town together. A sister keeps an eye on the girl hanging around her brother. A girl tries to strengthen herself to kill the strongest man in town. A set of mischievous twins don't bother to care about their brother. A Russian woman mourns her future. A yakuza clings to his past. A doctor who travels to enjoy his holiday with a recently-relaxed headless dullahan... Ikebukuro is going to be busy

About the Author
Suzuhito Yasuda is the artist most known for his illustrations for the Durarara!! light novel series as well as the hit new light novel series, Is It Wrong to Pick Up Girls in a Dungeon? Ryohgo Narita is the author of a number of successful novel series, including the original "Durarara!!" books. His earlier series, "Baccano!" was honored with the Gold Prize at the 9th Dengeki Novel Awards.
Advertisement