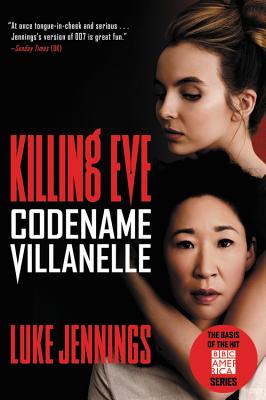 Killing Eve
Codename Villanelle
Paperback

* Individual store prices may vary.
Description
The breakneck thriller that inspired TV sensation Killing Eve, starring Sandra Oh, "unlike any other spy drama you've seen" (Daily Beast).

Villanelle (a codename, of course) is one of the world's most skilled assassins. A catlike psychopath whose love for the creature comforts of her luxurious lifestyle is second only to her love of the game, she specializes in murdering the world's richest and most powerful. But when she murders an influential Russian politician, she draws a relentless foe to her tail.

Eve Polastri (not a codename) is a former MI6 operative hired by the national security services for a singular task: to find and capture or kill the assassin responsible, and those who have aided her. Eve, whose quiet and otherwise unextraordinary life belies her quick wit and keen intellect, accepts the mission.

The ensuing chase will lead them on a trail around the world, intersecting with corrupt governments and powerful criminal organizations, all leading towards a final confrontation from which neither will emerge unscathed. Codename Villanelle is a sleek, fast-paced international thriller from an exciting new voice in fiction.
Praise For Killing Eve: Codename Villanelle…
Praise for Killing Eve: Codename Villanelle "What a sleek, sophisticated, fabulously entertaining tale! Codename Villanelle is a breathtaking ride through the cobblestone streets of Europe in the fastest of cars and driven by the most alluring, and dangerous, of drivers. Absolutely first rate!"—Christopher Reich, author of The Take

"Luke Jennings' novel--much like its eponymous antihero--is professional, efficient, sexy, sophisticated, and deadly.This is a beautifully written thriller that works on all levels."—Patrick Hoffman, author of Every Man a Menace

"Fans of Stieg Larsson will adore both the steely, resourceful Villanelle and the determined Eve. This finely tuned, knife-edge thriller with two equally unflinching women refuses to sacrifice an ounce of adrenaline while allowing the characters room for depth and complexity. Highly recommended."—Library Journal (starred review)

"Like Ian Fleming, Jennings is at once tongue-in-cheek and serious. . . . His version of 007 is great fun."—Sunday Times (UK)

"A memorable protagonist . . . There is an extra sheen of glamor that makes Villanelle more a James Bond than a mere killer."—The Daily Mail (UK)

"Exciting and fun."—Daily Express (UK)

"Gloriously exciting... a short howitzer of a novel... Jennings writes at supersonic speed, packing in an impressive number of violent set pieces and sex scenes. The breakneck pace is undeniably addictive, but he also displays an offbeat sense of humor."—Metro (UK)

"Detailed portrayals of Villanelle's globe-hopping hits and Eva's strategic hunt create strong suspense... A promising series setup."—Booklist

"Superior prose and a cracker jack plot lift this exceptional spy thriller and series launch from Jennings...Readers will eagerly await the sequel."—Publishers Weekly, starred review

"It's bloody but also bloody marvelous, a grand female change from spy-chase standards like James Bond or Kingsman. Jennings provides irony, pathos and plenty of surprises along with deep-insider details about Russian prisons, French fashion and British intelligence."—Washington Post

"thrills galore."—Shelf Awareness
Mulholland Books, 9780316476720, 224pp.
Publication Date: September 11, 2018
About the Author
Luke Jennings is the author of the memoir Blood Knots, short-listed for the Samuel Johnson and William Hill prizes, and of several novels, including the Booker Prize-nominated Atlantic. His previous book Codename Villanelle is the basis for BBC America's TV series Killing Eve starring Sandra Oh and Jodie Comer. As a journalist he has written for the Observer, Vanity Fair, the New Yorker, and Time.