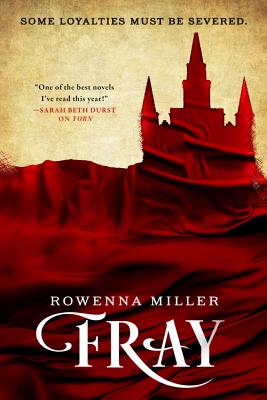 Fray (The Unraveled Kingdom #2) (Paperback)
Orbit, 9780316478632, 496pp.
Publication Date: June 4, 2019
* Individual store prices may vary.
Description
In this epic sequel to Torn, the magical seamstress Sophie Balstrade navigates a royal court and foreign alliances fraught with danger -- and may well have to risk everything for love and for country.
Open revolt has been thwarted -- for now -- but unrest still simmers in the kingdom of Galitha. Sophie, despite having built a thriving business on her skill at both dressmaking and magic, has not escaped unscathed from her misadventures in the workers' rebellion. Her dangerous foray into curse casting has rendered her powers unpredictable, and her increasingly visible romantic entanglement with the Crown Prince makes her a convenient target for threatened nobles and malcontented commoners alike.
With domestic political reform and international alliances -- and her own life -- at stake, Sophie must discern friend from foe... before her magic grows too dark for her to wield.

Rowenna Miller's enchanting fantasy series, the Unraveled Kingdom, is perfect for fans of The Queen of the Tearling and Red Queen.
The Unraveled Kingdom
Torn
Fray
About the Author
Rowenna Miller grew up in a log cabin in Indiana and still lives in the Midwest with her husband and daughters, where she teaches English composition, trespasses while hiking, and spends too much time researching and recreating historical textiles.
Praise For Fray (The Unraveled Kingdom #2)…
"Fantasy fans, especially those who grew up reading Tamora Pierce's Circle of Magic series, will adore Sophie and be riveted as she navigates her shop, her new place in society, her love life, and a potential war. Miller accomplishes the tricky task of keeping the action exciting and page-turning all the while setting up the third book in the Unraveled Kingdom series. Highly recommended for all libraries."—Booklist (starred review)

"A tense plot and satisfying character development. This enjoyable installment maintains the innovative magic and well-handled conflict between the personal and the political that marked the series debut."—Kirkus

"One of the best novels I've read this year! Torn is masterfully written -- full of fascinating politics and compelling characters in a vividly rendered, troubled city. Sophie is a believable, layered, and wonderful heroine; her journey from ordinary to extraordinary is a joy to read. I absolutely loved this book!"—Sarah Beth Durst on Torn

"Torn challenges readers to thoughtfully consider all sides of social change by humanizing each perspective. Readers interested in classic fantasy, feminism, adventure, and a bit of romance will enjoy this thought-provoking book."—Booklist on Torn

"Miller weaves a fresh, richly textured world full of magic-stitched ball gowns and revolutionary pamphlets. The vivid, complex setting and deeply human characters make for an absorbing read!"—Melissa Caruso on Torn

"Miller places immigrant ambition and women's lives at the heart of her magical tale of politics and revolution. I was utterly enchanted by this unique, clever and subtly fierce fantasy."—Tasha Suri on Torn

"A gorgeous weave of romantic fantasy and urgent politics."—Anna Smith Spark on Torn

"A delight, woven through with rich detail. Magic, sewing, and an achingly good romance -- what's not to love? A deeply satisfying read. I'm dying for the next one!"—Alexandra Rowland on Torn

"Miller deftly weaves a thrilling tale of revolution and turmoil in a complex fantasy world."—Cass Morris on Torn

"Real stakes combined with a clever, unique magic system."—B&N SciFi & Fantasy Blog on Torn

"Strong research, moral ambiguities, and an innovative magic system.... A well-executed historical fantasy debut whose author has a sharp eye for detail."—Kirkus on Torn

Highly recommend.... Fun, excitement, and magic all sewn into one amazing story.—The Speculative Herald on Torn

"Impossible to put down. I will be impatiently awaiting the sequel."—Books, Vertigo & Tea on Torn

"Positively enchanting.... I loved every page!"—Powder & Page on Torn

"[A] wonderful debut."—BookPage on Torn

"A joy to read.... Found myself swept away into the world and character."—Tenacious Reader on Torn

"I thoroughly enjoyed this story, especially the touch of magic added by the spell-casting through sewing.... The characters were well written, and the twist at the end is perfectly believable."—The Qwillery on Torn

"Deep, socially aware fantasy, plus a very cool magical system."—Deborah Ross on Torn