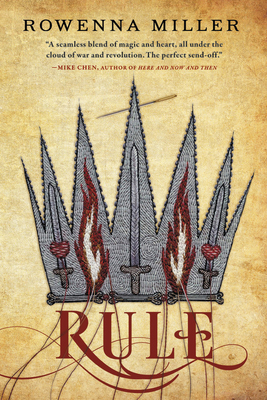 Rule (The Unraveled Kingdom #3)
Paperback

* Individual store prices may vary.
Description
In the epic conclusion to the Unraveled Kingdom trilogy, a magical seamstress joins forces with her revolutionary leader brother in a deadly bid to change history.
The civil war that charm caster Sophie and the crown prince, Theodor, have tried so desperately to avert has come to Galitha. While Theodor joins Sophie's brother and his Reformist comrades in battle hoping to turn the tide against the Royalist army, Sophie leverages the only weapon she has: charm and curse casting. Weaving her magic into uniforms and supplies, she soon discovers that the challenges of a full-scale war are far greater than she could have imagined.
The fractured leadership of the Reformist army must coalesce and the people of Galitha need to unite against enormous odds -- all while Sophie creates more than a little magical luck in order to have a chance of victory.
Rowenna Miller's enchanting fantasy series, the Unraveled Kingdom, is perfect for fans of The Queen of the Tearling and Red Queen.
The Unraveled Kingdom
Torn
Fray
Rule
Praise For Rule (The Unraveled Kingdom #3)…
"Miller caps off the Unraveled Kingdom trilogy with a seamless blend of magic and heart, all under the cloud of war and revolution.
Smart, thrilling, and full of charm, Rule is the perfect sendoff for the tale of Sophie Balstrade."
—
Mike Chen, author of Here and Now and Then
"Miller successfully ties up loose ends and shows the personal cost of war. Series fans will cheer and cry as their heroes battle for independence and for stability.
Well-drawn characters and wonderful writing makes this book highly recommended.
"—
Booklist (starred review)
"Miller does not shy away from battle and bloodshed as the political conflict comes to a head, but also refreshingly portrays the intimate, personal impacts of sweeping social changes. Series fans will be pleased with this
satisfying, sophisticated fantasy."
—
Publishers Weekly
"One of the best novels I've read this year!
Torn
is masterfully written -- full of fascinating politics and compelling characters in a vividly rendered, troubled city. Sophie is a believable, layered, and wonderful heroine; her journey from ordinary to extraordinary is a joy to read. I absolutely loved this book!"—
Sarah Beth Durst on Torn
"Miller weaves a fresh, richly textured world full of magic-stitched ball gowns and revolutionary pamphlets. The vivid, complex setting and deeply human characters make for an absorbing read!"
—
Melissa Caruso, author of The Tethered Mage on Torn
"Miller places immigrant ambition and women's lives at the heart of her magical tale of politics and revolution. I was utterly enchanted by this unique, clever and subtly fierce fantasy."
—
Tasha Suri, author Empire of Sand on Torn
"A gorgeous weave of romantic fantasy and urgent politics."
—
Anna Smith Spark, author of The Court of Broken Knives on Torn
"A delight, woven through with rich detail. Magic, sewing, and an achingly good romance -- what's not to love? A deeply satisfying read. I'm dying for the next one!"
—
Alexandra Rowland, author of A Conspiracy of Truths on Torn
"
Torn
challenges readers to thoughtfully consider all sides of social change by humanizing each perspective. Readers interested in classic fantasy, feminism, adventure, and a bit of romance will enjoy this thought-provoking book."—
Booklist on Torn
"Miller deftly weaves a thrilling tale of revolution and turmoil in a complex fantasy world."
—
Cass Morris, author of From Unseen Fire on Torn
Highly recommend.... Fun, excitement, and magic all sewn into one amazing story.
—
The Speculative Herald on Torn
"Strong research, moral ambiguities, and an innovative magic system.... A well-executed historical fantasy debut whose author has a sharp eye for detail."
—
Kirkus on Torn
Orbit, 9780316478694, 432pp.
Publication Date: May 19, 2020
About the Author
Rowenna Miller grew up in a log cabin in Indiana and still lives in the Midwest with her husband and daughters, where she teaches English composition, trespasses while hiking, and spends too much time researching and recreating historical textiles.