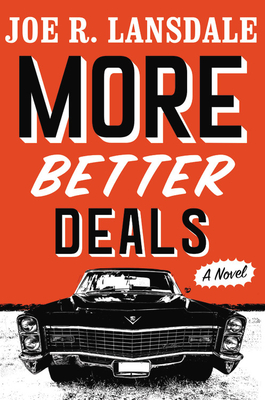 More Better Deals
Hardcover

* Individual store prices may vary.
Other Editions of This Title:
Digital Audiobook (7/20/2020)
Compact Disc (7/21/2020)
Description
From the Edgar Award-winning author of the Hap and Leonard series, a hard-boiled novel set in 1960s Texas in which a no-nonsense car salesman faces a tempting decision, a dangerous deal, and an alluring affair.

Ed Edwards is in the used car business, a business built on adjusted odometers, extra-fine print, and the belief that "buyers better beware." Burdened by an aging, alcoholic mother constantly on his case to do something worthier of his lighter skin tone and dreaming of a brighter future for himself and his plucky little sister, Ed is ready to get out of the game.
When Dave, his lazy, grease-stained boss at the eponymous dealership Smiling Dave's sends him to repossess a Cadillac, Ed finally gets the chance to escape his miserable life.
The Cadillac in question was purchased by Frank Craig and his beautiful wife Nancy, owners of a local drive-in and pet cemetery. Fed up with her deadbeat husband and with unfulfilled desires of her own, Nancy suggests to Ed -- in the throes of their salacious affair -- that they kill Frank and claim his insurance policy. It is a tantalizing offer: the girl, the car, and not one, but two businesses. Ed could finally say goodbye to Smiling Dave's, and maybe even send his sister to college. But does he have what it takes to see the plan through?
Told with Joe Lansdale's trademark grit, wit, and dark humor, More Better Deals is a gripping tale of the strange characters and odd dealings that define 1960s East Texas.
Praise For More Better Deals…
"When funky books need to be written, Joe R. Lansdale writes them. . . . The plot is pure James M. Cain's The Postman Always Rings Twice, but steeped in hillbilly noir."—Marilyn Stasio, New York Times Book Review

"The prolific Mr. Lansdale…draws on the spirit and themes of James M. Cain in this stand-alone book, which works clever variations on such Cain classics as The Postman Always Rings Twice and Double Indemnity.
 —Tom Nolan, Wall Street Journal

"Lansdale really makes this used car purr."—Booklist (starred review)

"Highly enjoyable . . . Populated with an admirable array of laughable miscreants, this droll, savage novel is vintage Lansdale. The author's storytelling powers remain as strong as ever."—Publishers Weekly

" [A] down-and-dirty riff on Double Indemnity, a provocative new variation on James M. Cain's noir classic...an enjoyably cynical cruise down the back roads to perdition."—Lisa Henricksson, Airmail

"He's genre dextrous, moving fleetly between westerns, mysteries, thrillers, horror, sci-fi, literary fiction, and nonfiction, and doing it all extremely well."—Publishers Weekly

"Southern crime legend Joe Lansdale channels his best James M. Cain world vision...Readers can expect to be transported in the usual Lansdale fashion, as nobody does those East Texas period details quite like Lansdale, who always delivers with a finely-crafted, engaging, compulsive crime story in his home terrain."—Dwyer Murphy, CrimeReads

Praise for The Elephant of Surprise  "The Elephant of Surprise is the read of the year thus far for adrenaline junkies, action-hero aficionados and, as is always the case with Lansdale's novels, fans of clever and unexpected similes and metaphors."-- BookPage "Hap and Leonard remain two of the most likable characters in crime fiction."--- Kirkus Reviews "Lansdale's narrative voice is as wonderful as ever, as is the banter between the mismatched best friends as they punctuate the violence with drolly mundane observations. ..It's always a pleasure to spend time with Hap and Leonard."--- Booklist
Mulholland Books, 9780316479912, 272pp.
Publication Date: July 21, 2020
About the Author
Joe R. Lansdale is the author of nearly four dozen novels, including Rusty Puppy, the Edgar-award winning The Bottoms, Sunset and Sawdust, and Leather Maiden. He has received nine Bram Stoker Awards, the American Mystery Award, the British Fantasy Award, and the Grinzane Cavour Prize for Literature. He lives with his family in Nacogdoches, Texas.
or
Not Currently Available for Direct Purchase