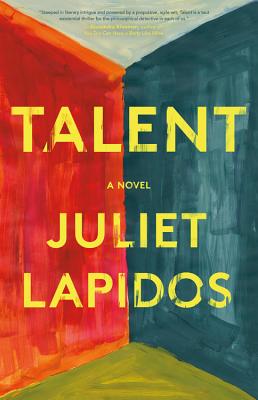 Talent
Hardcover

* Individual store prices may vary.
Other Editions of This Title:
Digital Audiobook (1/21/2019)
Paperback (5/5/2020)
Compact Disc (1/22/2019)
Compact Disc (1/22/2019)
Description
"A clever and delightfully complicated debut...Each bend in this story raises more questions than are answered, in the best of ways and right to the end."—San Francisco Chronicle
 
Any student of narrative would agree that Anna Brisker, former star of the English department, should be on the brink of a brilliant academic career. But at twenty-nine, Anna is aimless, indolent, nearing the eighth year of her PhD and unable to finish her dissertation, an intellectual history of inspiration. (No, the irony is not lost on her.)
 
Anna encounters a potential solution to her stasis in the form of Helen Langley, a magnetic, free-spirited woman who's the niece of the late, legendary writer Frederick Langley. Having published three classics in his youth, Freddy fell silent, and the literary world assumed he never wrote again. But Helen confides to Anna that he kept secret notebooks in his later years, notebooks that Helen might be willing to show Anna. As her fascination with Freddy (and Helen) blooms into obsession, Anna finds herself falling prey to fatal misreadings – of herself and others.
 
A sly and playful unpacking of the cult of the artist that excoriates academia with devilish glee, Talent brings the pressures of the 21st century to bear on the classic campus novel, weaving a twisty, brainy, wickedly hilarious story about our desperate need to believe that we understand…anything.

One of the Most Anticipated Books of the Year -- LitHub, The Millions, Thrillist, Entertainment Weekly
Praise For Talent…
"In TALENT, Juliet Lapidos pulls off a double feat. First, it's such a pleasure to think alongside the book's narrator as she gets caught up in the ultimate literary caper. Second, the laconic brilliance of the (fictional) author at the heart of this caper is in itself enough to induce tooth-gnashing envy. I gobbled down this deliciously funny, sharp, and sincere inquiry into the factors underpinning our valuations of art, labor, ourselves and each other."—Helen Oyeyemi, author of What is Not Yours is Not Yours

"Enormously entertaining."—Lionel Shriver

"A gem of a debut that's equal parts
engrossing mystery and incisive comedy...In the great, long tradition of literary
misanthropes, the jaded, aimless Anna feels fresh, imbuing the archetype with a
crackling millennial spin."—EntertainmentWeekly

"Lapidos' stabs at literary counterfeiting are inspired. She intersperses
Anna's feckless investigation into Langley's past with notebook jottings that
convincingly evoke the hunting and gathering of an alert writer as he sifts for
fodder from childhood trauma and the detritus of daily experience."—New York Times Book Review

"A clever and delightfully complicated debut novel... Each
bend in this story raises more questions than are answered, in the best of ways
and right to the end. More than a few little Easter eggs of literary trivia are
offered along the way, too."—San FranciscoChronicle

"Juliet Lapidos has written a funny, brainy mystery novel that's set inside a funny, brainy campus novel. Its heroines are a blocked academic who specializes in the history of inspiration, and an antique bookbinder who's coming apart. Oh, and the title of it all is Talent, which now means "natural aptitude or skill," but back in Greco-Roman days was a unit of money. Talent, then, is something you're going to want, in every definition. If you've ever thought to yourself, "I'm hungry," or, "The only problem with Sarah Silverman is that she's not Nabokov," then this is the book for you."—Joshua Cohen, author of Book of Numbers

"Steeped in literary intrigue and powered by a propulsive, agile wit, Talent is a taut existential thriller for the philosophical detective in each of us. In this gimlet-eyed, penetratingly comedic take on the campus novel, Juliet Lapidos lays bare the question that all academics ponder but few dare to actually ask: what use is knowing theory if we do not know ourselves?"—Alexandra Kleeman, author of You Too Can Have a Body Like Mine

"Juliet Lapidos's debut, Talent, offers a satirical look at criticism and art that will appeal to literary readers who are skeptical of their own literary culture. Lapidos expertly captures the Ivy League atmosphere, puncturing its ballooning worth with rapid, insightful jabs. . . A meta-criticism of criticism, Talent is most successful at striking an uncanny balance between laughing at the world that constructs characters like Anna and convincing the reader of its importance."—Shelf Awareness

"Lapidos mocks academia, capitalism, and Marxism, as Anna,
deciding that there is 'nothing wrong with nothing,' becomes convinced that her
own stasis is subversive and that the only way to honor the man's work is to
make it disappear."—The New Yorker

"This debut from Atlantic editor Juliet Lapidos is a satirical campus novel, but don't stop reading yet. There's romance, there's mystery, but it's all grounded in making fun of intellectuals and academia -- something everyone can get behind. Fans who find themselves at the curious intersection of last year's The Pisces and Thomas Mann's 1927 classic The Magic Mountain will find everything they ever wanted in Talent."—Thrillist

"The funniest book of the month...a satirical campus
novel that pokes fun at our own cultural obsession with productivity and
achievement. Good for reading while loafing on the couch."—Emily Temple, LitHub

"Talent is a wry meditation on ambition and an ingeniously constructed parable for our times. With wide-ranging erudition and pitch-perfect repartee, Juliet Lapidos reveals the terrible risk we take when we pity an artist."—Lucy Ives, author of Impossible Views of the World

"Juliet Lapidos grabs a story type at least as old as Henry James's The Aspern Papers and makes away with it into fast-moving, witty, literary adventure. With Pop-Tarts."—John Crowley, author of Little, Big

"Talent is a sly, bemused and original take on the idea of genius and fame, betrayal and family secrets, and ultimately, on freedom and imagination."—Susan Straight, author of Between Heaven and Here

"I love a campus novel, especially when nearly everyone on campus is equally clueless. With dry, witty prose and a motley assortment of sharp voices, Talent finds hypocrisy and obsession in all the right places."—Rosecrans Baldwin, author of The Last Kid Left.

"Lapidos' literary prowess is evident in this brilliantly witty and humorous debut. The novel's layers explore the dangers of interpretation and the varying perceptions of one's, and others', intentions, all of which come together to make a thoroughly enjoyable read."—Booklist
Little, Brown and Company, 9780316480550, 256pp.
Publication Date: January 22, 2019
About the Author
Juliet Lapidos is a senior editor at the Atlantic. Previously she worked at the Los Angeles Times, the New York Times, and Slate. She received her B.A. in Comparative Literature from Yale University and her MPhil in English Literature from Cambridge University, which she attended on a Gates Scholarship.