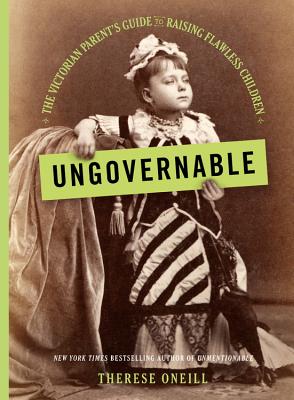 Ungovernable
The Victorian Parent's Guide to Raising Flawless Children
Hardcover

* Individual store prices may vary.
Other Editions of This Title:
Digital Audiobook (4/15/2019)
Compact Disc (4/16/2019)
Compact Disc (4/16/2019)
Description
From the author of the "hysterically funny and unsettlingly fascinating" New York Times bestseller Unmentionable, a hilarious illustrated guide to the secrets of Victorian child-rearing (Jenny Lawson).

Feminist historian Therese Oneill is back, to educate you on what to expect when you're expecting . . . a Victorian baby! In Ungovernable, Oneill conducts an unforgettable tour through the backwards, pseudoscientific, downright bizarre parenting fashions of the Victorians, advising us on:

How to be sure you're not too ugly, sickly, or stupid to breed What positions and room decor will help you conceive a son How much beer, wine, cyanide and heroin to consume while pregnant How to select the best peasant teat for your child Which foods won't turn your children into sexual deviants And so much more.

Endlessly surprising, wickedly funny, and filled with juicy historical tidbits and images, Ungovernable provides much-needed perspective on -- and comic relief from -- the age-old struggle to bring up baby.
Praise For Ungovernable: The Victorian Parent's Guide to Raising Flawless Children…
"An entertaining look at Victorian-era parenting advice...Oneill's
irreverent guide is a reality check for those who might romanticize the era of
strict self-discipline and unchallenged parental authority."—The Washington Post

"While acknowledging the grim conditions of Victorian youth, Oneill offers a lighthearted romp through the more absurd side of the parenting books and trending childhood advice literature of the time. Ungovernable would make a good gift for a mom with a sense of humor."—Bust

"This wild ride through 19th-century
child-rearing is an exploration of anal worms, strange tinctures, inappropriate
education, child labor, and questionable food stuffs. Readers will learn the altogether shocking
practices of Victorian parenthood-and be reminded that people did live to tell
the tale...The author's breezy style strikes an amusing and marked contrast with
the subject matter, which hopefully keeps readers focused on their successes as
modern, enlightened parents-which the Victorians also considered themselves, a
fact that is slyly related in delicious irony. While Oneill will likely not supplant
Spock and Brazelton, she may well set parents at ease in her own hilarious way."—Booklist

"One part sauciness, one part frankness, and one part sweet
relief that readers live in the present, Oneill's book provides readers with a
liberal dose of medical and women's history that's well worth taking."—Publishers Weekly

PRAISE FOR UNMENTIONABLE:
"This book is full of awesome."—Jenny Lawson, #1 New YorkTimes bestselling author of FuriouslyHappy

"It's hard to imagine a
woman - or a teenage girl - who won't love this book."—Washington Post

"Unmentionable transports us back to the world of middle-class 19th-century women, with special emphasis on the messy details that costume dramas airbrush out. . . . With a 4-year-old's scatological glee, Oneill details the logistics of old-time peeing, pooping, gestating, menstruating and mating . . . Oneill has dug up some lovely tidbits from the dustbin of history."—New York Times

"Flat-out hysterical (and occasionally alarming)...Read it and
be very, very glad you're a woman of modern times."—Good Housekeeping

"This book will banish your silly romantic notions of life
in the nineteenth century and make you laugh out loud while doing it."—BookRiot

"Both fascinating and hilarious,
Oneill has created a book so excellently informative about the Victorian
period, it should be shelved right next to Dickens for reference. Your
stomach will hurt so much from laughing, you'll be thankful you're not wearing
a corset."—Bustle

"If Unmentionable does not secure the Pulitzer Prize for Most Fascinating Book Ever, the whole gig is rigged. Hilarious, horrifying, shocking and revelatory."—Laurie Notaro,#1 New York Times bestselling authorof It Looked Different on the Model

"If you've ever felt like you should have been born in another time, Unmentionable will disabuse you of that sensibility, and it will do so charmingly."—Vice/Broadly
Little, Brown and Company, 9780316481908, 288pp.
Publication Date: April 16, 2019
About the Author
Therese Oneill is the New York Times bestselling author of Unmentionable: The Victorian Lady's Guide to Sex, Marriage and Manners. She can be found online at www.writerthereseoneill.com.