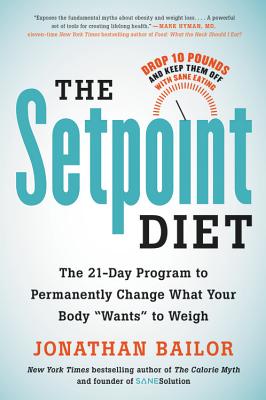 The Setpoint Diet
The 21-Day Program to Permanently Change What Your Body "Wants" to Weigh
Hardcover

* Individual store prices may vary.
Other Editions of This Title:
Digital Audiobook (12/23/2018)
Paperback (12/22/2020)
Description
Join the 27,000 people who have achieved dramatic and long-term weight loss with The Setpoint Diet, from the New York Times bestselling author of The Calorie Myth.

Your body fights to keep you within a range of about 15 pounds -- also known as your "setpoint weight." New research reveals that you can lower your setpoint and end that battle for good by focusing on the quality of calories you eat, not the quantity. With The Setpoint Diet, you will reprogram your body with a 21-day plan to rev up your metabolism, eliminate inflammation, heal your hormones, repair your gut, and get your body working like that of a naturally thin person -- permanently.

The Setpoint Diet is a lower-carb menu that focuses on specific anti-inflammatory whole foods, including tons of produce, nutritious proteins, and therapeutic fats. Its creator, Jonathan Bailor, founded SANESolution, a weight loss company that has reached millions of people. Proven to help you lose weight naturally and maintain it, The SetpointDiet is your new blueprint for healthy living.
Praise For The Setpoint Diet: The 21-Day Program to Permanently Change What Your Body "Wants" to Weigh…
"Exposes the fundamental myths about obesity and weight loss that are keeping Americans sick. By explaining the link between our hormones and our metabolism, Jonathan Bailor offers readers a powerful set of tools for creating lifelong health."
—Mark Hyman, MD, eleven-time New York Times bestselling author of Food: What the Heck Should I Eat?

"I am often asked when there will be a proven prescription for weight loss. This is that prescription."
—Dr. Theodoros Kelesidis, MD, Harvard and UCLA Medical Schools

"Brilliant! An easily understood and applied framework that will change the way you live, look, and feel. Bailor will end your confusion once and for all."—Dr. William Davis, MD, #1 New York Times bestselling author of Wheat Belly

"Jonathan Bailor cuts through the noise around diet and weight loss and tells it to us straight: The food we eat impacts our biology in the most fundamental yet fixable ways. Our hormones regulate weight loss, and what we eat impacts how they function. Calories? Not the issue."
—Dr. Sara Gottfried, MD, New York Times bestselling author of The Hormone Cure

"A most fascinating and scientifically accurate look at the science of weight loss. The bottom line is this: Conventional 'calories in, calories out' approaches to weight loss are grossly inaccurate and tend to blame the victim. But there is another way. And it works. And it's right here in this book, which I highly recommend."—Christiane Northrup, MD, New York Times best-selling author of Goddesses Never Age, The Wisdom of Menopause, and Women's Bodies, Women's Wisdom
Hachette Books, 9780316483834, 352pp.
Publication Date: December 24, 2018
About the Author
Jonathan Bailor is a New York Times bestselling author and internationally recognized wellness expert who specializes in using modern science and technology to simplify health. Bailor has collaborated with top scientists for more than ten years to analyze and apply over 1,300 studies. His work has been endorsed by top doctors and scientists from Harvard Medical School, Johns' Hopkins, The Mayo Clinic, The Cleveland Clinic, and UCLA.
Bailor is the founder of SANESolution.com and serves as the CEO for the wellness technology company Yopti®. He authored the New York Times and USA Today bestselling book The Calorie Myth, hosts a popular syndicated health radio show The SANE Show, and blogs on the Huffington Post. Additionally, Bailor has registered over twenty-five patents, spoken at Fortune 100 companies and TED conferences for over a decade, and served as a Senior Program Manager at Microsoft where he helped create Nike+ Kinect Training and XBox Fitness.
or
Not Currently Available for Direct Purchase