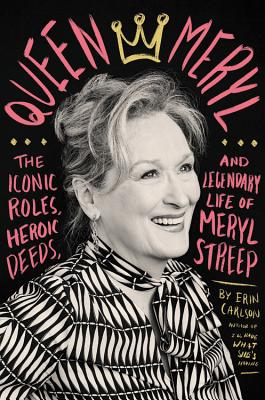 Queen Meryl
The Iconic Roles, Heroic Deeds, and Legendary Life of Meryl Streep
Hardcover

* Individual store prices may vary.
Other Editions of This Title:
Digital Audiobook (9/23/2019)
Description
A captivating and inspiring portrait of legendary actress Meryl Streep and her work, Queen Meryl explores the fearless icon's trailblazing roles in film, her feminist activism, and the indelible mark she's left on pop culture.
Meryl Streep is the most celebrated actress of our time. She's a chameleon who disappears fully into each character she plays. She never tackles the same role twice. Instead, she leverages her rarified platform to channel a range of dynamic, complicated women--Joanna Kramer, Karen Silkwood, Julia Child, Margaret Thatcher, Katharine Graham--rather than limit herself to marginal roles for which other actresses must settle: Supportive Wife. Supportive Mother. Supportive Yet Utterly Disposable Love Interest. Streep will have none of that.
The once-awkward, frizzy-haired suburban teen blossomed into a rising ingénue on the stage at Vassar College and the Yale School of Drama. She came of age during the women's movement of the '60s and '70s, and has worn her activism on her sleeve even when it was unfashionable. When she reached 40, the age when many leading ladies fade away, Streep plunged forward, taking her pick of parts that interested her and winning a pile of awards along the way. Meanwhile, she remained an unlikely box-office draw, her clout even managing to grow with age: The Devil Wears Prada, starring Streep as the Anna Wintour avatar Miranda Priestly, scored $326 million worldwide.
Journalist and author Erin Carlson documents all of Streep's Oscars, accents, causes, memes, friendships, and feuds; also exploring the "off-brand" forays into action-adventure (The River Wild) and musicals (Mamma Mia!), and how Streep managed to sneak her feminism into each character. In the spirit of nontraditional bestsellers like Notorious RBG and The Tao of Bill Murray, Queen Meryl is illustrated by artist Justin Teodoro and filled with fascinating lists and sidebars, delivering joy in homage to its unique and brilliant subject.

Praise For Queen Meryl: The Iconic Roles, Heroic Deeds, and Legendary Life of Meryl Streep…
"All hail!"—People, Best New Books of the Week

"The world doesn't deserve Meryl
Streep -- luckily, she graces us with her talents anyway. Erin Carlson's
delightful book captures the inexorable rise of a benevolent genius. Long live
the queen!"—Gavin Edwards, New York Times bestsellingauthor of The Tao of Bill Murray

"Erin Carlson sheds a new light on one of the most
beloved actresses of our times. As she charts Meryl's career and personal life,
Carlson manages to make her seem not just regal, but deeply human. Readers will
come away with a new appreciation for Queen Meryl and a desire to revisit so
many of her greatest roles."—Jennifer Wright, author of It Ended Badly

"An utterly compelling ride through the rise of one of
our most beloved and impactful artists. Carlson deftly dissects the evolution
of a self-made icon, and the fascinating stories behind her many, many
unforgettable roles. This is a book for film aficionados, Hollywood history
fans, and anyone who's ever wondered how Meryl Streep came to be Meryl F*cking
Streep."—Kelsey Miller, author of I'll Be There for You: TheOne About Friends

"With great research and enthusiasm, Carlson writes of Streep's trailblazing roles, activism and impact on pop culture. If you're a fan, you'll want to add this to your pile."—Huffington Post, Books to Read This Fall

"Generously supplemented with gossipy sidebars and lists and with fashion magazine-like brush-and-ink drawings, Carlson's latest will be embraced by Streep-struck fans."—Publishers Weekly

"An enthusiastic homage to a legend."—Kirkus Review

"Fans should be delighted by the juicy details of life on various sets andtales of Streep's good-humored devotion to her craft."—Booklist

"You absolutely must read [this] homage to another female force to be reckoned with."—Women.com, Books of the Month

"A vibrant celebration of one of Hollywood's most iconic figures."—Bustle.com
Hachette Books, 9780316485272, 320pp.
Publication Date: September 24, 2019
About the Author
Erin Carlson is the author of I'll Have What She's Having: How Nora Ephron's Three Iconic Films Saved the Romantic Comedy and has covered the entertainment industry for The Hollywood Reporter and the Associated Press. Her work has appeared in Glamour, Fortune, and the Los Angeles Times, and she holds a masters in journalism from Northwestern.