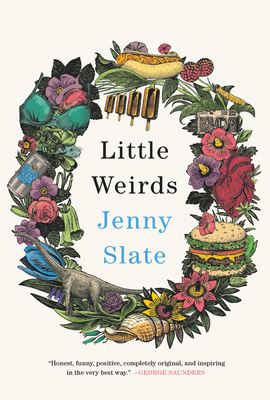 Little Weirds (Hardcover)
Little, Brown and Company, 9780316485340, 240pp.
Publication Date: November 5, 2019
Other Editions of This Title:
CD-Audio (11/5/2019)
* Individual store prices may vary.
Description
"Magical" -- Mindy Kaling
"Delicious" -- Amy Sedaris
"Funny and poignant and beautiful" -- John Mulaney
"It made me remember I was alive" -- George Saunders


Hello! I looked into my brain and found a book. Here it is. Inside you will find:
The smell of honeysuckle
Heartbreak
A French-kissing rabbit
A haunted house
Death
A vagina singing sad old songs
Young geraniums in an ancient castle
Birth
A dog who appears in dreams as a spiritual guide
Divorce
Electromagnetic energy fields
Emotional horniness
The ghost of a sea captain
And more
I hope you enjoy these little weirds.
Love,
Jenny Slate
About the Author
Jenny Slate is an actress, stand-up comedian, and the New York Times bestselling author of the children's book Marcel The Shell with Shoes On. She has been in many movies and TV shows and also plays many cartoon animals. Jenny is a graduate of Columbia University and has a young heart and an antique soul. She lives in a 100-year-old house in the bizarre and fun city Los Angeles, where nobody ever gets old at all.



Praise For Little Weirds…
"This book is something new and wonderful--honest, funny, positive, completely original, and inspiring in the very best way: it made me remember I was alive."—George Saunders

"Jenny's writing is magical and stylish, just like
her. Each essay in Little Weirds feels like a vivid, cinematic
experience, full of original observations and unexpected laughs."—Mindy Kaling

"This book is like a stovetop goulash, delicious and varied ingredients,
prepared perfectly and excellent with bread...I'm sorry, I lost track of the
simile."—Amy Sedaris

"A man on the 2 Express Train read some of Jenny Slate's Little Weirds over my shoulder. 'What kind of book is this?' he asked. 'The best kind,' I replied."—John Mulaney

"Luminous,
emotional, lovely, and a little mysterious, this book is something you will
savor like a half-remembered, gorgeous dream. You'll finish it feeling like
Jenny Slate is your new best friend."—Susan Orlean

"Jenny's writing is wide open, tuneful, tender. She sees the world
(and feels the world) like a bug might, two antennae poking out from her head
like sensory wands. Reading Little Weirds
made me feel tipsy."—Durga Chew-Bose, author of Too Much and Not the Mood

"A singularly hilarious
and horny, but also poignant and tender, collection of writing that beautifully
captures Slate's inimitable voice, which is one that, once you've heard it, you
want to listen to forever."—Kristen Iversen, Nylon