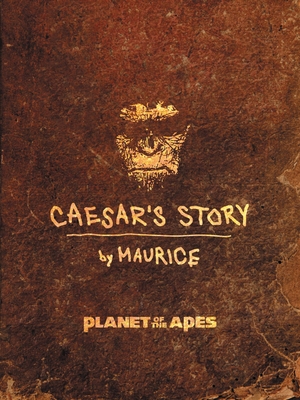 Planet of the Apes (Paperback)
Caesar's Story
Hachette Books, 9780316485395, 256pp.
Publication Date: October 23, 2018
* Individual store prices may vary.
Description
To celebrate the 50th anniversary of the Planet of the Apes franchise: an illustrated life story of Caesar, the brave and extraordinary leader of the apes, as told by Maurice, Caesar's best friend.

After the events of War for the Planet of the Apes, Caesar's tribe has finally found a safe refuge from the last remnants of the humans who wish to see them wiped out. It comes at a cost, however, as Caesar dies before he can see the apes thrive and prosper in their new home. Maurice, as a gift to Caesar's son Cornelius for when he grows older, decides to recount and chronicle Caesar's story so that his son can truly know what a unique and brave ape his father was, and inspire Cornelius in turn.

Caesar's Story is this chronicle, and tells the story of Caesar from his earliest days under the care of scientist Will Rodman, as well his life with the ape colony in Muir Woods after the outbreak of the Simian Flu, his interactions with Malcolm and Ellie, the dangerous ape Koba, and his ultimate battle with and imprisonment by the vicious and unstable Colonel. The book also chronicles what happens in-between the events of Rise and Dawn of the Planet of the Apes, as well as the events between Dawn of and War for the Planet of the Apes.

The book includes Maurice's personal thoughts and reflections of his long time spent alongside Caesar, and contributions from several other key apes that knew Caesar. The result is a truly one-of-a-kind celebration of the new Planet of the Apes trilogy and the franchise as a whole.

TM & © 2018 Twentieth Century Fox Film Corporation. All rights reserved.

About the Author
Maurice was an evolved orangutan and was Caesar's closest friend and ally. Instrumental in the ape liberation movement at the start of the Simian Flu, Maurice remained by Caesar's side for many years.

Greg Keyes was born in Meridian, Mississippi. He earned a bachelor's degree in anthropology at Mississippi State University and a Master's degree at the University of Georgia. While pursuing his PhD at UGA, he wrote several novels, one of which - The Waterborn - was published, along with its sequel, The Blackgod. He followed this with The Age of Unreason books, the epic fantasy series Kingdoms of Thorn and Bone, and numerous franchises, including Star Wars, Babylon Five, The Elder Scrolls, and Planet of the Apes. He now lives and works in Savannah, Georgia with his wife Nell, son Archer, and daughter Nellah.

TM & © 2018 Twentieth Century Fox Film Corporation. All rights reserved.

Praise For Planet of the Apes: Caesar's Story…
"One of modern cinema's most unexpectedly rich and rewarding (and unique) blockbuster franchises, the effectively rejiggered Planet of the Apes, which used the bones of a beloved classic to craft a series that continually stands out on its own merits. . . . a thinking-fan's summer movie delight, bolstered by eye-popping special effects and a reworked mythology that pays homage to the originals while pushing onward."—Indiewire

"The artwork throughout this book is gorgeously done... This story is
engrossing and moves along smoothly as you follow Caesar and his fight
against both humans and apes.... [R]iveting and so full of emotion."—FirstComicsNews.com
or
Not Currently Available for Direct Purchase