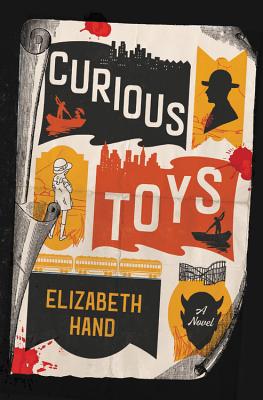 Curious Toys
Hardcover

* Individual store prices may vary.
Other Editions of This Title:
Digital Audiobook (10/14/2019)
Paperback (9/29/2020)
Compact Disc (10/15/2019)
Description
An intrepid young woman stalks a murderer through turn-of-the-century Chicago in "this rich, spooky, and atmospheric thriller that will appeal to fans of Henry Darger and Erik Larson alike" (Sarah McCarry).

In the sweltering summer of 1915, Pin, the fourteen-year-old daughter of a carnival fortune-teller, dresses as a boy and joins a teenage gang that roams the famous Riverview amusement park, looking for trouble.

Unbeknownst to the well-heeled city-dwellers and visitors who come to enjoy the midway, the park is also host to a ruthless killer who uses the shadows of the dark carnival attractions to conduct his crimes. When Pin sees a man enter the Hell Gate ride with a young girl, and emerge alone, she knows that something horrific has occurred.

The crime will lead her to the iconic outsider artist Henry Darger, a brilliant but seemingly mad man. Together, the two navigate the seedy underbelly of a changing city to uncover a murderer few even know to look for.
Praise For Curious Toys…
ONE OF THE YEAR'S BEST BOOKSLitHub * Chicago Public Library * CrimeReads

"Hand--whose masterly oeuvre ranges from the eerie to the horrific, post-punk to magic--delivers another brilliant mystery.... Wonderfully imaginative and richly delivered."—Ivy Pochoda, New York Times Book Review

"Curious Toys is itself like a carnival ride: alternatively dazzling and terrifying, disorienting and marvelous."—Amy Stewart, The Washington Post

"Brilliant, bustling . . . While Hand paces her mystery with classic precision, the real reward of Curious Toys lies in its richly textured panorama of Chicago during a crucial period of change, and in its vivid characters."—Gary Wolfe, Chicago Tribune

"Deliciously creepy . . . Atmospheric . . . Hand's gripping plot mines the era's vagaries with aplomb."—Associated Press

"[Pin] is a remarkable young sleuth. . . . Curious Toys is a thriller to be savored-tough, funny, strange, and revelatory."—Michael Berry, Portland Press Herald

"This book contains a rare kind of perfection: Elizabeth Hand's rough, observant magic draws into its circle great historical accuracy, a cross-dressing central protagonist, a wonderfully tender portrait of the great Outsider Artist Henry Darger, a vibrant thriller plot, reflections on gender and its place in civic order, a helpful Ben Hecht, and one of the greatest climactic drop-the-mic moments I've ever read -- and does all this while patiently setting into place the warm emotional armatures that make Curious Toys so moving."—Peter Straub

"A well-crafted and deliciously unsettling period thriller."—Booklist (starred review)

"Hand is a mage of the page.... [Curious Toys] will enchant those who like tough-girl protagonists and antiheroes, as well as fans of historical crime fiction."—Library Journal (starred review)

"Curious Toys is wonderful! I stayed up late two nights in a row, transported. It will be catnip for readers who love Chicago, circuses, cross-dressers, and early cinema."
—Audrey Niffenegger, bestselling author of The Time-Traveler's Wife

"[Hand] crafts a gritty and winsome character whose sheer determination to catch a murderer makes this mystery novel whiz by."—WBUR

"This atmospheric novel will transport you to a world you've never imagined before."
—Real Simple

"Richly imaginative and psychologically complex."—Kirkus Reviews

"An atmospheric crime novel... A phantasmagoric time trip tailor-made for fans of The Devil in the White City."—Publishers Weekly

"Glittering and scruffy as its carnival setting, with the deep gravity hold of a rollercoaster."—Lauren Beukes, internationally acclaimed author of The Shining Girls and Broken Monsters

"The latest novel from genre-crossing master storyteller Elizabeth Hand journeys from thriller territory straight into the heart of horror . . . A richly layered study of horror and sin and fantasy and reality, all in a peculiarly American vein. And it's scary as hell."—Chicago Review of Books

"Within the bustle and color and people, real and imagined, is a classic mystery, carefully plotted and executed."—Boston Review

"Billed as The Alienist meets The Devil in the White City but utterly original."—Inside Higher Ed

"Elizabeth Hand crafts a story that is, to borrow her own phrasing late in Curious Toys, 'gruesome but peculiar,' a fun-house mirror of a novel filled with Chicago history and detail. Dark and thrilling."—Lori Rader-Day, Edgar Award-nominated author of Under a Dark Sky

"Elizabeth Hand is a national treasure. Sinister sideshow hustlers, back alley intrigues, and brilliant outsiders: Turn-of-the-century underworld Chicago comes alive in this rich, spooky, and atmospheric thriller that will appeal to fans of Henry Darger and Erik Larson alike."—Sarah McCarry, author of All Our Pretty Songs

"When great artists meet -- in this case Henry Darger and Elizabeth Hand -- extraordinary things happen. For years Elizabeth Hand has been the supreme writer's writer, an inside secret among those in the know. With Curious Toys, Elizabeth Hand confirms her place as one of the great writers of our era. This book is exactly what you want to read -- absorbing, intelligent, bold. As the author says, only a girl would be so brave."—Sara Gran, author of The Infinite Blacktop

"I've long admired Elizabeth Hand for her ability to write in whatever genre pleases her, be it noir, fantasy, or science fiction. With Curious Toys she goes further, spinning a wild, expansive, and bravura tale of carnival life, dead and missing girls, identity shifts, and big dreams transformed into awful nightmares. I loved this book."—Sarah Weinman, author of The Real Lolita: The Kidnapping of Sally Horner and the Novel That Scandalized The World

"Curious Toys is an utterly compelling read with a sleuth who will win your heart. This is one mystery you won't want to miss."—Ellen Hart, Mystery Writers of America Grand Master and Lambda Award-winning author of the Jane Lawless mysteries

"An immersive, inventive historical mystery, led by a distinctly modern, queer heroine. I loved this story!"—Kristen Lepionka, author of The Last Place You Look, winner of the Shamus Award for Best First PI Novel and Edgar Award finalist

"I finished Curious Toys agog and filled with awe. The balance Elizabeth Hand strikes between history and fiction is breathtaking, every scene so memorable and etched in my mind. Here's hoping this masterful novel gets every accolade it richly deserves."—Bradford Morrow, author of The Prague Sonata

"From an author who has achieved acclaim for stories of crime, horror, and fantasy, comes a new tale of intrigue and murder that checks off many of my favorite boxes. It's got: lady detectives, old seaside amusement parks, the Gilded Age, silent film, women who disguise as men to embed in male-only groups, women who look out for other women."—Olivia Rutigliano, CrimeReads

"Hand's research into Chicago history is impeccable without ever seeming gratuitous, and even secondary characters such as Chaplin and Hecht emerge as fascinating and complex. But the story--which tightens its spiral as neatly as any murder mystery--finally belongs to Pin and Henry Darger, and mostly to Pin, an absolutely marvelous creation who, in the superb ending, turns out to be far more than we expected."—LOCUS

"[Curious Toys] blends fact and fiction in fascinating ways. Avant-garde artist Henry Darger makes for an interesting companion to the gender-fluid lead character of this unusual serial killer novel."—BOLO Books
Mulholland Books, 9780316485883, 384pp.
Publication Date: October 15, 2019
About the Author
Elizabeth Hand is the author of more than fourteen cross-genre novels and collections of short fiction. Her work has received the Shirley Jackson Award (three times), the World Fantasy Award (four times), the Nebula Award (twice), as well as the James M. Tiptree Jr. and Mythopoeic Society Awards. She's a longtime critic and contributor of essays for the Washington Post, Los Angeles Times, Salon, Boston Review, and the Village Voice, among many others. She divides her time between the Maine coast and North London.
or
Not Currently Available for Direct Purchase