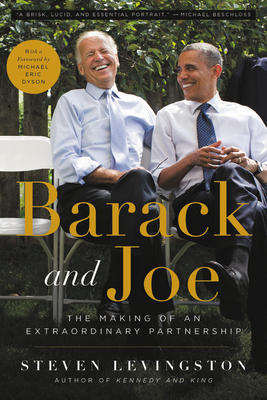 Barack and Joe
The Making of an Extraordinary Partnership
Paperback

* Individual store prices may vary.
Other Editions of This Title:
Digital Audiobook (10/7/2019)
Hardcover (10/8/2019)
Compact Disc (10/8/2019)
Description
A Washington Post 2019 Notable Selection

A vivid and inspiring account of the "bromance" between Barack Obama and Joe Biden.
The extraordinary partnership of Barack Obama and Joe Biden is unique in American history. The two men, their characters and styles sharply contrasting, formed a dynamic working relationship that evolved into a profound friendship. Their affinity was not predestined. Obama and Biden began wary of each other: Obama an impatient freshman disdainful of the Senate's plodding ways; Biden a veteran of the chamber and proud of its traditions.

Gradually they came to respect each other's values and strengths and rode into the White House together in 2008. Side-by-side through two tension-filled terms, they shared the day-to-day joys and struggles of leading the most powerful nation on earth. They accommodated each other's quirks: Biden's famous miscues kept coming, and Obama overlooked them knowing they were insignificant except as media fodder. With his expertise in foreign affairs and legislative matters, Biden took on an unprecedented role as chief adviser to Obama, reshaping the vice presidency. Together Obama and Biden guided Americans through a range of historic moments: a devastating economic crisis, racial confrontations, war in Afghanistan, and the dawn of same-sex marriage nationwide. They supported each other through highs and lows: Obama provided a welcome shoulder during the illness and death of Biden's son Beau.

As many Americans turn a nostalgic eye toward the Obama presidency, Barack and Joe offers a new look at this administration, its absence of scandal, dedication to truth, and respect for the media. This is the first book to tell the full story of this historic relationship and its substantial impact on the Obama presidency and its legacy.
Praise For Barack and Joe: The Making of an Extraordinary Partnership…
Praise for Barack and Joe


"Levingston, a gifted diviner of our political ethos and an eloquent chronicler of our national tendencies, delves purposefully into the relationship between Obama and Biden, showing how it was the magical melding of two forceful personalities who were quite dissimilar in many ways, but no less capable of turning their differences into national benefit.... This buddy film come-to-life is a magnificent story told with poetic verve by a writer who sets his study up like a thriller and crafts it with the pace and surprise of a first-rate novel."—Michael Eric Dyson, from the Foreword

"Barack and Joe brilliantly recounts the remarkable friendship of two very different American leaders. The Obama-Biden axis remains the most potent force in Democratic politics. As the 2020 election nears, this remarkable and timely book will be a must-read for informed voters of every persuasion. Highly recommended!"—Douglas Brinkley, New York Times bestselling author of American Moonshot: John F. Kennedy and the Great Space Race

"Steven Levingston's brisk, lucid, and essential portrait of the relationship between Barack Obama and his Vice President tells us much that we did not know before- and at a moment when understanding that relationship will be crucial to deciding who should be the next President."
—Michael Beschloss

"There may then be no better time for the first in-depth exploration of [the Obama-Biden] relationship, offered by Steven Levingston in the simply and appropriately titled Barack and Joe.'"—The Washington Post

"Particularly now, with Biden's status as a front-runner for the 2020 Democratic presidential nomination challenged, a tinge of nostalgia informs Levingston's deeply insightful, highly readable narrative."
—The National Book Review

"Levingston weaves a lively narrative about an unlikely alliance between the taciturn Obama and gregarious, voluble Biden. . . . As Levingston recounts their relationship during the campaign's high and low points and throughout eight years of facing economic, social, and military crises, he points out many occasions when the two men seemed close. In particular, Obama's demonstrative sympathy for Biden when his son Beau died of brain cancer is compelling evidence of the sincerity of his friendship and love."—Kirkus Reviews

Praise for Kennedy and King


"By reminding us of these great leaders and their accomplishments, this
book will fuel your passion for the new work we still need to do in our
society today."—Congressman John Lewis

"Comparing and contrasting disparate historical figures can easily be
artificial, misleading, even gimmicky. Steven Levingston, however, has
walked this tightrope magnificently... As is always the case with major
contributions to our understanding, Levingston's is grounded in diligent
research and detail."—Washington Post

"Insightful and well-crafted.... At a time when cynicism about our political system abounds, [Kennedy and King] reminds us that outsiders can prod those in power toward progress and reform."—Wall Street Journal
Hachette Books, 9780316487894, 352pp.
Publication Date: June 30, 2020
About the Author
Steven Levingston is the author of Little Demon in the City of Light, Kennedy and King, which was named a New York Times Editor's Choice selection and a Washington Post Notable Book of 2017, and Barack and Joe. The non-fiction book editor of the Washington Post, he has lived and worked in Beijing, Hong Kong, New York, Paris, and Washington and reported and edited for the Wall Street Journal and International Herald Tribune.