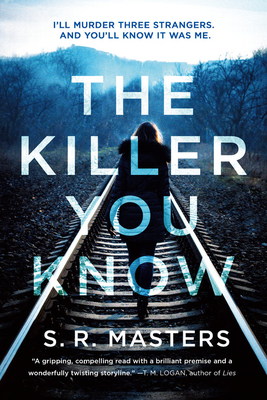 The Killer You Know (Paperback)
Redhook, 9780316489430, 432pp.
Publication Date: May 14, 2019
* Individual store prices may vary.
Description
The Killer You Know is a gripping, original story about toxic friendships and revenge -- perfect for fans of Laura Marshall, Ruth Ware and C. J. Tudor.

I'll murder three strangers. And you'll know it was me . . .

"A blinder of a read" -- SUN

"A scary, compelling and a completely original page-turner" -- Irish Independent

"An original and gripping thriller" -- Laura Marshall
Summer 1997: When Will jokes about becoming a serial killer, his friends just laugh it off. But Adeline can't help but feel there's something darker lurking behind his words.

Winter 2015: Years later, Adeline returns to Blythe for a reunion of the old gang -- except Will doesn't show up. Reminiscing about old times, they look up the details of his supposed murder spree. But the mood soon changes when they discover two recent deaths that match.

As the group attempts to track Will down, they realize that he is playing a sinister game that harks back to one they used to play as kids.

Only this time there are lives at stake . . .

Readers are absolutely loving The Killer You Know:

"A compelling, unpredictable thriller that conveys the changing nature of long-lasting friendships beautifully. How well do we know even our closest of friends? Highly recommended." -- Elisabeth Carpender

"A twisty, clever exploration of claustrophobic childhood friendships and the darkness they can lead to." -- Dervla McTiernan

"The Killer You Know is one of my favourite reads of the year. I LOVED it. Pacey, nostalgic, excellent very well-developed characters, and a clever plot" -- Niki MacKAy

"A gripping, compelling read with a brilliant premise and a wonderfully twisting storyline. An incredible debut." -- TM Logan

"Compelling, creepy, and brilliantly executed, The Killer You Know is an original new voice in the thriller world." -- Phoebe Morgan

"Brilliantly atmospheric tale of toxic friendship, with a killer hook -- what if one of your gang turned out to be a serial killer? Loved it." -- Liz Barnsely
About the Author
S. R. Masters grew up around Birmingham, and spent his teen years reading, playing in bands and wandering through fields with friends. After studying Philosophy at Cambridge, he worked in public health for the NHS, specializing in health behavior. He currently lives in Oxford with his wife and son.
Praise For The Killer You Know…
"An original and gripping thriller combined with an evocative coming of age story that will be achingly familiar."—Laura Marshall, author of Friend Request

"A compelling, unpredictable thriller that conveys the changing nature of long-lasting friendships beautifully. How well do we know even our closest of friends? Highly recommended."—Elisabeth Carpenter, author of 99 Red Balloons

"A gripping, compelling read with a brilliant premise and a wonderfully twisting storyline. An incredible debut."—T. M. Logan, author of Lies

"A thrilling read and an exceptional debut novel."—Rachel Edwards, author of Darling

"Compelling, creepy, and brilliantly executed . . . an original new voice in the thriller world."—Phoebe Morgan, author of The Doll House

"A twisty, clever exploration of claustrophobic childhood friendships and the darkness they can lead to."—Dervla McTiernan, author of The Ruin

"Arresting . . . . offers sharp insights into group dynamics and peer manipulation. Masters is a writer to watch."—Publishers Weekly