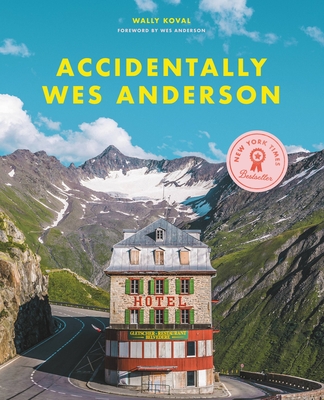 Accidentally Wes Anderson
Hardcover

* Individual store prices may vary.
Description
THE NEW YORK TIMES BESTSELLER

A visual adventure of Wes Anderson proportions, authorized by the legendary filmmaker himself: stunning photographs of real-life places that seem plucked from the just-so world of his films, presented with fascinating human stories behind each façade.
 Accidentally Wes Anderson began as a personal travel bucket list, a catalog of visually striking and historically unique destinations that capture the imagined worlds of Wes Anderson. Now, inspired by a community of more than one million Adventurers, Accidentally Wes Anderson tells the stories behind more than 200 of the most beautiful, idiosyncratic, and interesting places on Earth. This book, authorized by Wes Anderson himself, travels to every continent and into your own backyard to identify quirky landmarks and undiscovered gems: places you may have passed by, some you always wanted to explore, and many you never knew existed. Fueled by a vision for distinctive design, stunning photography, and unexpected narratives, Accidentally Wes Anderson is a passport to inspiration and adventure. Perfect for modern travelers and fans of Wes Anderson's distinctive aesthetic, this is an invitation to look at your world through a different lens. 
Praise For Accidentally Wes Anderson…
"The Instagram trend you didn't know you needed...Art may imitate life, but as evidenced by the thousands of people designating their photos #AccidentalWesAnderson, perhaps the opposite is also true."—
Vogue
Pastel colors, front-on facades, hyper-stylized uncanny symmetry: director Wes Anderson has a defined aesthetic. Once you've got your eye in, you can see it anywhere.... [Koval's] account, @AccidentallyWesAnderson, has found favor with an 'engaged group of explorers with a keen eye,' who send him thousands of submissions every week.—
The Guardian
Like the Instagram account that spawned it, Wally Koval's book brings together stunning — and often hilarious — photos of locations around the world that capture the director's offbeat aesthetic.—
Washington Post Holiday Gift Guide
While [Accidentally Wes Anderson] takes you to the top (Kilimanjaro) and bottom (Goudier Island, Antarctica) of the world, it also frames architectural bonbons closer to civilization and provides inspiration for your own homes, which might do with a dash of dreaminess in these dreary times.—
The New York Times
'Legions of fans are scouting for locations around the world that evoke the 48 year-old director's trademark twee aesthetic... Color, symmetry, and absurdity are the defining elements of his aesthetic."—
Quartz
All the world's a Wes Anderson film, or so one would glean from this handsome book… A charming, whimsical tribute to the Anderson aesthetic.—
Kirkus Reviews
The Accidentally Wes Anderson Instagram account, with its million-plus followers, is a wonderland of travel photography inspired by the distinctive symmetry, colors, and quirks of films by Wes Anderson...Now Koval is releasing a coffee-table book filled with some of the community's most wanderlust-inspiring photos, organized by region and marked with approximate dates of origin.—
Virtuoso
This book technically isn't out yet, but
it looks so good
we couldn't just not put it on the list.—
Cosmopolitan.com best coffee table books roundup
There's a sense of cheerfulness and beauty in those images that seems to only exist in the past — it's powerful.—
Matador Network
Koval gleefully arrays the awe-inspiring products of his Wes Anderson fan-photography Instagram project, an (officially authorized) labor-of-love. The selections in this debut coffee-table conversation-piece are culled from submissions by a "global community of more than one million Adventurers" that recall the filmmaker's color-saturated oeuvre, many published for the first time here…Varying in layout, the images share vibrant color composition, both joyful and surreal…True to its inspiration, the collection is breathtaking, witty, and happily ambitious, a perfect diversion for film fans and globe trotters alike.—
Publishers Weekly
This coffee table book, full of Andersonesque visuals spotted around the globe, is a respite for the soul as much as it is really good decoration.—
Entertainment Weekly
Whereas [Accidentally Wes Anderson] takes you to the highest (Kilimanjaro) and backside (Goudier Island, Antarctica) of the world, it additionally frames architectural bonbons nearer to civilization and supplies inspiration in your personal houses, which could do with a touch of dreaminess in these dreary instances...In this time of quarantine, the luxurious [book], with the photographs clustered geographically, reads much more strongly as a want checklist.—
Lightly News
Koval [has] assembled a travel list of over 200 pop-pastel places and the unique stories behind them in this book authorized by the 
Moonrise Kingdom
 director himself. Get ready for a visual feast that will fully ignite your wanderlust.—
E! Online
[I]n this time — when travel is limited, and movie releases, including Anderson's own "The French Dispatch" are indefinitely postponed — it's a small pleasure to escape for a few minutes into this fantastical, stylized version of the world.—
Pacific San DiegoAccidentally Wes Anderson
 is both a loving counterpart to the filmmaker's work and an admirable piece of work on its own.—
Houston Chronicle
Whether you're familiar with the director's films or not, 
Accidentally Wes Anderson 
deftly suggests that a shift in perspective is all that's necessary to transform the everyday to the extraordinary. The photographs and accompanying stories encourage a second and third look at our usual surroundings while we're still stuck in them, and they're sure to inspire a new travel bucket list for when we're not. —
Gear Patrol
Fueled by a vision for distinctive design, stunning photography, and unexpected narratives, 
Accidentally Wes Anderson
 is a passport to inspiration and adventure. Perfect for modern travelers and fans of Wes Anderson's distinctive aesthetic, this is an invitation to look at your world through a different lens.—
BookPeople Blog
Inspired by a popular Instagram account, this coffee-table book showcases joy-inducing locations across the globe that would look right at home in the stylized films of the 
Grand Budapest Hotel 
director.—
People Magazine's List of 25 Reasons for Hope in America in 2020
With a foreword by Anderson himself, the book is a unique celebration of one of the world's most beloved filmmakers and a wonderful evocation of richness and diversity of the world itself.—
MMG News
It's an aesthete's dream... A compilation of the symmetrical, atypical, unexpected, vibrantly patterned and distinctively coloured, Accidentally Wes Anderson is the ultimate celebration of the auteur filmmaker and the meticulous aesthetic that his fans love.
—
Daily Architecture News
This is a beautifully strange and wonderful book... Part architectural, part travelogue, it's a lot of fun and the perfect place to spend some time during your armchair travels.—
The Star
For those who want to wander afar via the aesthetic defined by the films of the celebrated director, inspiration can be found at the Hospital Naval in Buenos Aires, a pancake stand-in Croatia, a branch of the BNP Paribas branch in Wroclaw, or the Najim al-Imam Religious School in Najal. Regardless of what might strike your fancy paging through, it's also a book sure to pique the interest of your guests.—
The Daily Beast
Transporting...A nice way to satisfy a housebound traveler's whimsical wanderlust.—
Wall Street Journal
[A] big and beautiful book that combines the sugary-sweet palette of Anderson's cinematography with the snackable summaries of a guidebook...When opened sporadically, it's like bathing in serotonin—
The New York Times Book Review
...the closest one can get to living in a Wes Anderson film.—
InsideHook
Voracious, 9780316492737, 368pp.
Publication Date: October 20, 2020
About the Author
Wally Koval founded the @AccidentallyWesAnderson community on Instagram in 2017, and it has since grown to more than one million Adventurers. Wally curates and publishes daily content with the help of his wife, Amanda, and their dog, Dexter, in Brooklyn, New York. To discover your next adventure or share your favorite photo, visit AccidentallyWesAnderson.com.