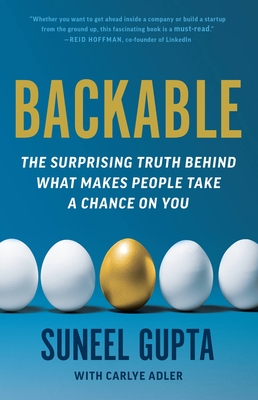 Backable
The Surprising Truth Behind What Makes People Take a Chance on You
Hardcover

* Individual store prices may vary.
Other Editions of This Title:
Digital Audiobook (2/22/2021)
Description
A groundbreaking book that boldly claims the key to success is not talent, connections, or ideas, but the ability to persuade people to take a chance on your potential.
 
"The most exceptional people aren't just brilliant...they're backable." —Daniel Pink, #1 New York Times bestselling author of When, Drive  and To Sell is Human
 
No one makes it alone. But there's a reason some people can get investors or bosses to believe in them while others cannot. And that reason has little to do with experience, pedigree, or a polished business plan. Backable people seem to have a hidden quality that inspires others to take action. We often chalk
this up to natural talent or charisma...either you have "it" or you don't.

After getting rejected by every investor he pitched, Suneel Gupta had a burning question: Could "it" be learned?

Drawing lessons from hundreds of the world's biggest thinkers, Gupta discovered how to pitch new ideas in a way that has raised millions of dollars, influenced large-scale change inside massive corporations, and even convinced his eight-year-old daughter to clean her room. Inside Backable are long-held secrets from producers of Oscar-winning films, members of Congress, military leaders, culinary stars, venture capitalists, founders of unicorn-status startups, and executives at iconic companies like Lego, Method, and Pixar.

Backable reveals how the key to success is not charisma, connections, or even your résumé, but rather your ability to persuade others to
take a chance on you. This original book will show you how.
Praise For Backable: The Surprising Truth Behind What Makes People Take a Chance on You…
"The most successful people aren't just brilliant...they're backable. This is the quality I look for most in leaders I recruit and entrepreneurs I fund—now I have a great name for it and a playbook for what it takes. Whether you want to get ahead inside a company or build a startup from the ground up, this fascinating book is a must-read."—Reid Hoffman, co-founder of Linkedin

"The most exceptional people aren't just brilliant...they're backable. This remarkable book can be your secret weapon for bringing your idea to life."
 —Daniel Pink, #1 New York Times bestselling author of When, Drive and To Sell is Human

"This book is truly brave. I felt like I was sitting with Suneel as he unveiled secret steps that anyone can take to stand out and achieve their dreams."
 —Reshma Saujani, founder and CEO of Girls Who Code, bestselling author of Brave Not Perfect

"Being backable isn't just for celebrities and CEOs. It's a required skill for anyone who is trying to make it in the world. This book will change the trajectory of careers, launch new ideas into the world, and inspire cocktail party conversation for years to come."—Dr. Jennifer Aaker General Atlantic Professor at Stanford Graduate School of Business

"Suneel Gupta demystifies the "x-factor" I look for in leaders, activists and entrepreneurs. Becoming backable will change how the world sees you—and how you see yourself."—Brian Grazer, Oscar-winning producer

"Backable provides a super-readable and actionable look at how to make your ideas take flight. Whether you're pitching a brand-new startup or an idea for your company's next product, you'll find a wealth of insights and stories throughout."—Mike Krieger, co-founder of Instagram
Little, Brown and Company, 9780316494519, 256pp.
Publication Date: February 23, 2021
About the Author
Suneel Gupta is on faculty at Harvard University where he teaches students how to be Backable. Using the 7 steps inside this book, Suneel went from being the face of failure for the New York Times to being the "New Face of Innovation" for the New York Stock Exchange. His ideas have been backed by firms like Greylock and Google Ventures, and he has invested in startups including Airbnb, Calm, and SpaceX. Suneel also serves as an emissary for Gross National Happiness between the United States and the Kingdom of Bhutan.