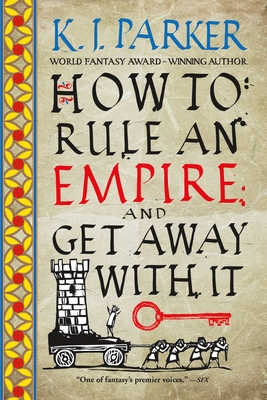 How to Rule an Empire and Get Away with It
Paperback

* Individual store prices may vary.
Other Editions of This Title:
Digital Audiobook (8/17/2020)
Paperback (1/11/2022)
Description
"Full of invention and ingenuity . . . Great fun." - SFX on Sixteen Ways to Defend a Walled City
This is the history of how the City was saved, by Notker the professional liar, written down because eventually the truth always seeps through.
The City may be under siege, but everyone still has to make a living. Take Notker, the acclaimed playwright, actor, and impresario. Nobody works harder, even when he's not working. Thankfully, it turns out that people enjoy the theater just as much when there are big rocks falling out of the sky.
But Notker is a man of many talents, and all the world is, apparently, a stage. It seems that the empire needs him -- or someone who looks a lot like him -- for a role that will call for the performance of a lifetime. At least it will guarantee fame, fortune, and immortality. If it doesn't kill him first.
In the follow up to the acclaimed Sixteen Ways to Defend a Walled City, K. J. Parker has created one of fantasy's greatest heroes, and he might even get away with it.
For more from K. J. Parker, check out:Sixteen Ways to Defend a Walled City
The Two of SwordsThe Two of Swords: Volume OneThe Two of Swords Volume TwoThe Two of Swords: Volume Three
The Fencer TrilogyColours in the SteelThe Belly of the BowThe Proof House
The Scavenger TrilogyShadowPatternMemory
Engineer TrilogyDevices and DesiresEvil for EvilThe EscapementThe CompanyThe Folding KnifeThe HammerSharps
Praise For How to Rule an Empire and Get Away with It…
"Parker's latest epic fantasy proves that all the world is, indeed, a stage, and Parker himself is a master impresario. Readers will enjoy his comedic take on how politics are comprised of equal parts lies, incompetence, and the foolishness of humanity-with just enough flashes of brilliance to save the day. Recommended for fans of Terry Pratchett."—Library Journal

"Readers are ensured a good time and a barrel of laughs to boot."—Publishers Weekly

"Truly, this IS the performance of a lifetime."—FanFiAddict

"An impressive work of fiction. Like all Parker books I have read, Empire is an interesting experience from start to finish – funny and fresh from page one."—The Quill to Live

"Parker has created a world full of wit, ingenuity, unlikely tactics and reluctant heroes and there is nothing else quite like it." —Fantasy Hive

"Full of invention and ingenuity . . . Great fun."—SFX on Sixteen Ways to Defend a Walled City

"Launches a witty adventure series . . . Readers will appreciate the infusion of humor and fun-loving characters into this vivid and sometimes grim fantasy world."—Publishers Weekly on Sixteen Ways to Defend a Walled City

"As with most of Parker's work, there is a mel­ancholy undercurrent that gives the humor weight. As heroes go, Orhan is a reluctant and flawed one . . . . [but] when Orhan works the problem, we can't help but watch."—Locus on Sixteen Ways to Defend a Walled City

"With a steady pacing, solid, lean writing and variety of twists, the novel keeps on surprising the reader."—Fantasy Book Critic on Sixteen Ways to Defend a Walled City
Orbit, 9780316498678, 400pp.
Publication Date: August 18, 2020
About the Author
K.J. Parker is a pseudonym for Tom Holt. He was born in London in 1961. At Oxford he studied bar billiards, ancient Greek agriculture and the care and feeding of small, temperamental Japanese motorcycle engines; interests which led him, perhaps inevitably, to qualify as a solicitor and emigrate to Somerset, where he specialized in death and taxes for seven years before going straight in 1995. He lives in Chard, Somerset, with his wife and daughter.