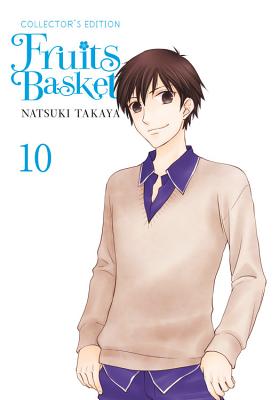 Fruits Basket Collector's Edition, Vol. 10 (Paperback)
Yen Press, 9780316501644, 384pp.
Publication Date: February 21, 2017
Other Editions of This Title:
Paperback (6/28/2016)
Paperback (7/26/2016)
Paperback (8/30/2016)
Paperback (10/25/2016)
Paperback (3/21/2017)
Paperback (9/27/2016)
Paperback (12/20/2016)
* Individual store prices may vary.
Description
The much-loved series winds down to the homestretch. Tohru's feelings for Kyo come to the forefront as she desperately searches for a way to break the curse. If she can't find a cure in time, Kyo will be locked away by the Sohma for the rest of his life! Graduation is fast approaching, meaning major decisions that will affect not only Tohru and Kyo but all of the members of the Sohma Zodiac. After all of this heartbreak, is a happy ending even possible...?
About the Author
Natsuki Takaya burst onto the manga scene in North America with the publication of Fruits Basket which became an immediate sensation. Her other works include Twinkle Stars and Liselotte & Witch's Forest.