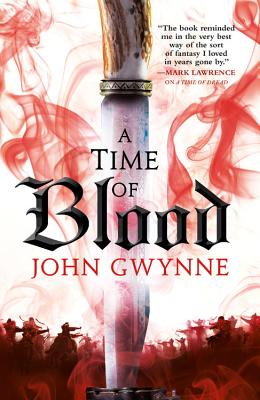 A Time of Blood (Of Blood & Bone #2)
Paperback

* Individual store prices may vary.
Description
"A great read that accelerates the pace and goes one up on its excellent predecessor . . . Exciting, action-packed fantasy." -- Mark Lawrence

Defy the darkness. Defend the light.

Drem and his friends are haunted by the horrors they witnessed at the battle at Starstone Lake: the screams of men being warped into beasts and the sight of a demon rising from the dead. But worse than any memory is Fritha, the demons' deadly high priestess. And she is hunting them.

Concealed in Forn Forest, Riv knows her very existence is a threat to the Ben-Elim. She represents their most dangerous secret, and if the warrior angels find her, they won't hesitate to silence her.

As the demonic forces multiply, they send a mighty host to overthrow the angel's stronghold. Like heroes of old, Drem, Riv, and the Bright Star's warriors must battle to save themselves and save their land. But can the light triumph when the dark is rising?

For more from John Gwynne, check out:Of Blood and BoneA Time of DreadA Time of BloodA Time of Courage
The Faithful and the FallenMaliceValorRuinWrath
Praise For A Time of Blood (Of Blood & Bone #2)…
"Reminds me of why I became a fantasy enthusiast in the first place. Fantasy can be an escape from reality, but some stories carry the reader to an enhanced reality, a place where the world seems to have brighter colors and sharper contrasts."—Robin Hobb on A Time of Dread

"The book reminded me in the very best way of the sort of fantasy I loved in years gone by. Exciting, well-written, swords and sorcery. Try it on for size."—Mark Lawrence on A Time of Dread

"Great evils, conflicted heroes, bloody battles, betrayal, and giants riding battle bears! What's not to love?"—Peter Newman on A Time of Dread

"I loved A Time of Dread and read it from cover to cover in two days. I couldn't put it down."—Miles Cameron on A Time of Dread

"Fans of epic fantasy have something to cheer about: A Time of Dread is marvelous. Gwynne's writing is superb, delivering not only twists and turns but also nuance and complexity."—Sebastien de Castell on A Time of Dread

"An accomplished and rousing tale of heroes and dark deeds that fans of epic fantasy will devour."—Tom Lloyd on A Time of Dread

"A fierce, gripping tale, and one I found hugely enjoyable."—Anna Smith Spark on A Time of Dread

"A series that promises the same degree of complexity and depth found in Robert Jordan's Wheel of Time books and George R. R. Martin's Song of Ice and Fire series."—Library Journal (starred review) on Malice

"Influenced by Gemmell's Rigante and George R. R. Martin's Game of Thrones ... Hell of a debut."—Conn Iggulden on Malice

"Middle Earth-ish extravaganza with all the usual thrills, chills, spills and frills ... there's plenty of action."—Kirkus on Malice

"Three-dimensional characters, a gripping plot, and a world that became real to me ... this is the type of fantasy I love to read and I truly can't wait to read the next volume in The Faith and the Fallen!"—Fantasy Book Critic on Malice

"John Gwynne hits all the right spots in his epic tale of good vs evil . . . there's a lot of pleasure to be had in this debut novel; Gwynne is definitely one to watch."—SFX on Malice

"Warring clans, sleeping giants, Banished Lands and omens and portents ... a strong contender for 'if you like Game of Thrones, why not try this?' award."—Independent on Malice
Orbit, 9780316502276, 512pp.
Publication Date: April 16, 2019
About the Author
John Gwynne studied and lectured at Brighton University. He's been in a rock 'n' roll band, playing the double bass, traveled the USA and lived in Canada for a time. He is married with four children and lives in Eastbourne, running a small family business rejuvenating vintage furniture. Malice is his debut novel.