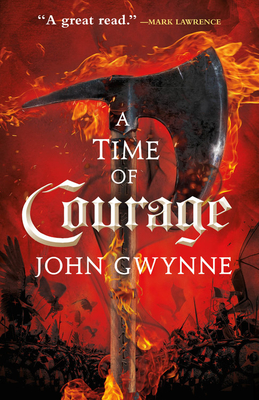 A Time of Courage (Of Blood & Bone #3)
Paperback

* Individual store prices may vary.
Description
Heroes shall rise and fall, the earth shall be stained red, and the fate of the Banished Lands will be decided once and for all in A Time of Courage, the gripping conclusion to the Of Blood and Bone trilogy.
Now is the time of reckoning...
The demon-king Asroth is free of his iron prison, and thewhole of the Banished Lands stands on the brink of domination.
With the Ben-Elim broken and routed, half-breed Riv and asmall band of comrades must try to find a way to strike at the demon forces.
Meanwhile, Drem is with the Order of the Bright Star on a desperate march south to join the battle. He fears what they will find along the way, even as he knows it is better to fight and fall than to live without hope.

Of Blood and BoneA Time of DreadA Time of BloodA Time of Courage
The Faithful and the FallenMaliceValorRuinWrath
Praise For A Time of Courage (Of Blood & Bone #3)…
"Another masterpiece from what is a brilliant fantasy mind."—Out of this World SFF Reviews on A Time of Courage

"The book reminded me in the very best way of the sort of fantasy I loved in years gone by. Exciting, well-written, swords and sorcery. Try it on for size."—Mark Lawrence on A Time of Dread

"Great evils, conflicted heroes, bloody battles, betrayal, and giants riding battle bears! What's not to love?"—Peter Newman on A Time of Dread

"I loved A Time of Dread and read it from cover to cover in two days. I couldn't put it down."—Miles Cameron on A Time of Dread

"Fans of epic fantasy have something to cheer about: A Time of Dread is marvelous. Gwynne's writing is superb, delivering not only twists and turns but also nuance and complexity."—Sebastien de Castell on A Time of Dread
Orbit, 9780316502313, 720pp.
Publication Date: April 7, 2020
About the Author
John Gwynne is the author of The Faithful and the Fallen quartet and the Of Blood and Bone trilogy. He studied and lectured at Brighton University. He's been in a rock 'n' roll band, playing the double bass, traveled the USA and lived in Canada for a time. He is married with four children and lives in Eastbourne, running a small family business rejuvenating vintage furniture.