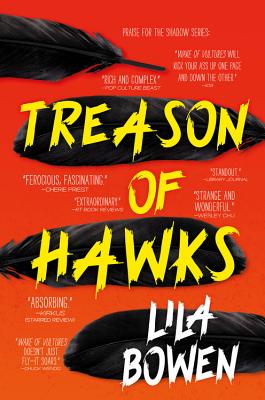 Treason of Hawks (Shadow #4) (Hardcover)
Orbit, 9780316502375, 304pp.
Publication Date: October 16, 2018
Description
The conclusion to Lila Bowen's widely-acclaimed fantasy series, which New York Times bestselling author Kevin Hearne described as "thrilling, delightfully written, and important."
Rhett Walker is looking for peace, the memories of all he's lost haunting his dreams. And now the Shadow tugs him West, back to where his journey began.
With the lawless Rangers on his heels and monster attacks surging, Rhett is surrounded on all sides. This time it's not all about horses and land. This time, it feels personal. Because the newest monster on the horizon just may be wearing the face of someone from Rhett's past.
To save the Durango territory, Rhett must accept the Shadow's call and fulfill his destiny.
The ShadowWake of VulturesConspiracy of RavensMalice of CrowsTreason of Hawks
About the Author
Lila Bowen is a pseudonym for Delilah S. Dawson, the writer of Star Wars: Phasma, The Perfect Weapon, and Scorched; the Blud series, the Hit series, Servants of the Storm, and the Ladycastle comic. She won the RT Fantasy of the Year award for Wake of Vultures. Delilah lives in Florida with her family.
Advertisement