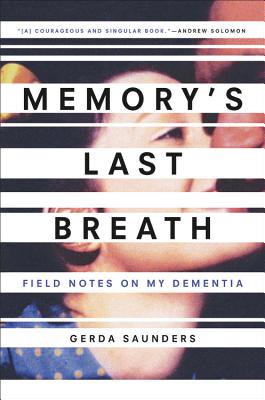 Memory's Last Breath
Field Notes on My Dementia
Hardcover

* Individual store prices may vary.
Other Editions of This Title:
Digital Audiobook (6/12/2017)
Paperback (5/29/2018)
Compact Disc (6/13/2017)
Compact Disc (6/13/2017)
Description
A "courageous and singular book" (Andrew Solomon), Memory's Last Breath is an unsparing, beautifully written memoir -- "an intimate, revealing account of living with dementia" (Shelf Awareness).

Based on the "field notes" she keeps in her journal, Memory's Last Breath is Gerda Saunders' astonishing window into a life distorted by dementia. She writes about shopping trips cut short by unintentional shoplifting, car journeys derailed when she loses her bearings, and the embarrassment of forgetting what she has just said to a room of colleagues. Coping with the complications of losing short-term memory, Saunders, a former university professor, nonetheless embarks on a personal investigation of the brain and its mysteries, examining science and literature, and immersing herself in vivid memories of her childhood in South Africa. "For anyone facing dementia, [Saunders'] words are truly enlightening . . . Inspiring lessons about living and thriving with dementia." -- Maria Shriver, NBC's Today Show


Praise For Memory's Last Breath: Field Notes on My Dementia…
"The book is remarkable not only for its fiercely honest, sometimes-poetic portrayal of mental decline, but also for the way the author effectively celebrates 'the magisteria of a mind'.... A courageous, richly textured, and unsparing memoir."—Kirkus Reviews (starred review)

"[A] deeply emotional and humbling memoir...a work of breathtaking defiance."—Booklist (starred review)

"This courageous and singular book describes both the indignities inscribed in the erosion of memory and the surprising grace to be found in that experience. At once observer and subject, Gerda Saunders demonstrates how a powerful intellect can remain undiminished even as other mental capacities are compromised. Her book's lessons in dignity will be invaluable to anyone facing the complex meanings of dementia."—Andrew Solomon, National Book Award-winning author of The Noonday Demon and Far from the Tree

"The abrupt loss of everyday memory due to brain injury is swiftly and seriously unsettling. Its slower, subtle decline, the hallmark of dementia, provides time for introspection on its troubling trajectory. Gerda Saunders has given us a window into that chilling, yet poignant, psychological reality. Memory's Last Breath is personal, lucid, and inspiring."—Dr. Michael Gazzaniga, Director of the SAGE Center for the Study of Mind at the University of California, Santa Barbara, and author of Tales from Both Sides of the Brain: A Life in Neuroscience

"Navigating the onset of her own dementia with intelligence and charm, Gerda Saunders has written an engaging mélange of reflection, family history and quest. Memory's Last Breath is a surprising and subtly triumphant contribution to the literature of recollection."—Honor Moore, author of The Bishop's Daughter

"Gerda Saunders' Memory's Last Breath is not only a how-to manual for navigating the emotional and physiological terrain of dementia--an illness that effects the daily lives and hopes of millions--but a highly compelling account of the life of the mind, its developments, repetitions, omissions, and flourishes. Through eloquent, unwavering prose, Saunders guides us through the horrors and humors of an illness that is slowly erasing her mental and physical memory; her insights are lessons in longevity. Above all things, Memory's Last Breath is indelible--a testament to the capacity of language both in a writer's life and a reader's."
—Ann Neumann, author of The Good Death

"Saunders...writes bravely
about her early-onset dementia diagnosis, and nicely bridges the
intensely personal experience of her failing mind with examinations of
neurological science.... Her evocative writing shows her to be a
researcher and craftswoman."—Publishers Weekly

"The book (with its astonishing subtitle: 'Field Notes on My Dementia')
is a literary achievement ... blend[ing] meditations on memory and
identity with brain science, rooted by the writer's anthropologic
jottings of daily misadventures."—Salt Lake Tribune

"An intimate, revealing account of living with dementia.... Saunders approaches some of the most difficult questions a human being can face with clarity and wisdom."—Shelf Awareness

"Melodious.... The last chapter is stunning in both senses of the word, gorgeous and shocking... A graceful, innovative writer.... Saunders's awareness of her own mortality has turned her into an omniscient eye."—Jennifer Senior, New York Times

"Memory's Last Breath: Field Notes on Dementia is a testament to perseverance, a weaving together of past and present experiences and an exploration of a changing identity. Memory's Last Breath shows that there can be life, joy and accomplishments after a dementia diagnosis."—Alzheimers.net

"Extraordinary ... an unflinching self-portrayal by a
woman losing the key markers of her identity."—Winnipeg Free Press

"[A] fascinating look at the diminishing lifestyle of a
person with Dementia.... Gerda Saunders has given us a window into her inspiring
and courageous journey of life."—Portland Book Review

"[Saunders] writes with clear-eyed honesty and,
yes, humor about living with early-onset microvascular disease... Brilliantly
illuminates the gulf between memories richly preserved and memory lost."—Melissa Block, NPR
Hachette Books, 9780316502627, 288pp.
Publication Date: June 13, 2017
About the Author
Gerda Saunders emigrated to the United States from South Africa in 1984. In 1996 she received a PhD in English from the University of Utah, where she later served as associate director of the Gender Studies Program. Saunders is the author of the short story collection Blessings on the Sheep Dog. She has spoken with the BBC and The Huffington Post about living with dementia, and is the subject of a series of short films being produced by VideoWest and featured on Slate.
Coverage from NPR
or
Not Currently Available for Direct Purchase