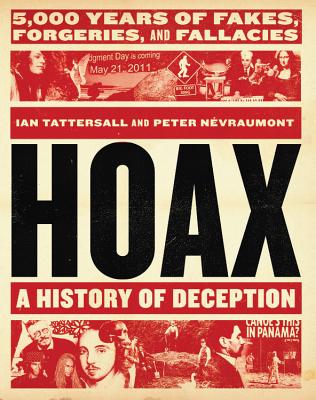 Hoax (Hardcover)
A History of Deception: 5,000 Years of Fakes, Forgeries, and Fallacies
Black Dog & Leventhal, 9780316503723, 256pp.
Publication Date: March 20, 2018
* Individual store prices may vary.
Description
An entertaining collection of the most audacious and underhanded deceptions in the history of mankind, from sacred relics to financial schemes to fake art, music, and identities.
World history is littered with tall tales and those who have fallen for them. Ian Tattersall, a curator emeritus at the American Museum of Natural History, has teamed up with Peter Névraumont to tell this anti-history of the world, in which Michelangelo fakes a masterpiece; Arctic explorers seek an entrance into a hollow Earth; a Shakespeare tragedy is "rediscovered"; a financial scheme inspires Charles Ponzi; a spirit photographer snaps Abraham Lincoln's ghost; people can survive ingesting only air and sunshine; Edgar Allen Poe is the forefather of fake news; and the first human was not only British but played cricket.

Told chronologically, HOAX begins with the first documented announcement of the end of the world in 2800 BC and winds its way through controversial tales such as the Loch Ness Monster and the Shroud of Turin, past proven fakes such as the Thomas Jefferson's ancient wine and the Davenport Tablets built by a lost race, and explores bald-faced lies in the worlds of art, science, literature, journalism, and finance.
About the Author
Ian Tattersall, PhD, is Curator Emeritus in the Division of Anthropology of the American Museum of Natural History in New York City, where he co-curates the Spitzer Hall of Human Origins. He is the acknowledged leader of the human fossil record, and has won several awards, including the Institute of Human Origins Lifetime Achievement Award. Tattersall has appeared on Charlie Rose and NPR's Science Friday, and has written for Scientific American and Archaeology. He's been widely cited by the media, including The New York Times, BBC, MSNBC, and National Geographic. Tattersall is the author of Masters of the Planet, which the Atlantic calls "Quietly magnificent," among other titles. He lives in New York City.

Peter N. Névraumont has produced a number of award-winning natural history book and worked with some of the world's leading scientists, including Meave Leakey, Niles Eldredge, Stephen J. Gould, and Donald Johanson. He lives in New York City.