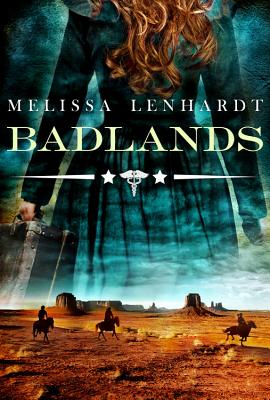 Badlands (Sawbones #3) (Paperback)
Redhook, 9780316505376, 416pp.
Publication Date: June 27, 2017
Other Editions of This Title:
Digital Audiobook (6/26/2017)
Paperback, Large Print (1/17/2018)
* Individual store prices may vary.
Description
Outlander meets post-Civil War unrest in the conclusion to Melissa Lenhardt's fast-paced historical series.
"A fast-paced page-turner, kill or be killed historical romance with bandits, Pinkerton agents, bounty hunters, mystery and more. Melissa Lenhardt writes with passion and does not hold anything back. Her research on the historical facts and people she portrays enhances the plot without overwhelming."
RT Book Reviews
(4.5 stars, Top Pick!) on
Blood Oath
Laura's worst fears have been realized: Kindle has been taken into custody and she is once again on the run. The noose awaits her in New York, but Laura is realizing that there are some things worse than death. Finally running out of places to hide, it may be time for Dr. Catherine Bennett to face her past.
"Packs a big punch with grit and raw passion. There is mystery, murder, Indians, bounty hunters and intrigue. The women are brave, intelligent and don't take crap from anyone. Lenhardt is a talented, creative writer; she has a grand slam out of the park with Sawbones." -- RT Book Reviews (Top Pick!) 4.5 stars
"Raw, gritty and sometimes graphic, Melissa Lenhardt has crafted a page-turner. In Sawbones, the women are smart, brave and at times 'incorrigible.' The plot twists, unique characters and intriguing story of passion and betrayal make this a book well worth discovering."
-- Jane Kirkpatrick, New York Times bestselling author of A Light in the Wilderness
"Absolutely loved it! I couldn't tear myself away from Sawbones. An epic story of love and courage that sweeps from east to west, Sawbones will rip right through you." - Marci Jefferson, author of Girl on the Golden Coin


"You will fall in love with Catherine, as I did, as she struggles to assert herself in a violent and treacherous world, fighting not only prejudice but evil."
-- Sandra Dallas, New York Times bestselling author
"Sawbones is a thoroughly original, smart and satisfying hybrid, perhaps a new subgenre: the feminist Western."
-- Lone Star Literary Life
Laura Elliston novels
Sawbones
Blood Oath
Badlands
About the Author
Melissa Lenhardt is the author of Heresy, the Sawbones historical fiction series, and the Jack McBride mystery series. Her debut mystery, Stillwater, was a finalist for the 2014 Whidbey Writers' MFA Alumni Emerging Writers Contest, and Sawbones, her historical fiction debut, was hailed as a "thoroughly original, smart and satisfying hybrid, perhaps a new sub-genre: the feminist Western" by Lone Star Literary Life. She lives in Texas with her husband, two sons, and two Golden Retrievers.
Praise For Badlands (Sawbones #3)…
"Badlands is every bit as tough and raw as the American Wild West and proves more authentic as it denies the genre its myths and tropes, unsparingly exposing the options of women of the era with an unflinching eye. Badlands is not for the faint of heart; Lenhardt seems to be trying to shock us, but it doesn't feel egregious -- it feels like bold truth-telling."—Lone Star Literary

"Packs a big punch with grit and raw passion. There is mystery, murder, Indians, bounty hunters and intrigue. The women are brave, intelligent and don't take crap from anyone. Lenhardt is a talented, creative writer; she has a grand slam out of the park with Sawbones."—RT Book Reviews (Top Pick!) 4.5 stars

"Raw, gritty and sometimes graphic, Melissa Lenhardt has crafted a page-turner. In Sawbones, the women are smart, brave and at times 'incorrigible.' The plot twists, unique characters and intriguing story of passion and betrayal make this a book well worth discovering."—Jane Kirkpatrick, New York Times bestselling author of A Light in the Wilderness

"Melissa Lenhardt has given us an amazing heroine and sent her on a thrilling journey from the teeming streets of New York City to the vast wilderness of the Texas frontier. Dr. Catherine Bennett's adventure will keep you turning pages long into the night!"—Victoria Thompson, bestselling author of Murder on St. Nicholas Avenue

"Absolutely loved it! I couldn't tear myself away from Sawbones. An epic story of love and courage that sweeps from east to west, Sawbones will rip right through you."—- Marci Jefferson, author of Girl on the Golden Coin and Enchantress of Paris

"Lenhardt writes of the Old West and of 19th century medicine with authority, but even better -- she tells a great, gritty, compelling story. Absolutely wonderful novel by a first-rate writer at the top of her game -- tension from the first page to the last."—Louisa Morgan, author of A Secret History of Witches, on Sawbones

"You will fall in love with Catherine, as I did, as she struggles to assert herself in a violent and treacherous world, fighting not only prejudice but evil. Melissa Lenhardt's heroine is a passionate, compassionate woman, who must deal with Indians and bounty hunters, fear and injustice -- and even love."—Sandra Dallas, New York Times bestselling author

"It was damn brilliant and I absolutely loved it!...Mix of loveliness with the book's vicious, ruthless side that made Sawbones so compelling...You can be sure I'll be devouring [Blood Oath] as soon as I can get my hands on it."—Bibliosanctum (4.5 stars)

"Sawbones is a thoroughly original, smart and satisfying hybrid, perhaps a new subgenre: the feminist Western."—Lone Star Literary Life