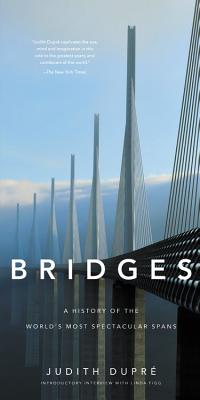 Bridges
A History of the World's Most Spectacular Spans
Hardcover

* Individual store prices may vary.
Other Editions of This Title:
Hardcover (1/10/1997)
Description
From New York Times best-selling author Judith Dupréomes a revised and updated edition of Bridges, her magnificent chronological tour of the world's most significant and eye-popping spans. Covering thousands of years of architectural history, each bridge is gorgeously photographed "elevating the landmarks from mode of transportation to works of art" (Bustle).
Technological advances, structural daring, and artistic vision have propelled the evolution of bridge design around the world. This visual history of the world's landmark bridges has been thoroughly revised andupdated since its initial publication twenty-five years ago, and now showcases well-known classics as well as modern innovators. Bridges featured include:
The Brooklyn Bridge (New York)
Dany and-Kunshan Grand Bridge (China)
Gateshead Millennium Bridge (England)
The Golden Gate Bridge (San Francisco)
Zakim Bridge (Boston)
Including all-new photographs and the latest cutting edgework from today's international superstars of architecture and engineering,
Bridges
covers two-thousand years of technological and aesthetic triumphs, making it the most thorough, authoritative, and gorgeous book on the subject-as dramatic in presentation as the structures it celebrates. Breathtaking photographs capture the bridges' details as well as their monumental scale; architectural drawings and plans invite you behind the scenes as new bridges take shape; and lively commentary on each structure explores its importance and places it in historical context. Throughout, informative profiles, features, and statistics make
Bridges
an invaluable reference as well as a visual feast.
Praise For Bridges: A History of the World's Most Spectacular Spans…
"Judith Dupre captivates the eye, mind and imagination in this ode to the greatest spans and cantilevers of the world."—The New York Times

"A new book, Bridges, by Judith Dupré, showcases some 2,000 years of design from around the world, from Roman structures made of stone to modern versions of concrete and steel."—The Wall Street Journal

"Bridges, by Judith Dupré, represents the progression of bridge history and engineering in the past two decades, seen through the author's passion for fact-driven research and poetic writing."—Harold Bubil, Sarasota Herald-Tribune

"An unusual treat for lovers of impressive architecture."—Dayton Daily News

"'The unassuming poetry of bridges reveals itself to those who would see it,' Judith Dupré observes in the foreword to this splendid volume, which amply demonstrates her point."—The Inquirer

"A beautiful book, filled with images of stunning spans and information about their design, materials and stories."—St. Louis Post-Dispatch

"Bridges by Judith Dupré is the tall, slim, totally re-vamped 20th-anniversary edition of the book that takes readers across bridges around the world, elevating the landmarks from mode of transportation to works of art (and, feats of engineering.)"—Bustle

"An astonishing union of technology and art."—Christian Science Monitor
Black Dog & Leventhal, 9780316507943, 176pp.
Publication Date: November 7, 2017
About the Author
Judith Dupréb> is the author of numerous books, including Skyscrapers and Bridges, both published by Black Dog & Leventhal, and the New York Times bestselling Churches. She lectures and teaches on art and architecture. She lives in New York.