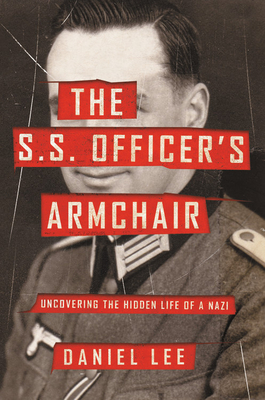 The S.S. Officer's Armchair
Uncovering the Hidden Life of a Nazi
Hardcover

* Individual store prices may vary.
Other Editions of This Title:
Digital Audiobook (6/15/2020)
Paperback (12/31/2050)
Compact Disc (6/16/2020)
Description
Based on documents discovered concealed within a simple chair for seventy years, this gripping investigation into the life of a single S.S. officer during World War Two encapsulates the tragic experience of a generation of Europeans


One night at a dinner party in Florence, historian Daniel Lee was told about a remarkable discovery. An upholsterer in Amsterdam had found a bundle of swastika-covered documents inside the cushion of an armchair he was repairing. They belonged to Dr. Robert Griesinger, a lawyer from Stuttgart, who joined the S.S. and worked at the Reich's Ministry of Economics and Labor in Nazi-occupied Prague during the war. An expert in the history of the Holocaust, Lee was fascinated to know more about this man--and how his most precious documents ended up hidden inside a chair, hundreds of miles from Prague and Stuttgart.

In The S.S. Officer's Armchair, Lee weaves detection with biography to tell an astonishing narrative of ambition and intimacy in the Third Reich. He uncovers Griesinger's American back-story--his father was born in New Orleans and the family had ties to the plantations and music halls of nineteenth century Louisiana. As Lee follows the footsteps of a rank and file Nazi official seventy years later, and chronicles what became of him and his family at the war's end, Griesinger's role in Nazi crimes comes into focus. When Lee stumbles on an unforeseen connection between Griesinger and the murder of his own relatives in the Holocaust, he must grapple with potent questions about blame, manipulation, and responsibility.

The S.S. Officer's Armchair is an enthralling detective story and a reconsideration of daily life in the Third Reich. It provides a window into the lives of Hitler's millions of nameless followers and into the mechanisms through which ordinary people enacted history's most extraordinary atrocity.


Praise For The S.S. Officer's Armchair: Uncovering the Hidden Life of a Nazi…
"The S.S. Officer's Armchair is an extraordinary book that lingers in the memory long after you've read the final page. I became totally engrossed in Daniel Lee's investigations to discover the story behind long hidden Nazi documents. In uncovering the life of an disconcertingly outwardly ordinary man who became an SS Officer, the atrocity of the Holocaust--and those who supported, facilitated, or chose to ignore what was happening all around them--becomes even more shocking."—The Rt Honorable Baroness Smith of Basildon

LitHub, "13 New Books to Look Out For This Week"

Jewish Journal, "15 Last-Minute Hannukah 2020 Gift Ideas"
 

"In Daniel Lee's The S.S. Officer's Armchair, the story of an utterly obscure and 'ordinary' S.S. officer--recovered through extraordinary research--is embedded in the illuminating context of upper-middle-class German society and family life in the first half of the twentieth century. The result is a fascinating combination of social history, family drama, and ingenious detective work."
—Christopher R. Browning, Frank Porter Graham professor of history emeritus, University ofNorth Carolina at Chapel Hill, andauthor of Ordinary Men

"Beginning with his discovery of a cache of papers sewed,
inexplicably, into an old armchair,
Daniel Lee traces the life of an ordinary though far from insignificant Nazi bureaucrat, showing, as
his story slides into horror, that there
is no such thing as an armchair Nazi. His interviews with the surviving children and grandchildren add a poignant
postscript to this powerful
investigation of the war between memory and oblivion."—Alice Kaplan,Sterling professor of French at YaleUniversity and author of Looking for the Stranger

"Many of the most horrific acts against humanity during the
Holocaust were carried out by the untold
thousands of low-level, virtually-unknown
civil servants, who facilitated the worst deeds of the Nazi
enterprise without ever getting their
own hands dirty. In this brilliantly researched
story of one such 'ordinary Nazi,' Daniel Lee illuminates the whole."—Martha Weinman Lear, author of Heartsounds and Where Did I LeaveMy Glasses?

"...[A] fascinating true-life detective story, as the author engagingly chronicles his searches in archives and interviews with elderly survivors."—Kirkus Reviews

"...[R]ichly detailed and eloquent... even those well-versed in the history of the Holocaust will learn something new."—Publishers Weekly

"Beautiful and gripping, it unfolds like a detective story as an obscured past emerges into the light."—Hadley Freeman, author of House of Glass: The Story and Secrets of a Twentieth-Century Jewish Family

"This is a little gem of a book. It is beautifully written and reads as grippingly as a detective story. The story of the quest is fascinating in itself but the result is also a work of serious historical scholarship. Its reconstitution of the life and career of an 'ordinary Nazi' throws revealing light on the workings of the Nazi regime."—Julian Jackson

"A fascinating read."—Library Journal

"A very well researched publication."—The New York Journal of Books

"A welcome addition to German Twentieth Century
history."—Seattle Book Review

"...[A] captivating portrait of an 'ordinary Nazi'... [and] a compelling account of Lee's sleuthwork, or as he terms it, 'historical detection'... [An] important book."—The American Interest

"[A]n intriguing, honest and superbly documented portrait of what could be called an 'unremarkable' SS life."—The Spectator (UK)

"[A] compelling
story of tracking down the secrets of a 'desk murderer'"—The Guardian (UK)

"A page-turning piece of detective work... utterly compelling."—The Jewish Chronicle (UK)

"Daniel Lee has carried out some painstaking detective work... Lee's remarkable book will give its readers food for thought of what has been and what could be."—The Jerusalem Post

"The S.S. Officer's Armchair is an engrossing, beautifully written book, embellished with over thirty photographs, two maps, and unusually complete endnotes."—Michigan War Studies Review
Hachette Books, 9780316509091, 320pp.
Publication Date: June 16, 2020
About the Author
DANIEL LEE is a senior lecturer in modern history at Queen Mary, University of London. A specialist in the history of Jews in France and North Africa during the Second World War, he completed his doctorate at the University of Oxford, and is also the author of Pétain's Jewish Children. As a BBC Radio 3 New Generation Thinker, Lee is a regular broadcaster on radio. He lives in north London.
or
Not Currently Available for Direct Purchase