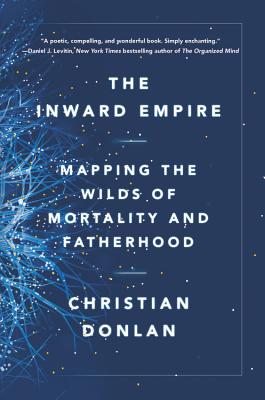 The Inward Empire
Mapping the Wilds of Mortality and Fatherhood
Hardcover

* Individual store prices may vary.
Description
In the vein of The Noonday Demon and When Breath Becomes Air, a father's "remarkable and revelatory" account of navigating his own neurological decline while watching in wonder as his young daughter's brain activity blossoms, a stunning examination of neurology, loss, and the meaning of life. (The Sunday Times)

Soon after his daughter Leontine is born, 36-year old Christian Donlan's world shifted an inch to the left. He started to miss door handles and light switches when reaching for them. He was suddenly unable to fasten the tiny buttons on his new daughter's clothes. These experiences were the early symptoms of multiple sclerosis, an incurable and degenerative neurological illness.

As Leontine starts to investigate the world around her, Donlan too finds himself in a new environment, a "spook country" he calls the "Inward Empire," where reality starts to break down in bizarre, frightening, sometimes beautiful ways. Rather than turning away from this landscape, Donlan summons courage and curiosity and sets out to explore, a tourist in his own body. The result is this exquisitely observed, heartbreaking, and uplifting investigation into the history of neurology, the joys and anxieties of fatherhood, and what remains after everything we take for granted - including the functions that make us feel like ourselves - has been stripped away.

Like Andrew Solomon, Paul Kalathini, and William Styron, Donlan brings meaning, grace, playfulness, and dignity to an experience that terrifies and confounds us all.
Praise For The Inward Empire: Mapping the Wilds of Mortality and Fatherhood…
"Riveting...Donlan writes with vivid candor and startling humor about topics that
range from the history of neurology to the maddening grey zone between illness
and diagnosis. At its heart, this is a book of awe -- at how the body works and
doesn't, how it grows and fails, and how even the most unwelcome events can
sometimes help us break free from old ways of thinking to powerful new
ones."—Will Schwalbe, New York Times bestselling author of The End of Your Life Book Club and Books for Living

"An unprecedented first-hand account of the effects of
brain disease, and what it is like to have your thoughts shift from under you.
Donlan brings us a poetic, compelling and wonderful book. Simply enchanting."—Daniel Levitin, New York Times bestselling author of The Organized Mind

"Remarkable and revelatory, a dazzling achievement."—The Sunday Times

"An amazing and wonderful piece of writing. I could
not put it down."—Claire Tomalin, author of Charles Dickens: A Life

"Really beautifully done; [The Inward Empire] reminds me of When Breath Becomes Air. I love it."—Kelly Corrigan, New York Timesbestselling author of The Middle Placeand Tell Me More

"In this age of compulsory happy endings, books such as [The Inward Empire] are so rare. Donlan manages to be utterly truthful without being depressing, and his passing observations about life in general are often funny...There's a toughness to Donlan's optimism that I couldn't help find rather cheerful, and his charming descriptions of fatherhood give [The Inward Empire]a pleasing energy and momentum."—The Times
Little, Brown and Company, 9780316509367, 336pp.
Publication Date: June 26, 2018
About the Author
Christian Donlan is an award-winning journalist whose work has appeared in The New Statesman, Edge Magazine, and Vice, among other places. He was born in the U.S. but now lives in Brighton with his family.