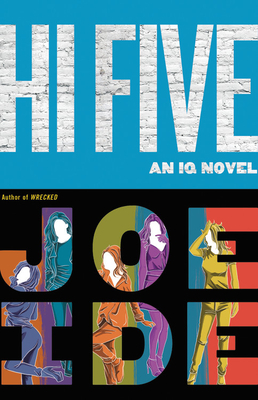 Hi Five (An IQ Novel #4)
Hardcover

* Individual store prices may vary.
Other Editions of This Title:
Paperback (1/26/2021)
CD-Audio (1/28/2020)
Library Binding, Large Print (8/26/2020)
Description
One woman. Five personalities. Private investigator IQ is back to piece together a Newport Beach murder with an eyewitness who gives "people person" a whole new meaning.
Christiana is the daughter of the biggest arms dealer on the West Coast, Angus Byrne. She's also the sole witness and number one suspect in the murder of her boyfriend, found dead in her Newport Beach boutique. Isaiah Quintabe is coerced into taking the case to prove her innocence. If he can't, Angus will harm the brilliant PI's new girlfriend, ending her career.
The catch: Christiana has multiple personalities. Among them, a naïve, beautiful shopkeeper, an obnoxious drummer in a rock band, and a wanton seductress.
Isaiah's dilemma: no one personality saw the entire incident. To find out what really happened the night of the murder, Isaiah must piece together clues from each of the personalities . . . before the cops close in on him.
Praise For Hi Five (An IQ Novel #4)…
A New York Times Best Thriller of 2020
A Wall Street Journal Best Book of 2020

"Engrossing . . . IQ's cases have become more complex, the stakes raised for the African American detective and a cast of regular characters who give the series an unexpected warmth. . . . The author is skilled at developing the humanity of every character, regardless of their perspective. It's a hallmark of Ide's evolving style that allows Hi Five to stand on its own for first-time readers, even as the series deepens longtime fans' engagement. . . . Hi Five succeeds on so many fronts as it sets IQ and the series' characters on an uncertain path down darker roads."—Paula L. Woods, Los Angeles Times

"Savor the freshness, vividness and ingenuity of the author's prose. . . . There are real truths hidden in the entertainment. . . . Hit men, henchmen, bagmen -- they all wander in and out of a highly diverting book that crackles with life and vividness."—Sarah Lyall, New York Times Book Review

"Mr. Ide is a remarkable writer, inhabiting the personae and rendering the back stories of a diverse assortment of characters... 'Hi Five' more than earns its triumphant title."—Tom Nolan, Wall Street Journal

"The end result of all Ide's frenetic literary machinations, however, is a crime novel that gives readers a sense of the totality of life in all its possibility: comedy, violence, irrationality and heartbreak. It's no longer a fresh observation to say that Ide is an original as a suspense writer, but, certainly, every novel he writes - including Hi Five - feels like a new invention."—Maureen Corrigan, The Washington Post

"While novels about hotshot detectives have thrived since the days of Sherlock Holmes, Joe Ide delivers a fresh and wholly modern update to the genre. . . . Ide's rapid-paced, colorful dialogue pops off the page as he brings to life rappers, arms dealers, loan sharks and gangsters across four novels."—TIME

"Buy Hi Five by the great Joe Ide, the latest in his brilliant series about Isaiah Quintabe, a modern Sherlock Holmes from Long Beach, Calif. Trust me on this: There's nobody out there right now better than Joe Ide."—Mike Lupica, New York Daily News

I"t's a mark of Ide's skill that he's able to pull off such a plot, and he does it with credibility and more than a little poignancy."—Michele Ross, The Plain Dealer

"It's all part of the evolution of the character that in Hi Five sees Isaiah moving into darker places."—Peter Larsen, The Orange County Register

"In Edgar-finalist Ide's stellar fourth IQ novel...readers will root for Ide's distinctive lead every step of the way. This innovative series continues to show promise for a long, high-quality run."—Publishers Weekly, starred review

"Ide goes dark with the skill of a noir master, leaving Isaiah in a very bad place and the reader gasping for breath. A stunning change of pace from one of crime fiction's new stars."—Booklist, starred review

"Mystery and detection compete with a gorgeous swarm of supercharged personalities on their own wild rides."—Kirkus

"Ide is one of the rising stars of crime fiction, and he's back this month with the fourth installment in his celebrated IQ series. "—Dwyer Murphy, CrimeReads

"Ide is probably my favorite crime novelist in the game today. This time, IQ must crack a case involving a woman with multiple personalities, creating Ide's most unique and entertaining premise yet."—The Real Book Spy

"Exciting yet humorous"—Shelf Awareness

"HI FIVE is well worth reading for Ide's command of language.... Isaiah also continues to be one of the more distinctive characters in contemporary detective fiction."—BookReporter

"Joe Ide creates a jumped-up, streetwise world--the tone owes something to Elmore Leonard--with Quintabe as its moral center."—Air Mail

"These books are not for the faint of heart; there is lots of violence and profanity, and Ide does a great job of pointing out racism, sexism and economic inequality. I love this series."—Katherine Clark

"For all the cartoon violence and wisecracking, HI FIVE is a ruthless fable about our need for love."—Sunday Times

"Quite gripping."—Nick Martin, Winnipeg Free Press
Mulholland Books, 9780316509534, 352pp.
Publication Date: January 28, 2020
About the Author
Joe Ide grew up in South Central Los Angeles, where his favorite books were the Conan Doyle Sherlock Holmes stories. He held a variety of different jobs -- including Hollywood screenwriter -- before writing IQ, his debut novel, which went on to win the Anthony, Macavity, and Shamus awards. Joe lives in Santa Monica, CA.