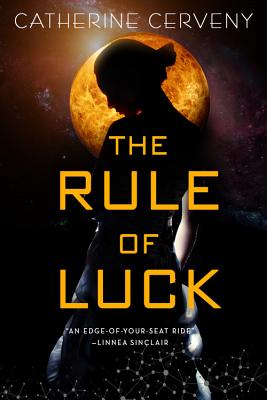 The Rule of Luck (A Felicia Sevigny Novel #1) (Paperback)
Orbit, 9780316510561, 400pp.
Publication Date: November 7, 2017
Other Editions of This Title:
Digital Audiobook (1/25/2016)
* Individual store prices may vary.
Description
The first in a steamy science fiction adventure series featuring a Brazilian tarot card reader and a Russian crime lord.
Year 2950. Humanity has survived devastating climate shifts and four world wars, coming out stronger and smarter than ever. Advanced technology is available to all, and enhancements to appearance, intelligence, and physical ability are commonplace.
In this future, Felicia Sevigny has built her fame reading the futures of others.
Alexei Petriv, the most dangerous man in the TriSystem, will trust only Felicia to read his cards. But the future she sees is darker than either of them could ever have imagined. A future that pits them against an all-knowing government, almost superhuman criminals, and something from Felicia's past that she could never have predicted, but that could be the key to saving -- or destroying -- them all.
"Cerveny's debut blends steamy sci-fi-fi with breathless intrigue and action, all set on a far-future Earth that's equal parts fascinating and terrifying."
-Beth Cato, author of The Clockwork Dagger and Breath of Earth
"Imaginative. Fans of romance in science fiction are going to love this!"
-Kim Harrison, #1 New York Times bestselling author
Felicia Sevigny novels
The Rule of Luck
The Chaos of Luck
The Game of Luck
About the Author
Catherine Cerveny was born in Peterborough, Ontario. She'd always planned to move away to the big city but the small town life got its hooks in her and that's where she still resides today. Catherine is a huge fan of romance and science fiction and wishes the two genres would cross paths more often. The Rule of Luck is her first novel.



Praise For The Rule of Luck (A Felicia Sevigny Novel #1)…
"Imaginative. Fans of romance in science fiction are going to love this!"—Kim Harrison, #1 New York Times bestselling author

"Cerveny's debut blends steamy sci-fi-fi with breathless intrigue and action, all set on a far-future Earth that's equal parts fascinating and terrifying."—Beth Cato, author of The Clockwork Dagger and Breath of Earth

"A compelling and intriguing read built on a fascinating premise. Cerveny's future world is richly drawn, and Felicia's and Alexei's adventure is definitely an edge-of-your-seat ride."—Linnea Sinclair, award-winning author of the Dock Five Universe series

"Catherine Cerveny delivers the perfect blend of futuristic intrigue, engrossing action, and passionate romance in a riveting adventure that will leave you hungry for more. Intensely absorbing. Emotionally satisfying."—Amanda Bouchet, author of the Kingmaker Chronicles

"A fresh heroine pairs with a dangerous hero to confront nuanced and compelling ethical dilemmas... fast-paced, tightly plotted."—RT Book Reviews

"Cerveny's world is noteworthy for its realistic balance. Her future, where everyone has access to age-halting technology but political turmoil still abounds, feels both familiar and intriguing.... A well-crafted world with a promising heroine."—Kirkus

"A novel with depth... a terrific story."—The Qwillery

"Sexy science fiction romance.... that will entirely satisfy fans of pulpy SF."—Publishers Weekly