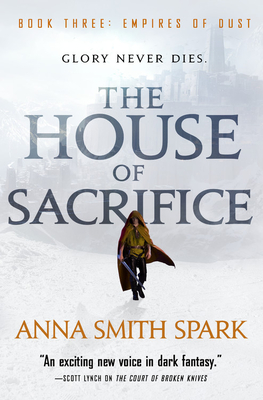 The House of Sacrifice (Empires of Dust #3)
Paperback

* Individual store prices may vary.
Description
A powerhouse grimdark fantasy of bloodshed, ambition, and fate, The House of Sacrifice is the thunderous conclusion to Anna Smith Spark's Empires of Dust trilogy, which began with The Court of Broken Knives.
Marith Altrersyr has won. He cut a path of blood and vengeance and needless violence around the world and now he rules. It is time for Marith to put down his sword, to send home his armies, to grow a beard and become fat. It is time to look to his own house, and to produce an heir. The King of Death must now learn to live.But some things cannot be learnt.
The spoils of war turn to ash in the mouths of the Amrath Army and soon they are on the move again. But Marith, lord of lies, dragon-killer, father-killer, has begun to falter and his mind decays. How long can a warlord rotting from within continue to win?
As the Army marches on to Sorlost, Thalia's thoughts turn to home and to the future: a life grows inside her and it is a precious thing - but it grows weak.
Why must the sins of the father curse the child?
Empires of DustThe Court of Broken KnivesThe Tower of Living and DyingThe House of Sacrifice

Praise For The House of Sacrifice (Empires of Dust #3)…
"Gritty and glorious! A great read."
—Miles Cameron, author of The Traitor Son Cycle on The Court of Broken Knives

"Fierce, gripping fantasy, exquisitely written; bitter, funny, and heart-rending by turns."—Adrian Tchaikovsky, Arthur C. Clarke Award winner for Children of Time on The Court of Broken Knives

"Grim, gritty, and fast paced; with great battles scenes! Anna Smith-Spark is one to watch."—Andy Remic, author of the Blood Dragon Empire series on The Court of Broken Knives

"Anna Smith-Spark writes in a unique voice with such pace and veracity your imagination has to struggle to keep up with your eyes."—Adrian Collins, Grimdark Magazine on The Court of Broken Knives

"Captivating."—Marc Turner, author of the Chronicles of the Exile series on The Court of Broken Knives

"All hail the queen of grimdark fantasy!"
—Michael R. Fletcher, author of Beyond Redemption on The Court of Broken Knives

"Spark's gripping debut is definitely one to read and prize."—Publishers Weekly (starred review) on The Court of Broken Knives

"Holy crap, this is good!"—Grim Tidings on The Court of Broken Knives

"Spark's first novel lives up to its billing as a 'grimdark' tale. The setting may be bleak and dreary, but the worldbuilding is well done and the characters fit right in. Troubled, solitary and downright drug-addled as the protagonist is, readers will come around to his side as the reasons why he seeks for the throne he lost are revealed."—RT Book Reviews on The Court of Broken Knives

"It's a bold experiment and feels like something new. An interesting book to read and fascinating to discuss afterwards!"—Mark Lawrence on The Court of Broken Knives

"Exciting twists and turns...Spark keeps the surprises coming all the way to the end. "—Booklist on The Court of Broken Knives

"An exciting new voice in dark fantasy."—Scott Lynch
Orbit, 9780316511520, 576pp.
Publication Date: August 13, 2019
About the Author
Anna Smith Spark lives in London, UK. She loves grimdark and epic fantasy and historical military fiction. Anna has a BA in Classics, an MA in history and a PhD in English Literature. She has previously been published in the Fortean Times and the poetry website www.greatworks.org.