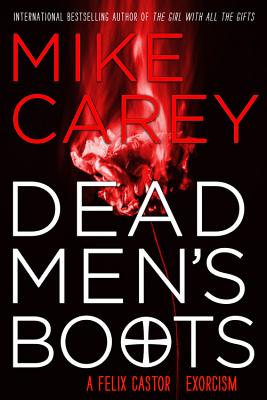 Dead Men's Boots (Felix Castor #3) (Paperback)
Orbit, 9780316511612, 464pp.
Publication Date: May 22, 2018
* Individual store prices may vary.
Description
Author of The Girl With All the Gifts Mike Carey presents the third book in his hip supernatural thriller series featuring freelance exorcist Felix Castor.
You might think that helping a friend's widow to stop a lawyer from stealing her husband's corpse would be the strangest thing on your To Do list. But life is rarely that simple for Felix Castor.
A brutal murder in the heart of London bears all the hallmarks of a long-dead American serial killer, and it takes more good sense than Castor possesses not to get involved. He's also fighting a legal battle over the body - if not the soul - of his possessed friend, Rafi, and can't shake the feeling that his three problems might be related.
With the help of the succubus Juliet and paranoid zombie data-fence Nicky Heath, Castor just might have a chance of fitting the pieces together before someone drops him down an elevator shaft or rips his throat out.
Or not....
The Felix Castor Novels
The Devil You Know
Vicious Circle
Dead Men's Boots
Thicker than Water
The Naming of the Beasts

By the same author, writing as M. R. Carey:
The Girl With All the Gifts
Fellside
The Boy on the Bridge
About the Author
Mike Carey has been making up stories for most of his life. His novel The Girl With All the Gifts, written as M. R. Carey, was a USA Today bestseller and a major motion picture based on his BAFTA-nominated screenplay. Mike Carey has written for both DC and Marvel, including critically acclaimed runs on X-Men and Fantastic Four, Marvel's flagship superhero titles. His creator-owned books regularly appear in the New York Times bestseller list. He also has several previous novels, two radio plays, and a number of TV and movie screenplays to his credit.
Praise For Dead Men's Boots (Felix Castor #3)…
"Every bit as good as Jim Butcher, Carey hits his stride."—
Publishers Weekly (starred review)
"Witty, sardonic . . . irresistible . . . leaves the readers breathless."—
Kirkus (starred review)
"The Felix Castor novels are splashed with color and texture, their characters are larger than life (or death), and the stories are, well . . . out of this world. Castor is a remarkably believable character... A wholly engaging blend of the detective and fantasy genres."—
Booklist
"Fast-paced . . . riveting . . . everything a paranormal thriller fan could want."—
MonstersandCritics.com
"
The Devil You Know
is a spectacular novel, one of the best supernatural thrillers I've read in years."—
Douglas Preston, New York Times bestselling author, on The Devil You Know
"A treat . . . Castor follows up his excellent debut with this even better sequel . . . Genre-bending at its best."—
Booklist (starred review) on Vicious Circle
"An imaginative spin on the hard-boiled detective . . . mixes horror and humor in a way that spells good omens for future Castor novels."
—
Entertainment Weekly on The Devil You Know
"Carey transcends his comic roots in this quirky, dark and imaginative tale that compels reader to keep turning pages long after they should have gotten to sleep."
—
Kirkus (starred review) on The Devil You Know