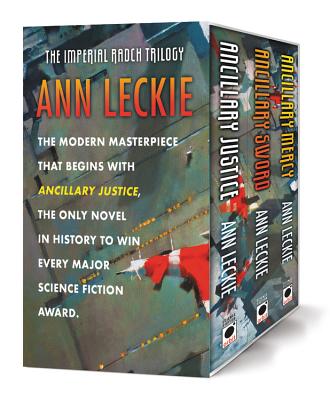 The Imperial Radch Boxed Trilogy
Ancillary Justice, Ancillary Sword, and Ancillary Mercy
Paperback

* Individual store prices may vary.
Description
This special boxed set contains all three novels in NYT bestselling author Ann Leckie's Hugo, Nebula, and Locus award-winning space opera trilogy about a ship's AI who becomes trapped in a human body, and her quest for revenge.

"There are few who write science fiction like Ann Leckie can. There are few who ever could." -- John Scalzi
On a remote, icy planet, the soldier known as Breq is drawing closer to completing her quest.
Breq is both more than she seems and less than she was. Years ago, she was the Justice of Toren -- a colossal starship with an artificial intelligence linking thousands of corpse soldiers in the service of the Radch, the empire that conquered the galaxy.

An act of treachery has ripped it all away, leaving her with only one fragile human body. And only one purpose -- to revenge herself on Anaander Mianaai, many-bodied, near-immortal Lord of the Radch.

Ann Leckie's Imperial Radch trilogy has become one of the new classics of science fiction. Beautifully written and forward thinking, it does what good science fiction does best, taking readers to bold new worlds with plenty explosions along the way.
Praise For The Imperial Radch Boxed Trilogy: Ancillary Justice, Ancillary Sword, and Ancillary Mercy…
"If you don't know the Ancillary series by now, you probably should. Ann Leckie's sociopolitical space opera almost singlehandedly breathed new cool into the stereotype of spaceships trundling through far-off systems amid laser battles. ... [Ancillary Mercy] earns the credit it's received: As a capstone to a series that shook genre expectations, as our closing installment of an immersively realized world, and as the poignant story of a ship that learned to sing."—NPR Books on Ancillary Mercy

"This trilogy will stand as a classic of sf for the ages."—Library Journal on Ancillary Mercy

"No science-fiction series as descriptive of our current political and cultural moment or as insistent that we open our eyes to it."—Slate on Ancillary Mercy

"The sort of space opera audiences have been waiting for."—NPR Books on Ancillary Sword

"Fans of space operas will feast on its richly textured, gorgeously rendered world-building."—Entertainment Weekly on Ancillary Sword

"A magnificent capstone to this promising trilogy."—RT Book Reviews (4.5 stars) on Ancillary Mercy

"Breq's struggle for meaningful justice in a society designed to favor the strong is as engaging as ever. Readers new to the author will be enthralled, and those familiar with the first book will find that the faith it inspired has not been misplaced."—Publishers Weekly on Ancillary Sword

"Leckie investigates what it means to be human, to be an individual and to live in a civilized society."—Scientific American on Ancillary Sword
Orbit, 9780316513319, 1248pp.
Publication Date: September 19, 2017
About the Author
Ann Leckie is the author of the Hugo, Nebula, Arthur C. Clarke, and British Science Fiction Award-winning novel Ancillary Justice. She has worked as a waitress, a receptionist, a rodman on a land-surveying crew, and a recording engineer. She lives in St. Louis, Missouri.