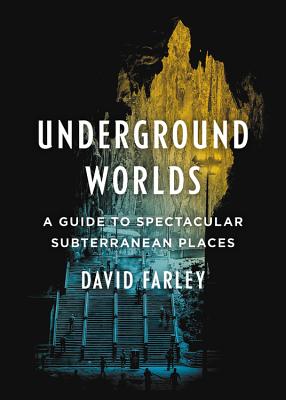 Underground Worlds
A Guide to Spectacular Subterranean Places
Hardcover

* Individual store prices may vary.
Description
A visual and anecdotal exploration of the curious worlds hidden beneath our feet, including ancient cities, salt mine cathedrals, underground amusement parks, and more.

From bone-filled catacombs to sculpted salt churches to hand-carved cave complexes large enough to house 20,000 people, Underground Worlds is packed with more than 50 unusual destinations that take some digging to find. Award-winning travel writer David Farley revels in the unexpected, whether it is a cave city in China which houses one of the world's largest collections of Buddhist art or an old salt mine converted into a theme park in Romania.

Stunning photos help readers see places they could not even imagine, such as a three-story underground train station in Taiwan that is home to the a 4,500-panel "Dome of Light" that is the largest glasswork on Earth, as well as secret spaces, such as an ornate temple built beneath a suburban home in Italy. Throughout the fascinating text are themed entries of underground systems such as the 2,500-year-old water tunnels of Kish Qanat in Iran or engineering marvels like the New York City steam tunnels.
Praise For Underground Worlds: A Guide to Spectacular Subterranean Places…
"There are more than 50 places featured here. . . Each is accompanied by a short essay and full-color photography and is interesting in its own right. Together, they are an invitation to revel in feats of modern and ancient engineering and architecture.
Underground Worlds
is a reminder to consider what lives beneath the ground as we travel the earth--be it in person or in books."—
Shelf Awareness
"Award-winning travel writer David Farley gives a grand tour of the world's most spectacular subterranean places."
—
Architectural Digest
Black Dog & Leventhal, 9780316514026, 240pp.
Publication Date: May 15, 2018
About the Author
David Farley, the author of An Irreverent Curiosity: In Search of the Church's Strangest Relic in Italy's Oddest Town, has written travel articles for the New York Times, the Washington Post, AFAR magazine, Conde Nast Traveler, National Geographic Traveler, and Slate.com, among other publications. He teaches writing at New York University.
or
Not Currently Available for Direct Purchase