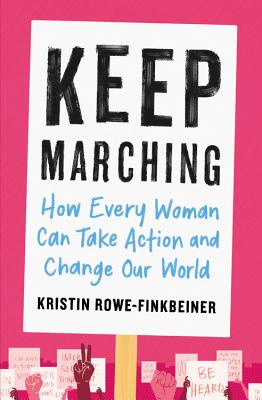 Keep Marching (Paperback)
How Every Woman Can Take Action and Change Our World
Hachette Books, 9780316515566, 336pp.
Publication Date: May 1, 2018
Other Editions of This Title:
Digital Audiobook (4/30/2018)
Compact Disc (5/8/2018)
Compact Disc (5/8/2018)
* Individual store prices may vary.
Description
A GROUNDBREAKING, DEFINITIVE WORK ON HOW TO BUILD WOMEN'S POWER


"A perfect primer for women everywhere who want to take action-whether their heading to their first town hall meeting or running for office."

-Cecile Richards, New York Times bestselling author of Make Trouble and President of Planned Parenthood


"The book we all need to remind us why the fight against white supremacy and patriarchy will actually set us free."

-Patrisse Khan-Cullors, cofounder of Black Lives Matter and New York Times bestselling author of When They Call You a Terrorist
Keep Marching
is a practical guide and highly researched examination of the barriers that hold women back-and how to overcome them.
Author Kristin Rowe-Finkbeiner--the executive director of MomsRising, and a keynote speaker at the 2017 Women's March in Washington, D.C.--presents compelling data, timeless action plans, thought-provoking stories, a proactive agenda for change,
and inspiration for how women can create change in their everyday lives and in the country as a whole.
This book provides proven tactics, policy solutions, and strategies any woman can use to build her power.
DID YOU KNOW THAT:
One in three women have experienced some form of sexual assault?
When a group includes more women, its collective intelligence rises?
The U.S. doesn't have paid family/medical leave but 177 other countries do?
Keep Marching
calls on all badass women for justice to come together and rise.
About the Author
KRISTIN ROWE-FINKBEINER is the cofounder and CEO of MomsRising, an organization with over a million members across the nation working to increase economic security, decrease discrimination, and to build a nation where everyone can thrive. She is also a frequent public speaker, radio host, and an award-winning author. She has also been published and featured in numerous outlets, including: Politico, USA Today, CNN, MSNBC, the Washington Post, and HuffPost.
Praise For Keep Marching: How Every Woman Can Take Action and Change Our World…
"Keep Marching is the book we all need to remind us why the fight against white supremacy and patriarchy will actually set us free. Kristin's enthusiasm jumps through the pages. We are all lucky to have this book during a painful time in America."
—Patrisse Khan-Cullors, New York Times bestselling author of When They Call You a Terrorist

"Keep Marching, by the fierce and fearless Kristin Rowe-Finkbeiner, is a perfect primer for women everywhere who want to take action - whether you're heading to your first town hall meeting or running for office. With wit and clarity, she covers everything from reproductive rights to maternal mortality to mass incarceration, including a powerful and much-needed call to action for white women to step up and do our part in the fight for justice. Keep Marching is not only a how-to manual; it's a celebration of women's power, progress, and potential to change the world."—Cecile Richards, New York Times bestselling author of Make Trouble and President of Planned Parenthood

"Within every woman lies the power to spark a movement, and Keep Marching provides each of us with the tools and the inspiration we need to unleash our full potential. This extraordinary book can teach an entire generation of women-from every background-how to organize, mobilize, and catalyze a 21st century revolution for true equality."
—Neera Tanden, President, Center for American Progress

"Keep Marching is a powerful call to action for women everywhere-whether you're a seasoned organizer or someone who's getting involved for the first time. As Kristin [states], 'women can lift our nation.' Practical and inspirational guides like this will help us make it happen."
—Anna Galland, Executive Director, Moveon.org Civic Action

"Keep Marching is an energizing roadmap, taking our focus from what we're up against [to] a vision that [allows] all women and families to live well. [This book shows] us how by working together and supporting one another, we can truly get there."
—Ai-jen Poo, Director, National Domestic Workers Alliance

"[A] must-read for new activists. I highly recommend picking up this hands-on guide full of the concrete information, an intersectional agenda, and a step-by-step action plan for every woman looking to make tangible change in their communities."
—Bob Bland, National Co-President, Women's March on Washington

"Keep Marching is a profound call to action for women seeking to overturn injustice and stand together. Kristin Rowe-Finkbeiner reminds us of what we're really fighting for."
—Leah Greenberg, Co-director, Indivisible

"Keep Marching is the 'cookbook' for activism that so many women (and all people who support them) in America need. Whether you care about paid leave, equal pay, criminal justice reform or immigration policy - or all of the above - this book will speak to you. Keep Marching makes absolutely clear that the time for us to band together - to listen, to plan, to organize and to act - is now."
—Vicki Shabo, Vice President, National Partnership for Women & Families

"Keep Marching is a groundbreaking manifesto. It's a book that every woman should read-full of compelling research and data that can change the world."
—Fatima Goss Graves, President, National Women's Law Center

"This book is a must-read for anyone who is curious about how to join the next feminist revolution. Kristin Rowe-Finkbeiner does us the immense favor of breaking down the language, the ideas and the tactics that work."
—Rinku Sen

"For anyone wanting to move up the ladder of engagement, to graduate from marches and rallies to strategy and planning, from activist to organizer, use this book as a field guide."
—dream hampton

"For the days when you feel as if you've done all you can, there's... Keep Marching, which will give you ideas on how you can keep on keeping on in the fight for radical change."—Bustle
or
Not Currently Available for Direct Purchase