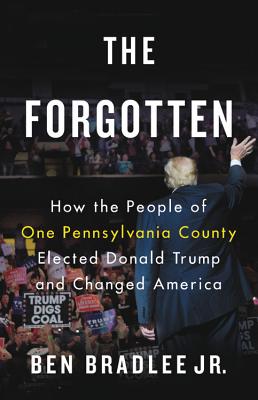 The Forgotten (Hardcover)
How the People of One Pennsylvania County Elected Donald Trump and Changed America
Little, Brown and Company, 9780316515733, 304pp.
Publication Date: October 2, 2018
Other Editions of This Title:
Digital Audiobook (10/1/2018)
CD-Audio (11/20/2018)
Compact Disc (11/13/2018)
* Individual store prices may vary.
Description
The people of Luzerne County, Pennsylvania voted Democratic for decades, until Donald Trump flipped it in 2016. What happened?

Named one of the "juiciest political books to come in 2018" by Entertainment Weekly.

In The Forgotten, Ben Bradlee Jr. reports on how voters in Luzerne County, a pivotal county in a crucial swing state, came to feel like strangers in their own land - marginalized by flat or falling wages, rapid demographic change, and a liberal culture that mocks their faith and patriotism.

Fundamentally rural and struggling with changing demographics and limited opportunity, Luzerne County can be seen as a microcosm of the nation. In The Forgotten, Trump voters speak for themselves, explaining how they felt others were 'cutting in line' and that the federal government was taking too much money from the employed and giving it to the idle. The loss of breadwinner status, and more importantly, the loss of dignity, primed them for a candidate like Donald Trump.

The political facts of a divided America are stark, but the stories of the men, women and families in The Forgotten offer a kaleidoscopic and fascinating portrait of the complex on-the-ground political reality of America today.
About the Author
Ben Bradlee Jr. is the author of the critically acclaimed The Kid: The Immortal Life of Ted Williams (2013) among other books. Bradlee spent 25 years with The Boston Globe as a reporter and editor. As deputy managing editor, he oversaw the Globe's Pulitzer Prize-winning coverage of the sexual abuse scandal in the Catholic Church from July 2001 to August 2002. Bradlee lives with his wife outside Boston.
Praise For The Forgotten: How the People of One Pennsylvania County Elected Donald Trump and Changed America…
"This is a book that should be absorbed by the millions of Democrats who still cannot understand how Donald Trump won in 2016. Bradlee did what the brightest editors in New York and California did not assign their reporters to do -- he spent months talking to white working class Americans in a rural county in Pennsylvania -- a nominally blue state -- and learned the hard way, on the job, that Trump was a far more viable candidate than the elite thought. This is a real reporter's book."—Seymour M. Hersh, Pulitzer Prize-winning investigative reporter

"Ben Bradlee's The Forgotten is an eyeopening look at the American electorate in the Age of Trump. By honing in on a singular Pennsylvania county Bradlee brilliantly dissects the myriad of reasons behind our Great Political Divide. A must read!" ---—Douglas Brinkley, Historian and Professor of History at Rice University

"Pennsylvania has long fancied itself 'the keystone state' -- the piece that holds together the arch of the nation. In 2016, when the nation came apart in disturbing ways, this state's role was especially revealing. Ben Bradlee Jr.'s meticulous reporting illuminates the riveting story of how people who felt forgotten discovered how to get the nation's attention."—George F. Will, Washington Post and syndicated columnist

"The Forgotten is a riveting and empathetic portrait of a cross-section of (mostly disillusioned) people of Luzerne County, PA., which arguably gave Trump that state -and the Presidency. As we near the 2018 midterms, which will largely be a referendum on the Trump Presidency and the future of our nation, Ben Bradlee Jr.'s "listening -reporting" of the stories of those whose votes shook this country in 2016 offers complex, sobering and important lessons for the future of our country."—Katrina vanden Heuvel, Editor and Publisher of The Nation

"Engrossing...insightful...a book full of hard truths.''—The Boston Globe

"What makes The Forgotten memorable is not the white-working-class cliches or cross-cultural animosity, but how our national divides are reflected within individual families."—Carlos Lozada, The Washington Post

"This searing portrait shines a light on the disheartened voters the Democratic Party forgot."—Arlie Russell Hochschild, The Washington Post

"Fresh and illuminating."—The National Book Review

"Bradlee's book is the first true deep-dive into the history and culture of the county...[he] is a patient interviewer, and in his strongest moments he gives his reader a sense of real human depth. "—Bobbi Dempsey, Los Angeles Review of Books

"Essential and disturbing reading."—Lloyd Green, The Guardian

"With 'The Forgotten,' Bradlee adds to the body of emerging studies about white Trump voters that is sensitive but honest, amid a demographically changing, divided nation.''—Russell Contreras, Associated Press

"In the tradition of J. Anthony Lukas' Common Ground, or Samuel J. Freedman's The Inheritance, Bradlee immerses himself in the world of Luzerne's Trump supporters - an all-white yet still-diverse crew, including ex-Democrats, a white nationalist, and an evangelical husband and wife - and lets their voices take center stage. Bradlee admirably avoids the condescension that can sometimes emerge when coastal types set out to discover red-state 'Murica."'—Tom Deignan, National Catholic Reporter

"A great read."—Bill O'Boyle, The Wilkes Barre Times Leader

"A valuable glimpse into the communities where Trump's candidacy resonated and where his presidency continues to unite those who feel shut out."—Real Clear Politics, Book of the Week

"As Bradlee relates the findings from his in-depth conversations with Luzerne voters, he avoids stereotypes and pat answers...fascinating."—Kirkus Reviews

"An in-depth, closely reported examination of Trump voters in Pennsylvania's Luzerne County, a swing county in the northeastern section of the state, which played a pivotal role in Trump's election and victory in the Keystone State. "—Cal Poly State University