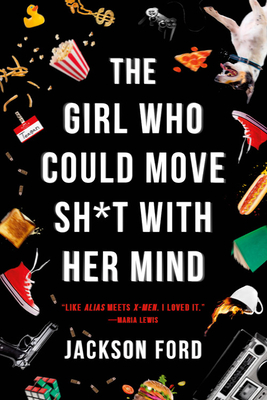 The Girl Who Could Move Sh*t with Her Mind (The Frost Files #1)
Paperback

* Individual store prices may vary.
Description
Full of imagination, wit, and random sh*t flying through the air, this insane adventure from an irreverent new voice will blow your tiny mind.
For Teagan Frost, sh*t just got real.
Teagan Frost is having a hard time keeping it together. Sure, she's got telekinetic powers -- a skill that the government is all too happy to make use of, sending her on secret break-in missions that no ordinary human could carry out. But all she really wants to do is kick back, have a beer, and pretend she's normal for once.
But then a body turns up at the site of her last job -- murdered in a way that only someone like Teagan could have pulled off. She's got 24 hours to clear her name - and it's not just her life at stake. If she can't unravel the conspiracy in time, her hometown of Los Angeles will be in the crosshairs of an underground battle that's on the brink of exploding . . .
Praise For The Girl Who Could Move Sh*t with Her Mind (The Frost Files #1)…
"Furious, frenetic, fun, and "f**k you": All equally valid descriptions of this book and its punk rock chef/psychic warrior protagonist. It's like the X-Men, if everybody was sick of each other's sh*t, they had to work manual labor to pay rent, and Professor X was a sociopathic government stooge. A drunken back-alley brawler of a book."—Robert Brockway, author of The Unnoticeables

"Like Alias meets X-Men. I loved it."—Maria Lewis

"Ford's debut holds nothing back, delivering a sense of absurd fun and high-speed thrills that more than lives up to that amazing title."—B&N Sci-Fi & Fantasy Blog

"Teagan is a frank and funny narrator for this wild ride, which starts off with our heroine falling from the 82nd floor of a skyscraper and pretty much never slow down . . . . A fast-paced, high-adrenaline tale that manages to get into some dark themes without losing its sense of fun."—Kirkus

"Ford's breakneck pace keeps the tension high, and the thrills coming the whole way through."—BookPage

"The novel unfolds cinematically with loads of breathtaking action, a perfect candidate for film or television adaptation . . . [Readers will] want more."—Booklist

"Ford's strengths are evident in the taut acton sequences and suspenseful pacing."—Publishers Weekly

"The writing and storytelling is as clear and fun as the title indicates."—Locus
Orbit, 9780316519151, 496pp.
Publication Date: June 18, 2019
About the Author
Jackson Ford is a pseudonym for Rob Boffard, a South African writer currently living in Vancouver. He is the author of the critically acclaimed Frost Files series, about a government operative with telekinetic powers. He has released four science fiction novels under the name Rob Boffard, and was previously a journalist for over a decade, writing articles for publications and sites including The Guardian, the BBC, Wired Magazine and io9.