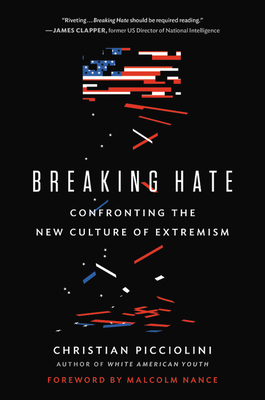 Breaking Hate
Confronting the New Culture of Extremism
Hardcover

* Individual store prices may vary.
Other Editions of This Title:
Digital Audiobook (2/24/2020)
Compact Disc (2/25/2020)
Compact Disc (2/25/2020)
Description
From a onetime white-supremacist leader now working to disengage people from extremist movements, Breaking Hate is a "riveting" (James Clapper), "groundbreaking" (Malcolm Nance), "horrifying [but] hopeful" (S.E. Cupp) exploration of how to heal a nation reeling from hate and violence.

Today's extremist violence surges into our lives from what seems like every direction -- vehicles hurtling down city sidewalks; cyber-threats levied against political leaders and backed up with violence; automatic weapons unleashed on mall shoppers, students, and the faithful in houses of worship. As varied as the violent acts are the attackers themselves -- neo-Nazis, white nationalists, the alt-right, InCels, and Islamist jihadists, to name just a few. In a world where hate has united communities that traffic in radical doctrines and rationalize their use of violence to rally the disaffected, the fear of losing a loved one to extremism or falling victim to terrorism has become almost universal.

Told with startling honesty and intimacy, Breaking Hate is both the inside story of how extremists lure the unwitting to their causes and a guide for how everyday Americans can win them-and our civil democracy-back. Former extremist Christian Picciolini unravels this sobering narrative from the frontlines, where he has worked for two decades as a peace advocate and "hate breaker." He draws from the firsthand experiences of extremists he has helped to disengage, revealing how violent movements target the vulnerable and exploit their essential human desires, and how the right interventions can save lives.

Along the way, Picciolini solves the puzzle of why extremism has come to define our era, laying bare the ways in which modern society-from "fake news" and social media propaganda to coded language and a White House that inflames rather than heals-has polarized and radicalized an entire generation.

Piercing, empathetic, and unrestrained, Breaking Hate tells the sweeping story of the challenge of our time and provides a roadmap to overcoming it.
Praise For Breaking Hate: Confronting the New Culture of Extremism…
"This riveting narrative portrays on an intensely personal level the impacts of extremism. Encouragingly, it also identifies a method for recovery. Picciolini's experience and practice reinforce the truism that hate is a learned behavior, and it can be unlearned. Breaking Hate should be required reading for all citizens who care about dangerous behavior, want to understand it, and are committed to reducing it."—James Clapper, former US Director of National Intelligence

"Riveting, horrifying, and hopeful, Breaking Hate provides a careful and detailed account of how to stop society's death spiral into extremism, and when we need it most urgently."—S.E. Cupp, nationally syndicated columnist and CNN host, author of Losing Our Religion

"With piercing insight and unrivaled compassion, Breaking Hate tells the tragic story of how extremism has torn our communities asunder and how every American can work together to end the epidemic of violence that has taken so many of our loved ones. In a country where more than 96 percent of mass shootings are perpetrated by men, we need to find ways of helping our boys grow into healthy young men who not only reject hate but also feel they have paths forward in today's economy."—Andrew Yang, 2020 Democratic presidential candidate

"Gripping and timely...Written with authority and first-hand experience...Breaking Hate is filled with rare insights that put today's rise of white supremacy into perspective -- and shows us how to stop it."—Ali Soufan, former FBI special agent and New York Times bestselling author of Anatomy of Terror: From the Death of bin Laden to the Rise of the Islamic State

"Breaking Hate is a groundbreaking book. It reveals the depths of the modern white-power extremist movement and illustrates how easily the children of good-hearted, proud Americans can become transformed and corrupted...A sorrowfully necessary book for the dark period America has found itself in."—Malcolm Nance, counter-terrorism analyst for NBC News and New York Times bestselling author of The Plot to Betray America, from the foreword

"At a time when the bonds of multiracial democracy and pluralism are being torn by political strife, growing hate group activity, and acts of white-supremacist terrorism, Christian Picciolini provides us a roadmap to a new sense of community and justice. As a former extremist himself, Picciolini knows what turns people into ticking time bombs and what it takes to defuse them; and more to the point, what it takes to prevent still more fuses from being lit. In Breaking Hate, he combines a keen sense of history with human psychology, sharp storytelling and the kind of hopefulness it will take to emerge from our current moment a healthier and more just nation. In this impressive volume he provides a critical glimpse inside the broken humanity of not only individual extremists, but the brokenness of America itself."—Tim Wise, author of White Like Me: Reflections on Race from a Privileged Son

"Christian Picciolini changed the way I see the seduction of hate groups and the vulnerable people lured into them. Let him do that for you, too."—Sarah Silverman, comedian

"A rare, exquisitely narrated tale of journeys to the edge and back, Breaking Hate illuminates a creeping danger that threatens to polarize American society and split it asunder. It documents Christian Picciolini's inspired efforts to turn back a tide of hate about to engulf us all. A must-read for anyone who cares to understand what feeds violent extremism, and how it can be countered."—Dr. Arie Kruglanski, Distinguished Professor of Psychology at the University of Maryland and author of The Three Pillars of Radicalization

"Those who ignore Picciolini's agonizing and dire warnings about the pervasive and systematic alt-right movement, do so at all of our peril. We must instead listen intently to what he is telling us, and internalize his poignantly told personal story and fervent efforts to repair fractured souls lost to forces beyond their control. Our survival as a civil society may depend upon it."
—Glenn Frank, coauthor of From Broken Glass: Finding Hope in Hitler's Death Camps to Inspire a New Generation

"A candid look inside the radical and violent behavior that unites those in these movements....As the world is currently waking up to the devastating consequences of racism, perspectives like [Picciolini's] can help us understand the lure of white supremacy."—TED.com

"As an outspoken advocate who has denounced racism and resolved to "repair the harm I once caused," Picciolini sets an instructive example for those questioning their own extremism."
—Kirkus Reviews
Hachette Books, 9780316522939, 272pp.
Publication Date: February 25, 2020
About the Author
Christian Picciolini is an award-winning television producer, a public speaker, author, antiracism advocate, and a former extremist. After leaving the hate movement he helped create during the 1980s and 90s, he began the painstaking process of making amends and rebuilding his life. Christian went on to earn a degree in international relations from DePaul University and launched Goldmill Group, a counter-extremism consulting and digital media firm. In 2016, he won an Emmy Award for producing an anti-hate advertising campaign aimed at helping people disengage from extremism. For nearly two decades, Christian has helped hundreds of individuals leave hate behind through his disengagement work and the organizations he founded. He has spoken all over the world, including the TEDx stage, where he shares his unique and extensive knowledge about how to effectively prevent and counter extremism. Christian chronicles his involvement in and exit from the early American white-supremacist skinhead movement in his memoir, WHITE AMERICAN YOUTH, and is the featured subject in season 3 of WBEZ's 'Motive' podcast, which received the 2021 National Edward R. Murrow Award for best podcast in large market radio. He showcased his disengagement work in a second book, BREAKING HATE: Confronting the New Culture of Extremism, as well as in the MSNBC documentary series of the same name, which aired in 2018-2019. He is the host of the 'F Your Racist History' podcast, a scripted history show that tells America's hidden, overlooked, and unknown racist origin stories. The first season is currently available across major podcast platforms.