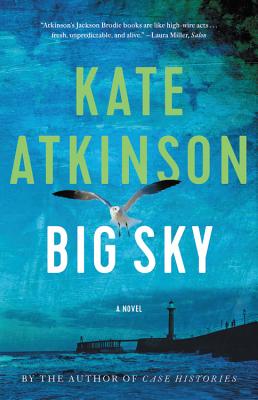 Big Sky (Jackson Brodie #5) (Hardcover)
Little, Brown and Company, 9780316523097, 400pp.
Publication Date: June 25, 2019
Other Editions of This Title:
Hardcover, Large Print (6/25/2019)
CD-Audio (6/25/2019)
MP3 CD (6/25/2019)
Compact Disc (6/25/2019)
* Individual store prices may vary.
Description
Iconoclastic detective Jackson Brodie returns in a triumphant new novel about secrets, sex, and lies

Jackson Brodie has relocated to a quiet seaside village, in the occasional company of his recalcitrant teenage son and an aging Labrador, both at the discretion of his ex-partner Julia. It's picturesque, but there's something darker lurking behind the scenes.
Jackson's current job, gathering proof of an unfaithful husband for his suspicious wife, is fairly standard-issue, but a chance encounter with a desperate man on a crumbling cliff leads him into a sinister network-and back across the path of his old friend Reggie. Old secrets and new lies intersect in this breathtaking novel by one of the most dazzling and surprising writers at work today.
About the Author
Kate Atkinson's first novel, Behind the Scenes at the Museum, was named England's Whitbread Book of the Year in 1996. Since then, she has written ten more ground-breaking, bestselling books, most recently Transcription. She lives in Edinburgh, Scotland.
Praise For Big Sky (Jackson Brodie #5)…
"The bestselling British writer returns to Brodie's world for a fifth time in
Big Sky
, which finds the hero ensconced in a quaint northern English seaside town, making a living as a private investigator. As is often the case in Atkinson's genre-defying fiction, assignments to track lost cats and unfaithful husbands are never quite what they seem."—
TIME, 32 Books You Need to Read this Summer
"Atkinson is one of the best writers working today, and her crime fiction, including novels featuring the now-retired Scottish inspector Jackson Brodie, rank among the finest. What takes
Big Sky
up a notch is its urgent, relevant subject matter: pedophilia rings and how they damage survivors for the rest of their lives."—
Bethanne Patrick, The Washington Post
"Kate Atkinson is one of those very rare writers who's a master at absolutely every aspect of the novel-character and plot and voice and language and themes and humor and dialogue and on and on. I love everything about BIG SKY, a giant mosaic of people and stories that fit perfectly together in a complex, beautiful pattern, offering tremendous reading pleasure on every single page."—
Chris Pavone, bestselling author of The Expats


"The great Atkinson has returned to crime fiction and her well-beloved detective, Jackson Brodie...Atkinson masterfully juggles Brodie's consciousness with that of numerous other characters...You flit in and out of their various viewpoints, but Brodie's - warmhearted, weary, haunted by loss - always feels like coming home... I read this book in a delicious late-night rush; I suspect many of you will too."
—
Moira Macdonald, Seattle Times


"'A coincidence is just an explanation waiting to happen' is one of Jackson's maxims; it could also serve as an ironic epigram for Atkinson's approach to the mystery genre. A small cast of characters collides and careens in a manner that straddles Greek tragedy and screwball comedy. The humor is sly rather than slapstick, and Atkinson is keenly interested in inner lives and motivations...The deaths and disappearances that Jackson investigates change with every book, but the human heart remains the central mystery. The welcome return of an existential detective. "—
Kirkus, starred review
"We marvel at Atkinson's rare ability to create in a relatively few but stunningly deft brushstrokes at least a half-dozen characters with the depth and complexity to own their own novel. Another dazzler from a writer whose talents know no bounds."
—
Booklist, starred review