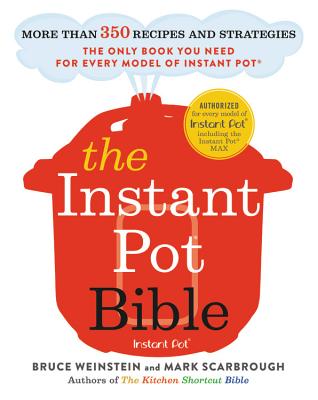 The Instant Pot Bible
More than 350 Recipes and Strategies: The Only Book You Need for Every Model of Instant Pot
Paperback

* Individual store prices may vary.
Description
This complete and authorized guide to your Instant Pot has more than 350 recipes for breakfasts, lunches, dinners, snacks, and even desserts -- for every size and model of Instant Pot.

More than five million people worldwide use Instant Pots to get food onto their table fast. But only The Instant Pot Bible has everything you need to revolutionize the way you cook with your favorite machine. Every one of the 350+ recipes gives ingredients and timings for all sizes and models of Instant Pot, including the Instant Pot MAX, which cooks even more quickly. And you get exciting new recipes that utilize the MAX's unique Sous Vide setting.

The Instant Pot Bible is the most comprehensive Instant Pot book ever published, with recipes for everything from hearty breakfasts to healthy sides, from centerpiece stews and roasts to decadent desserts. Bestselling authors and pressure-cooking experts Bruce Weinstein and Mark Scarbrough offer customized directions and timings for perfect results every time. And many recipes can also use the slow-cook setting to let the machine cook while you do other things.

These innovative "road map" recipes for classics such as vegetable soups, chilis, pasta casseroles, oatmeal, and more let you customize flavors and ingredients to make each of your family members' favorites. Need dinner in an instant? No problem-more than 175 recipes come together in just a few minutes or just a few steps. Not to mention vegan and vegetarian, keto-friendly, and gluten-free options galore.

The Instant Pot changed the way you cook. The Instant Pot Bible helps you make the most of it.

For the complete guide to cooking meals in your Instant Pot with ingredients straight out of your freezer, don't miss their latest book: From Freezer to Instant Pot.
Praise For The Instant Pot Bible: More than 350 Recipes and Strategies: The Only Book You Need for Every Model of Instant Pot…
"While most cookbooks are just a collection of recipes, this helpful guide offers directions for each Instant Pot device on the market while also teaching you how to customize your favorite recipes. You'll also discover a range of dishes designed for vegetarian, vegan, keto, and gluten-free diets."—Food & Wine

One of the 9 Best Instant Pot Cookbooks (Epicurious)

"Organized by functions on the Instant Pot, as well as by dish. So if you're not sure what you want to make but you have been dying to try the sous vide method, or you want something that will pressure cook in under 20 minutes, you can flip right to those chapters. For those of us who want an easy, hands-off staple, turn to... options for for vegetarians and omnivores alike."—Epicurious
Voracious, 9780316524612, 496pp.
Publication Date: October 2, 2018
About the Author
Bruce Weinsteinand Mark Scarbrough are the bestselling authors of the Instant Pot Bible, among more than 30 other cookbooks. They are the owners of MediaEats, a culinary production company, were nominees for 2011 and 2015 James Beard Awards, won the 2015 IACP Award, and are the longest-serving columnists on WeightWatchers.com, as well as regular contributors to the Washington Post, Fine Cooking, and Cooking Light.