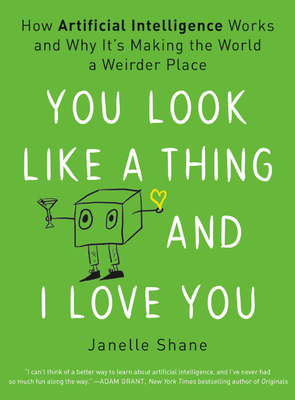 You Look Like a Thing and I Love You (Hardcover)
How Artificial Intelligence Works and Why It's Making the World a Weirder Place
Voracious, 9780316525244, 272pp.
Publication Date: November 5, 2019
* Individual store prices may vary.
Description
A hilarious look under the hood of artificial intelligence, the technology that's changing the world--and why it's more clueless than we think.
A.I. is everywhere. It powers the autocorrect function of your smartphone, helps Google Translate speak every language, and interprets your clicks and Likes to determine which of your friends' Facebook posts you most want to see. In the coming years, it may perform medical diagnoses and even drive your car. But how does it really work?
A.I. researcher Janelle Shane has taught A.I. to tell knock-knock jokes, design the perfect sandwich, and even flirt with humans. (The title of this book was her algorithm's idea of a perfect pick-up line). Through her hilarious experiments and surprising anecdotes, she does more than just demystify A.I.--she gives readers the tools to understand what it's good at, what it struggles with, and what it gets catastrophically wrong.
A hilarious, accessible primer on the cutting-edge technology that will soon power our world, You Look Like a Thing and I Love You is a fun and transporting journey into the minds of our robot overlords.
About the Author
Janelle Shane has a PhD in engineering and a masters in physics. Her graduate research was in the applications of high-powered lasers, and as her day job, she designs artificial reality for insects. In her spare time, she experiments with training an AI to understand humans. She lives in Colorado.
Praise For You Look Like a Thing and I Love You: How Artificial Intelligence Works and Why It's Making the World a Weirder Place…
"If you're terrified that artificial intelligence is going to take over the world, you clearly haven't asked a computer to write pick-up lines, name pets, or do anything else social or creative. Janelle Shane has, and she's the perfect tour guide to explain what machine learning can and can't do--and why it's already affecting your life. I can't think of a better way to learn about artificial intelligence, and I've never had so much fun along the way."—Adam Grant, New York Times bestselling author of Originals

"An accessible primer... illustrated with charming cartoons, oddball case studies (self-driving cars in Australia were confused by kangaroos), and wry observations about the often-hilarious failures of artificial intelligence to comprehend human contexts."—Publishers Weekly