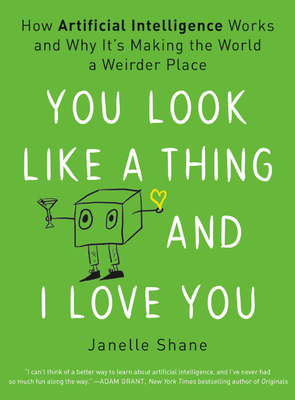 You Look Like a Thing and I Love You (Hardcover)
How Artificial Intelligence Works and Why It's Making the World a Weirder Place
Voracious, 9780316525244, 272pp.
Publication Date: November 5, 2019
Other Editions of This Title:
Compact Disc (11/5/2019)
Compact Disc (11/5/2019)
* Individual store prices may vary.
Description
AS HEARD ON NPR'S "SCIENCE FRIDAY"
Discover the book that Malcolm Gladwell, Susan Cain, Daniel Pink, and Adam Grant want you to read this year, an "accessible, informative, and hilarious" introduction to the weird and wonderful world of artificial intelligence (Ryan North).
"You look like a thing and I love you" is one of the best pickup lines ever... according to an artificial intelligence trained by scientist Janelle Shane, creator of the popular blog AI Weirdness. She creates silly AIs that learn how to name paint colors, create the best recipes, and even flirt (badly) with humans--all to understand the technology that governs so much of our daily lives.
We rely on AI every day for recommendations, for translations, and to put cat ears on our selfie videos. We also trust AI with matters of life and death, on the road and in our hospitals. But how smart is AI really... and how does it solve problems, understand humans, and even drive self-driving cars?
Shane delivers the answers to every AI question you've ever asked, and some you definitely haven't. Like, how can a computer design the perfect sandwich? What does robot-generated Harry Potter fan-fiction look like? And is the world's best Halloween costume really "Vampire Hog Bride"?
In this smart, often hilarious introduction to the most interesting science of our time, Shane shows how these programs learn, fail, and adapt--and how they reflect the best and worst of humanity.
You Look Like a Thing and I Love You is the perfect book for anyone curious about what the robots in our lives are thinking.
"I can't think of a better way to learn about artificial intelligence, and I've never had so much fun along the way." - Adam Grant, New York Times bestselling author of Originals
About the Author
Janelle Shane has a PhD in electrical engineering and a master's in physics. At aiweirdness.com, she writes about artificial intelligence and the hilarious and sometimes unsettling ways that algorithms get human things wrong. She was named one of Fast Company's 100 Most Creative People in Business and is a 2019 TED Talks speaker. Her work has appeared in the New York Times, Slate, The New Yorker, The Atlantic, Popular Science, and more. She is almost certainly not a robot.
Praise For You Look Like a Thing and I Love You: How Artificial Intelligence Works and Why It's Making the World a Weirder Place…
One of the most anticipated books of the fall! - Adam Grant, Ars Technica, Philadelphia Inquirer, Next Big Idea Club, BookPage

"If you're terrified that artificial intelligence is going to take over the world, you clearly haven't asked a computer to write pick-up lines, name pets, or do anything else social or creative. Janelle Shane has, and she's the perfect tour guide to explain what machine learning can and can't do--and why it's already affecting your life. I can't think of a better way to learn about artificial intelligence, and I've never had so much fun along the way."—Adam Grant, New York Times bestselling author of Originals

"While everyone else is making questionable predictions about the future of AI, Janelle Shane cuts through the fog by telling you how AI actually works. And even better: she makes it fun!"—Zach Weinersmith, creator of Saturday Morning Breakfast Cereal and New York Times bestselling author of Soonish

"An incredibly accessible, informative, and hilarious look at how the AIs deciding things around us operate."—Ryan North, New York Times bestselling author of How to Invent Everything

"What better way to explain AI than through examples of what it can and cannot do? Shane is an expert at this and fills the book with hilarious AI experiments as well as a bunch of complementary, charming cartoons. Her writing style is also so approachable that anybody, not just the engineer-minded or the tech-savvy, can understand the often abstract concepts she details."—Ars Technica

"This accessible guide to AI and machine learning cuts through the techno-hype... You Look Like a Thing and I Love You should be essential reading."—Booklist

"AI, AI, AI, that's all you hear... but what is it, really? Why should we care? And why is it driving so much innovation, remaking our world seemingly day by day? Shane is a computer scientist and a great guide."—Philadelphia Inquirer

"An accessible primer... illustrated with charming cartoons, oddball case studies (self-driving cars in Australia were confused by kangaroos), and wry observations about the often-hilarious failures of artificial intelligence to comprehend human contexts."—Publishers Weekly

"If you're worried about what AI is doing to the world, this book may not exactly reassure you, but it will definitely equip you with greater understanding. Recommended for anyone who wants to better comprehend the strengths and limitations of artificial intelligence, but also for anyone who likes watching computers fail hilariously."—Gretchen McCulloch, New York Times bestselling author of Because Internet

"Janelle Shane has hit the trifecta--the most hilarious, most educational, and overall best explanation of artificial intelligence ever written (and drawn)."—Eric Topol, author of Deep Medicine: How Artificial Intelligence Can Make Healthcare Human Again

"A delightful way to learn about the technology that's poised to change our lives."—Annalee Newitz, author of Future of Another Timeline

"If you're interested in knowing more about machine learning and artificial intelligence, or in trying to understand our robot overlords, or if you just love weird and interesting science, you can't miss this book."—David Ha, lead researcher, Google Brain

"A fun, commonsense guide to the technology that's shaping our future."—William Poundstone, author of The Doomsday Calculation

"Irresistibly funny and compelling."—Roy Peter Clark, author of Writing Tools