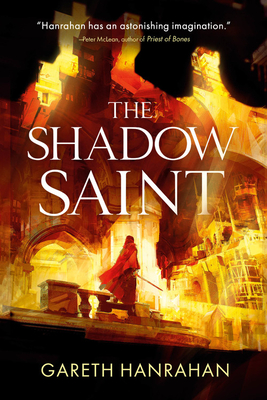 The Shadow Saint (The Black Iron Legacy #2) (Paperback)
Orbit, 9780316525350, 608pp.
Publication Date: January 7, 2020
* Individual store prices may vary.
Description
Thieves, dangerous magic, and a weapon built with the power to destroy a god clash in this second novel of Gareth Hanrahan's acclaimed epic fantasy series, The Black Iron Legacy.
Enter a city of spires and shadows . . .
The Gutter Miracle changed the landscape of Guerdon forever. Six months after it was conjured into being, the labyrinthine New City has become a haven for criminals and refugees.
Rumors have spread of a devastating new weapon buried beneath the streets - a weapon with the power to destroy a god. As Guerdon strives to remain neutral, two of the most powerful factions in the godswar send agents into the city to find it.
As tensions escalate and armies gather at the borders, how long will Guerdon be able to keep its enemies at bay?
The Shadow Saint continues the gripping tale of dark gods and dangerous magic that began with Hanrahan's acclaimed debut The Gutter Prayer.
About the Author
Gareth Hanrahan's three-month break from computer programming to concentrate on writing has now lasted fifteen years and counting. He's written more gaming books than he can readily recall, by virtue of the alchemical transmutation of tea and guilt into words. He lives in Ireland with his wife and twin sons. Follow him on twitter @mytholder.
Praise For The Shadow Saint (The Black Iron Legacy #2)…
"Mixes diplomacy, espionage, and religion to excellent effect ... Series fans and new readers alike will delight entering this strange, immersive universe."—Publishers Weekly

"Readers who enjoy the intricate worldbuilding of Patrick Rothfuss, Mark Lawrence, Max Gladstone, and Steven Erikson should start with the first volume before tackling this satisfying sequel."—Library Journal

"I will buy any novel that Gareth Hanrahan ever writes. ... The Shadow Saint is a brilliant book."—Fantasy Inn

"The Gutter Prayer is captivating and complex. Guerdon is a city that seethes with history, horror, and hidden secrets, and Hanrahan's assured style is reminiscent of China Mievelle in the best way possible."—Nicholas Eames on The Gutter Prayer

"A gripping tale that meshes beautifully with its fascinating, darkly inventive setting."—James Islington on The Gutter Prayer

"Employing an enviable skill with both plotting and prose, Gareth Hanrahan has in The Gutter Prayer woven an intricate and finely crafted web of compelling characters navigating a city rich in dark and original wonders. I await the sequel with the keenest anticipation."—Anthony Ryan on The Gutter Prayer

"A groundbreaking and extraordinary novel . . . Ryder-Hanrahan has an astonishing imagination."—Peter McLean on The Gutter Prayer

"Beautifully written. Gripping. Guerdon is the city of my dreams."—Anna Smith Spark on The Gutter Prayer

"Laced with the blackest of humor and packed with magic and mayhem, this is fantasy turned up to 11."—Anna Stephens on The Gutter Prayer

"This is genre-defying fantasy at its very best. An absolutely stunning debut. Insanely inventive and deeply twisted. I loved it! Highly recommended."—Michael R. Fletcher on The Gutter Prayer

"With living candles, ancient ghouls, broken gods, and more, The Gutter Prayer brims with cool and often twisted ideas."—Peter Newman on The Gutter Prayer

"Hanrahan brings the sights, sounds, and smells of Guerdon to life with crisp, lyrical prose that moves swiftly between thrilling action sequences and imaginative worldbuilding."—Publishers Weekly on The Gutter Prayer

"A wonderfully bizarre vision, The Gutter Prayer reads like a collaboration between Hunter S. Thompson and H.P. Lovecraft."—The Guardian on The Gutter Prayer

"Hanrahan brings his city to life in lyrical prose, even as the plot leaps from action sequence to breathless chase and back again."—B&N Sci-Fi & Fantasy Blog on The Gutter Prayer

"Fans of dark fantasies like Brandon Sanderson's Elantris and Robert Jackson Bennett's City of Stairs will feel right at home in Guerdon's twisting cityscape. An inventive debut."—Booklist on The Gutter Prayer