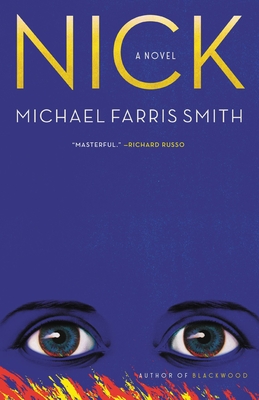 Nick (Hardcover)
Little, Brown and Company, 9780316529761, 304pp.
Publication Date: January 5, 2021
* Individual store prices may vary.
Description
Critically acclaimed novelist Michael Farris Smith pulls Nick Carraway out of the shadows and into the spotlight in this fascinating look into his life before Gatsby


Before Nick Carraway moved to West Egg and into Gatsby's periphery, he was at the center of a very different story-one taking place along the trenches and deep within the tunnels of World War I.
Floundering in the wake of the destruction he witnessed firsthand, Nick delays his return home, hoping to escape the questions he cannot answer about the horrors of war. Instead, he embarks on a transcontinental redemptive journey that takes him from a whirlwind Paris romance-doomed from the very beginning-to the dizzying frenzy of New Orleans, rife with its own flavor of debauchery and violence.
An epic portrait of a truly singular era and a sweeping, romantic story of self-discovery, this rich and imaginative novel breathes new life into a character that many know but few have pondered deeply. Charged with enough alcohol, heartbreak, and profound yearning to paralyze even the heartiest of golden age scribes,
Nick
reveals the man behind the narrator who has captivated readers for decades.
About the Author
Michael Farris Smith is the author of Blackwood,The Fighter,Desperation Road, Rivers, and The Hands of Strangers. His novels have appeared on Best of the Year lists in Esquire,Southern Living,Book Riot, and numerous other outlets, and have been named Indie Next, Barnes & Noble Discover, and Amazon Best of the Month selections. He has been a finalist for the Southern Book Prize, the Gold Dagger Awardin the UK, and the Grand Prix des Lectricesin France, and his essays have appeared in the New York Times, the Bitter Southerner, Garden & Gun, and more. He lives in Oxford, Mississippi, with his wife and two daughters.
Praise For Nick…
"A dark and often gripping story that imagines the narrator of The Great Gatsby in the years before that book began…Smith is a talented writer known mainly for his gritty evocations of violence, struggle, and loss…The new Nick is a man fully realized, with a mind tormented by the war and by a first love that waned too fast to a fingernail moon of bitter memory…A compelling character study and a thoroughly unconventional prequel."
—
Kirkus
"An evocative glimpse into life amidst World War I...with scenes on wartime battlefields and in New Orleans speakeasies creating more captivating backdrops throughout."
—
Perri Ormont Blumberg, Southern Living
"Anybody who believes that the war is over when the enemy surrenders and the troops come home needs to read Michael Farris Smith's masterful new novel NICK. Its stark, unvarnished truth will haunt you."
—
Richard Russo, Pulitzer Prize-winning author of EMPIRE FALLS and CHANCES ARE¿
"Every once in a while an author comes along who's in love with art and the written language and image and literary experiment and the complexity of his characters and the great mysteries that lie just on the other side of the physical world, writers like William Faulkner and Cormac McCarthy and Annie Proulx. You can add Michael Farris Smith's name to the list."
—
James Lee Burke, New York Times bestselling author and two-time Edgar Award winnerPraise for Blackwood
"Mr. Smith is a gifted writer whose lean, mean, prose underscores an extraordinary talent for creating atmospheric, vividly described scenes and characters....atmospheric and riveting." ---Susan Pearlstein,
Pittsburg Post Gazette
"Miraculously beautiful...Smith's prose is both raw and poetic, like opera sung at a honky-tonk. His books are tinged with reverence, an intangible and nearly religious grace that watches over the often brutal events he describes, hinting at the possibility for redemption even in the most debased." ---Ivy Pochoda, LA Review of Books
"Smith's eye lingers on those elements of the Southern experience most people look right past...In the South of Smith's fiction, no portion of our landscape is too humble or hardscrabble to warrant study." ---Matthew Guinn,
Mississippi Clarion Ledger
—
-
Praise for The Fighter
"One of those wonderful and rare books that's both a page-turner and a novel of great depth and emotion. The Fighter is Southern noir at its finest."-- Ace Atkins, New York Times bestselling author of The Fallen and The Sinners
"Michael Farris Smith is so good, I might actually hate him a little bit. The Fighter is a book I wish I'd written but am deeply grateful I got to read. It is a masterful portrait of place and character and how one influences the other, with language that is both brutal and tender at once. Smith loves Jack Boucher and the Mississippi Delta to the bone."--- Attica Locke, author of Bluebird, Bluebird
"I loved The Fighter. Michael Farris Smith is one of the most exciting new voices in American fiction. Just as I couldn't put down Desperation Road till I finished, I tore through this novel as well. I'm hooked." --- Brad Watson, author of Miss Jane
—
-Praise for Desperation Road
"Desperation Road is an elegantly written, perfectly paced novel about a man and woman indelibly marked by violence. Characters who would be mere stereotypes in a lesser writer's hands are fully realized, and we come to care deeply as they attempt to create a better life for themselves. An outstanding performance." --- Ron Rash
"Michael Farris Smith is one of the best writers of his generation, and this very well may be his best work--taut, tense, and impossible to put down."--- Tom Franklin, author of Crooked Letter
"Michael Farris Smith's Desperation Road reads as if it were forged in a fire stoked by the ghosts of Carson McCullers, Larry Brown, and William Gay. The result is a novel rife with violent beauty and incredible grace. Smith's terse, muscular prose encapsulates a heart that renders this novel as rich and alive and wounded as any you'll find in contemporary fiction." --- Wiley Cash, New York Times bestselling author of A Land More Kind Than Home and This Dark Road to Mercy
—
-