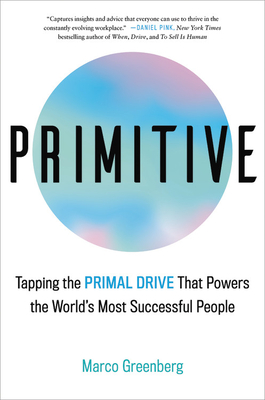 Primitive
Tapping the Primal Drive That Powers the World's Most Successful People
Hardcover

* Individual store prices may vary.
Other Editions of This Title:
Digital Audiobook (4/13/2020)
Paperback (4/13/2021)
Compact Disc (4/14/2020)
Description
A Wall Street Journal Business Book Bestseller
 
"Primitive provides a path forward to unleash your inner entrepreneur."―Barbara Corcoran, Shark Tank
 
Most people are disengaged with their work and feel uninspired, underappreciated and underpaid.
 
The situation could hardly be clearer: in the wake of a catastrophic global health crisis and amid societal upheaval and economic uncertainty, we can longer afford to play by the conventional rulebook to get ahead in our professional lives. 
 
What's the secret to this kind of success in today's world?
 
Ironically, it's honoring our ancient instincts and intuition. It's about sensing danger and pouncing on opportunity -- as our ancestors did tens of thousands of years ago, or in the manner of playful kids full of curiosity and can-do spirit.
 
Primitive is very different from the familiar, cookie-cutter business book. Marco Greenberg, a close advisor to visionary founders of tech unicorns and the heads of some of the nation's largest organizations, demonstrates how a range of successful people--those he calls "primitives"--ignore what they "should" do and instead tap a primal drive to power ahead.
 
The good news is that anyone looking to inspire others has a way to apply the primitive mindset, from new college grads to mid-career professionals, from HR directors to CEOs. 
 
The key is to go ROAMING ™: be Relentless in pursuing our biggest goals; have the courage to reject group-think and be Oppositional; choose an Agnostic approach rather than overly specialize; adopt a Messianic spirit, so your work becomes not just a job but a true calling;  embrace the advantages of being Insecure rather than feign bravado; reap the benefits of sometimes acting a little Nuts; and finally, to realize that being Gallant in following one's passions delivers the ultimate rewards.
 
Primitive captures the keys to breakout success and professional satisfaction.
Praise For Primitive: Tapping the Primal Drive That Powers the World's Most Successful People…
"Marco Greenberg's Primitive captures insights and advice that everyone can use to thrive in the constantly evolving workplace."—Daniel H. Pink, New York Times bestselling author of When, Drive and To Sell Is Human

"In the 15 years that I've known him, Marco Greenberg has always been a visionary. There are enough autobiographies out there. What we need are challenging new ideas. Marco's ROAMING is a perfect companion to my and my co-author Bonita Stewart's TEAMING UP!"—Jacqueline Adams, co-author of A Blessing: Women of Color Teaming Up to Lead, Empower and Thrive

"Bringing together research and storytelling, Marco Greenberg provides a brilliant guide to success and happiness. Replete with sound--sometimes counterintuitive--advice, Primitive can help you navigate the challenges of modern life."—Tal Ben-Shahar, author of New York Times bestseller, Happier

"Primitive is the best cross between a business book and a self-help book, filled with inspiring personal stories of people who succeeded by taking risks and challenging the status quo, at once practical and idealistic. This book could change your life."—Alan Lightman, author of international bestseller, Einstein's Dreams; physicist and MIT professor of humanities

"Primitive is so much more than just a business book. After years of teaching at Gettysburg College, I see Primitive as a roadmap for teaching young people how to go fiercely into the work world, think entrepreneurially, and make meaningful change. This book should be required reading for everyone thinking about their career, especially new college graduates!"—Drew E. Murphy, lecturer, Department of Economics, Gettysburg College

"Insightful, practical, and inspiring. Marco is a gifted writer and thinker. You can apply the lessons from his book in your professional and personal lives. Now more than ever, we need a jolt of primitive energy."—Jeremy Abbate, publisher, Scientific American

"There's nothing primitive about Macro Greenberg's understanding of what makes some entrepreneurs successful and others not. In Primitive he's written a roadmap you can use to start--or restart--your career in business."—Paul Sagan, managing director at General Catalyst and former CEO of Akamai Technologies

"Marco Greenberg and his book, Primitive, demonstrate that a relentless spirit is the key not just to a winning football team, but a winning life."—Dan Mullen, head football coach, University of Florida

"Marco Greenberg has written a book speaking to all ages but, most particularly, to the new Z generation populating our colleges and universities. They are the creative and innovative generation and this book speaks to their heart, as well as to their DNA."—Gordon Gee, President of West Virginia University

"Primitive reminds us that business is actually very personal, instinctual and often emotional. A fellow hugger, Marco Greenberg has written a book that will inspire and instruct you on how to proactively hunt for a range of professional opportunities that await--no matter where you are in your career journey."—Jack Mitchell, bestselling author of Hug Your Customers and chairman of the Mitchell Stores

"We all have a primitive side that sparks new ways of problem solving. While the daily grind often blocks us from reaching our potential, Marco Greenberg reveals the secrets to tapping into that innovative spirit."—Kathleen Kelly Janus, author of Social Startup Success
Hachette Go, 9780316530378, 256pp.
Publication Date: April 14, 2020
About the Author
Marco Greenberg is co-founder and president of Thunder11, a New York-based strategic communications firm that works closely with CEOs in the business and not-for-profit sectors. He has taught marketing at New York University and entrepreneurship and public relations at Fordham University.