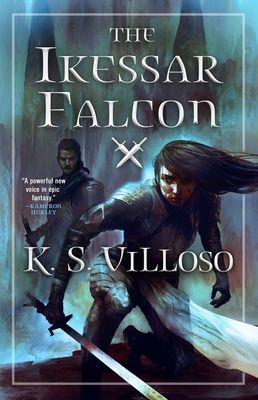 The Ikessar Falcon (Chronicles of the B*tch Queen #2) (Paperback)
Orbit, 9780316532716, 640pp.
Publication Date: September 22, 2020
Other Editions of This Title:
Paperback (6/19/2018)
* Individual store prices may vary.
Description
"Intricate, intimate, and intensely plotted." - Nicholas Eames on The Wolf of Oren-yaro
The stunning sequel to The Wolf of Oren-yaro where the queen of a divided land struggles to unite her people. Even if they despise her. K. S. Villoso is a "powerful new voice in fantasy." (Kameron Hurley)
The spiral to madness begins with a single push.
Abandoned by her people, Queen Talyien's quest takes a turn for the worst as she stumbles upon a plot deeper and more sinister than she could have ever imagined, one that will displace her king and see her son dead. The road home beckons, strewn with a tangled web of deceit and impossible horrors that unearth the nation's true troubles - creatures from the dark, mad dragons, and men with hearts hungry for power.
To save her land, Talyien must confront the myth others have built around her: Warlord Yeshin's daughter, symbol of peace, warrior and queen, and everything she could never be.
The price of failure is steep. Her friends are few. And a nation carved by a murderer can only be destined for war.
The Chronicles of the Bitch Queen
The Wolf of Oren-yaro
The Ikessar Falcon
About the Author
K.S. Villoso writes speculative fiction with a focus on deeply personal themes and character-driven narratives. Much of her work is inspired by her childhood in the slums of Taguig, Philippines. She is now living amidst the forest and mountains with her husband, children, and dogs in Anmore, BC.
Praise For The Ikessar Falcon (Chronicles of the B*tch Queen #2)…
"The power plays are woven tightly into the action, as Villoso broadens her worldbuilding and adds some surprising twists ... A must for epic fantasy readers."—Library Journal (starred review)

"Villoso crafts believable, complex characters and spices up the politics with dragons and magic. Fantasy readers will enjoy this intricate epic and be pleased by the broadening scope of the series."—Publishers Weekly

"The Wolf of Oren-yaro is intricate, intimate, and intensely plotted. Full of subtle poignancy and remarkably genuine characters - even the rotten ones. I loved this book."—Nicholas Eames, author of Kings of the Wyld, on The Wolf of Oren-yaro

"Intimate and epic. It compels you to read on, because it's a story about people not characters, civilizations not settings, and deadly power plays not sanitized throne-room politics."—Evan Winter, author of The Rage of Dragons, on The Wolf of Oren-yaro

"A powerful new voice in epic fantasy. Villoso deftly creates an intricate and compelling world of high fantasy intrigue and adventure dominated by a crafty, whip-smart heroine determined to unite her kingdom at any cost."—Kameron Hurley, author of The Light Brigade, on The Wolf of Oren-yaro

"A tale balanced on the blade's-edge between intrigue and action - and then Villoso twists the knife."—Gareth Hanrahan, author of The Gutter Prayer, on The Wolf of Oren-yaro

"Deeply compelling and wonderfully entertaining, The Wolf of Oren-yaro feels at once timely and timeless. K. S. Villoso's lush and finely crafted world envelops readers from the first page, as she takes us on an adventure full of heartache, hope, and triumph. It's a fabulous read!"—Josiah Bancroft, author of Senlin Ascends, on The Wolf of Oren-yaro

"Delivers complex and intriguing characters, and an action-packed plot full of surprising twists and deep, vivid world building."—Melissa Caruso, author of The Tethered Mage, on The Wolf of Oren-yaro

"[A] remarkable tale of nonstop tension, action, and betrayal . . . This excellent work will appeal to all readers of epic fantasy."—Publishers Weekly (starred review) on The Wolf of Oren-yaro

"Readers will be swept in by this strong protagonist and stunning worldbuilding, with a plot full of questions and surprises. Villoso's cunning, exciting debut is a new fantasy epic that readers will clamor for."—Library Journal (starred review) on The Wolf of Oren-yaro

"Villoso's debut draws on Filipino culture and myths to create a detailed fantasy world and uses the first person narrative of a beleaguered queen to explore a tale of secrets, lies, betrayal, and treason."—Booklist on The Wolf of Oren-yaro