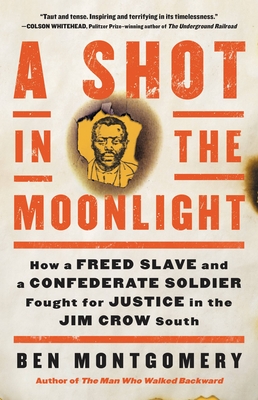 A Shot in the Moonlight
How a Freed Slave and a Confederate Soldier Fought for Justice in the Jim Crow South
Hardcover

* Individual store prices may vary.
Other Editions of This Title:
Digital Audiobook (1/25/2021)
Description
The sensational true story of George Dinning, a freed slave, who in 1899 joined forces with a Confederate war hero in search of justice in the Jim Crow south. "Taut and tense. Inspiring and terrifying in its timelessness."(Colson Whitehead, Pulitzer Prize-winning author of The Underground Railroad )

Named a most anticipated book of 2021 by O, The Oprah Magazine
Named a "must-read" by the Chicago Review of Books
One of CNN's most anticipated books of 2021 

After moonrise on the cold night of January 21, 1897, a mob of twenty-five white men gathered in a patch of woods near Big Road in southwestern Simpson County, Kentucky. Half carried rifles and shotguns, and a few tucked pistols in their pants. Their target was George Dinning, a freed slave who'd farmed peacefully in the area for 14 years, and who had been wrongfully accused of stealing livestock from a neighboring farm. When the mob began firing through the doors and windows of Dinning's home, he fired back in self-defense, shooting and killing the son of a wealthy Kentucky family.

So began one of the strangest legal episodes in American history — one that ended with Dinning becoming the first Black man in America to win damages after a wrongful murder conviction.

Drawing on a wealth of never-before-published material, bestselling author and Pulitzer Prize finalist Ben Montgomery resurrects this dramatic but largely forgotten story, and the unusual convergence of characters — among them a Confederate war hero-turned-lawyer named Bennett H. Young, Kentucky governor William O'Connell Bradley, and George Dinning himself — that allowed this unlikely story of justice to unfold in a time and place where justice was all too rare.
Praise For A Shot in the Moonlight: How a Freed Slave and a Confederate Soldier Fought for Justice in the Jim Crow South…
"As he did in his spectacular reporting on the Dozier School in Florida, Ben Montgomery excavates another hidden strand of American history. Taut and tense, A Shot in the Moonlight is inspiring and terrifying in its timelessness."—Colson Whitehead, Pulitzer Prize-winning author of The Underground Railroad and The Nickel Boys

"Ben Montgomery's masterful retelling of George Dinning's story reminds us that history is created by ordinary people who confront wrongdoing. This is a powerful portrayal of prejudice at its most depraved, humanity at its most determined, and a judicial system that can, at its best, address injustice.  It reminds us of what to hope for in our current troubled times."—Lois Lowry, author of The Giver

"A Shot in the Moonlight is a searing narrative, thoroughly engrossing and timelier than ever. With remarkable journalism and meticulous research, Ben Montgomery has passionately crafted a masterwork of nonfiction."—Gilbert King, Pulitzer prize-winning author of Devil in the Grove

"Ben Montgomery's A Shot in the Moonlight is a meticulously reported account that resurrects a remarkable story of race and justice that had been largely lost to history. Like so many Black Americans throughout our nation's history, George Dinning demanded justice. Unlike so many others, and after a strenuous battle that Montgomery expertly documents, he was ultimately able to secure it."—Wesley Lowery, Pulitzer Prize-winning reporter and author of They Can't Kill Us All: Ferguson, Baltimore and A New Era in America's Racial Justice Movement

"Ben Montgomery has unearthed and vigorously reported the traumatic and important story of a Black man who had the courage to shoot back. His storytelling and attention to time, context, and detail is nothing short of mesmerizing. This is the feat of one of the best nonfiction writers in the world today. A Shot in Moonlight is a challenge, a triumph."—RJ Young, author of Let It Bang: A Young Black Man's Reluctant Odyssey into Guns

"True racial reconciliation requires that America take a hard and honest look at its past, and, to that end, A Shot in the Moonlight is essential reading. Ben Montgomery brings his considerable skills as a writer and reporter to the story of George Dinning, a Black man who somehow survived vigilante violence and found justice in 1897 Kentucky. More broadly, in his elegant narrative, Montgomery lays bare the horrors and indignities of the Jim Crow era that remain foundational to the pain of today."—Tim Madigan, author of The Burning: The Tulsa Race Massacre of 1921

"The breathless title tells it all…it's a good story, one that reveals the complicated history of the post-bellum South."
 —New York Times Book Review

"A gripping feat of narrative non-fiction...This lavish, stellar work forces a reckoning with the grim aftermath of a civil war that still rages in hearts and minds today."—O, the Oprah Magazine

"A nuanced exploration of the horrors Southern racism inflicted on Black citizens...Montgomery brings to light an important turning point in a grim chapter in American history."—Booklist

"History buffs won't want to miss this one…[A] must-read book of January"—Chicago Review of Books

"A Shot in the Moonlight tells an amazing, compelling true story that was long lost to history — but that could not be more timely." —Tampa Bay Times

"This gripping history offers hope through the actions of an unlikely cast of characters who sought to save a man from a cruel and vindictive fate.
Masterfully told...Reads like a riveting thriller."
 —Bookpage

"Terse and compelling."—Savannah Morning News
Little, Brown Spark, 9780316535540, 304pp.
Publication Date: January 26, 2021
About the Author
Ben Montgomery is a former enterprise reporter for the Tampa Bay Times and founder of the narrative journalism website Gangrey.com. In 2010, he was a finalist for the Pulitzer Prize in local reporting and won the Dart Award and Casey Medal for a series called "For Their Own Good," about abuse at Florida's oldest reform school. He lives in Tampa with his children. He is the author of The Man Who Walked Backward, The Leper Spy, and Grandma Gatewood's Walk.