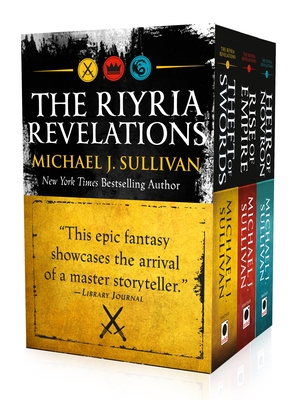 The Riyria Revelations
Theft of Swords, Rise of Empire, Heir of Novron
Paperback

* Individual store prices may vary.
Description
This boxed set includes bestselling author Michael J. Sullivan's complete Riyria Revelations, an epic tale of treachery and adventure, sword fighting and magic, myth and legend.
"Good old-fashioned escapist fun." -Publishers Weekly
Royce Melborn, a skilled thief, and his mercenary partner, Hadrian Blackwater, make a profitable living carrying out dangerous assignments for conspiring nobles - until they become the unwitting scapegoats in a plot to murder the king. Sentenced to death, their only hope is to unravel an ancient mystery before it's too late.
The Riyria RevelationsTheft of SwordsRise of EmpireHeir of Novron
For more from Michael J. Sullivan, check out:
The Riyria ChroniclesThe Crown TowerThe Rose and the Thorn
Praise For The Riyria Revelations: Theft of Swords, Rise of Empire, Heir of Novron…
"Filled with adventure and clever dialog and featuring a pair of not-quite-heroes whose loyalties to each other provide them with their greatest strength, this epic fantasy showcases the arrival of a master storyteller... A winning debut for fantasy lovers."
—Library Journal on Theft of Swords

"Hair-raising escapes, flashy sword fights, and faithful friendship complete the formula for good old-fashioned escapist fun."—Publishers Weekly on Theft of Swords
Orbit, 9780316536165, 2480pp.
Publication Date: September 24, 2019
About the Author
Born in Detroit, Michigan, Michael J. Sullivan has lived in Vermont, North Carolina, and Virginia. He worked as a commercial artist and illustrator, founding his own advertising agency in 1996, which he closed in 2005 to pursue writing full-time. The Crown Conspiracy is his first published work. He currently resides in Fairfax, Virginia with his wife and three children. The author's website can be found at www.riyria.com and on twitter @author_sullivan.