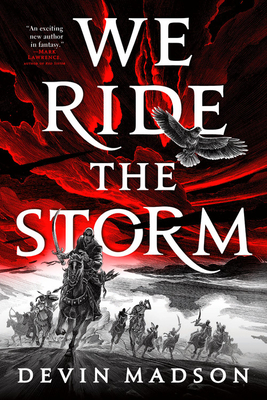 We Ride the Storm (The Reborn Empire #1) (Paperback)
Orbit, 9780316536264, 528pp.
Publication Date: June 23, 2020
Other Editions of This Title:
Paperback (5/17/2018)
* Individual store prices may vary.
Description
In the midst of a burgeoning war, a warrior, an assassin, and a princess chase their own ambitions no matter the cost in Devin Madson's propulsive epic fantasy.
War built the Kisian Empire. War will tear it down.
Seventeen years after rebels stormed the streets, factions divide Kisia. Only the firm hand of the god-emperor holds the empire together. But when a shocking betrayal destroys a tense alliance with neighboring Chiltae, all that has been won comes crashing down.
In Kisia, Princess Miko Ts'ai is a prisoner in her own castle. She dreams of claiming her empire, but the path to power could rip it, and her family, asunder.
In Chiltae, assassin Cassandra Marius is plagued by the voices of the dead. Desperate, she accepts a contract that promises to reward her with a cure if she helps an empire fall.
And on the border between nations, Captain Rah e'Torin and his warriors are exiles forced to fight in a foreign war or die.
As an empire dies, three warriors will rise. They will have to ride the storm or drown in its blood.
The Reborn Empire
We Ride the Storm
For more from Devin Madson, check out:
The Vengeance Trilogy
The Blood of Whisperers
The Gods of Vice
The Grave at Storm's End
About the Author
Devin Madson is an Aurealis Award-winning fantasy author from Australia. After some sucky teenage years, she gave up reality and is now a dual-wielding rogue who works through every tiny side-quest and always ends up too over-powered for the final boss. Anything but zen, Devin subsists on tea and chocolate and so much fried zucchini she ought to have turned into one by now. Her fantasy novels come in all shades of grey and are populated with characters of questionable morals and a liking for witty banter.
Praise For We Ride the Storm (The Reborn Empire #1)…
"With prose that rises above most novels, Devin Madson paints evocative scenes to build an engaging story. Highly entertaining, We Ride the Storm is certainly worth your attention and Madson is an exciting new author in fantasy."—Mark Lawrence, author of Red Sister

"Intricate, compelling and vividly imagined, this is the first in a new quartet that I am hugely excited about. Visceral battles, complex politics and fascinating worldbuilding bring Devin's words to life."—Anna Stephens, author of Godblind

"An utterly arresting debut, Storm's heart is in its complex, fascinating characters, each trapped in ever tightening snarls of war, politics and magic. Madson's sharp, engaging prose hauls you through an engrossing story that will leave you wishing you'd set aside enough time to read this all in one sitting. One of the best new voices in fantasy."—Sam Hawke, author of City of Lies

"A brutal, nonstop ride through an empire built upon violence and lies, a story as gripping as it is unpredictable. Never shying away from the consequences of the past nor its terrible realities, Madson balances characters you want to love with actions you want to hate while mixing in a delightful amount of magic, political intrigue, and lore. This is not a book you'll be able to put down."—K. A. Doore, author of The Perfect Assassin

"Darkly devious and gripping epic fantasy boasting complex characters, brutal battle and deadly intrigue. We Ride the Storm is breathtaking, brilliant and bloody -it grips you hard and does not let go."—Cameron Johnston, author of The Traitor God

"Madson has built a living, breathing world of Empire and fury. We Ride The Storm grabs you by the throat and doesn't let go."—Peter McLean, author of Priest of Bones

"Fans of George R. R. Martin's Song of Ice and Fire series will appreciate the feudal political maneuvering, shifting alliances, and visceral descriptions of combat and its aftermath in this series starter."—Booklist