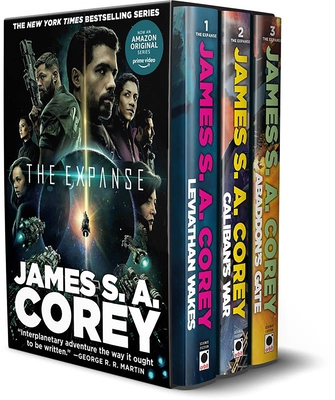 The Expanse Hardcover Boxed Set
Leviathan Wakes, Caliban's War, Abaddon's Gate: Now a Prime Original Series
Hardcover

* Individual store prices may vary.
Description
For the first time in hardcover, the first three novels in James S. A. Corey's New York Times bestselling epic science fiction saga the Expanse. Now a Prime Original series.
Hugo Award Winner for Best Series
"Interplanetary adventure the way it ought to be written."- George R.R. Martin
Humanity has colonized the solar system, but two hundred years after migrating into space, mankind is in turmoil.
When a reluctant ship's captain and washed-up detective find themselves involved in the case of a missing girl, what they discover brings our solar system to the brink of civil war, and exposes the greatest conspiracy in human history.
The ExpanseLeviathan WakesCaliban's WarAbaddon's GateCibola BurnNemesis GamesBabylon's AshesPersepolis RisingTiamat's Wrath
The Expanse Short FictionThe Butcher of Anderson StationGods of RiskThe ChurnThe Vital Abyss
Praise For The Expanse Hardcover Boxed Set: Leviathan Wakes, Caliban's War, Abaddon's Gate: Now a Prime Original Series…
"It's been too long since we've had a really kickass space opera. Leviathan Wakes is interplanetary adventure the way it ought to be written, the kind of SF that made me fall in love with the genre way back when, seasoned with a dollop of horror and a dash of noir. Jimmy Corey writes with the energy of a brash newcomer and the polish of a seasoned pro. So where's the second book?"
—George R. R. Martin on Leviathan Wakes

"Riveting interplanetary thriller."—Publishers Weekly on Leviathan Wakes

"An excellent space operatic debut in the grand tradition of Peter F. Hamilton."
—Charles Stross on Leviathan Wakes

"A politically complex and pulse-pounding page-turner.... Corey perfectly balances character development with action... series fans will find this installment the best yet."
—Publishers Weekly on Abaddon's Gate

"High adventure equaling the best space opera has to offer, cutting-edge technology, and a group of unforgettable characters bring the third installment of Corey's epic space drama (after Caliban's War and Leviathan Wakes) to an action-filled close while leaving room for more stories to unfold. Perhaps one of the best tales the genre has yet to produce, this superb collaboration between fantasy authors Daniel Abraham and Ty Franck should reawaken an interest in old-fashioned storytelling and cinematic pacing. Highly recommended."
—Library Journal (starred review) on Abaddon's Gate

"Literary space opera at its absolute best."
—io9 on Abaddon's Gate

"[T]he authors are superb with the exciting bits: Shipboard coups and battles are a thrill to follow."
—Washington Post on Abaddon's Gate
Orbit, 9780316536462, 1792pp.
Publication Date: November 19, 2019
About the Author
James S.A. Corey is the pen name of fantasy author Daniel Abraham and Ty Franck. They both live in Albuquerque, New Mexico. Find out more about this series at www.the-expanse.com.